Spend a day immersed in the mystery of your BIRTH, making art and exploring creative practice.
About this Event
Join artist Sarah Dixon in making art indoors and outdoors, around the theme of BIRTH.
The Life Spiral is a year-long process - as we track our lives and their links to the seasons, making art for key stages along the way.
It begins with BIRTH on December 22, at the deepest moment of Winter.
We will spend the day in the beautiful setting of Hawkwood, in Stroud, Gloucestershire. We have an indoor studio and outdoor space we can access.
The themes of the BIRTH stage are:
- the liminal portal between existence and non-existence
- the colour Blue
- the materials Water and Clay
In the session we will:
- reflect on the circumstances of our own birth
- think about what Birth means to us
- explore artworks on the theme of birth, the colour blue, and materials water and clay. There is a natural spring at Hawkwood and I will bring some clay from a nearby hill
- make our own artwork on the theme - using materials provided or ones that you want to bring
We will begin by looking at the Life Spiral, what it is and how it progresses through the year. You will go away with a model for continuing your practice through the year until the spiral ends with Death on Winter Solstice 2020. You will also have reference material to take your learning forward independently.
You may continue this practice with further workshops, an online programme, or self directed.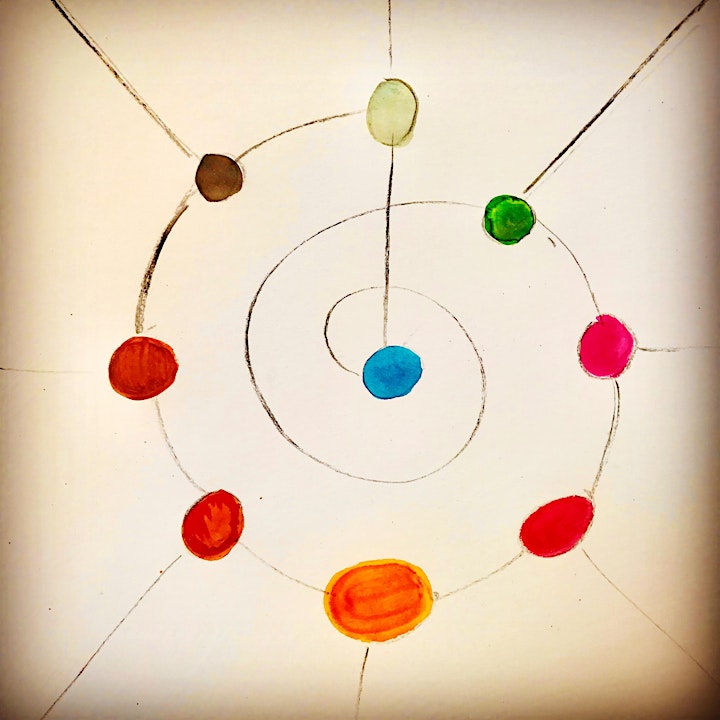 THE LIFE SPIRAL
This year long program features live workshops in Stroud, and an online program. You can attend one live workshop or several, as you wish, and you can join the online program or mix and match both experiences (with special offers for those wanting to combine the two).
This is for you if:
- You want to have a focus for making some art on a regular basis
- You want to explore a range of techniques and art history (a bit like a mini-foundation)
- You want to reflect on your life and where you are on your path, revisiting troubled and joyful moments, and preparing for future stages
- You want to connect creatively to nature and feel the rhythms as they relate to you personally and to the cycle of the sun around the earth
The idea of The Life Spiral was given to me by the shamanic practitioner Kate Dineen, who had received it from Hannah Gwawr in turn inspired by the writings of Carolyn Hillier and Gail Burkett.
Its a little like Shakespeare's seven ages of man, but:
- The Life Spiral is specifically for women
- There are nine stages instead of seven, and these overlap beautifully with the seasonal changes
- Death lands on the same date as Birth, showing the spiralling, cycling nature of life. (We can repeat the process indefinitely)
I look forward to seeing your BIRTH.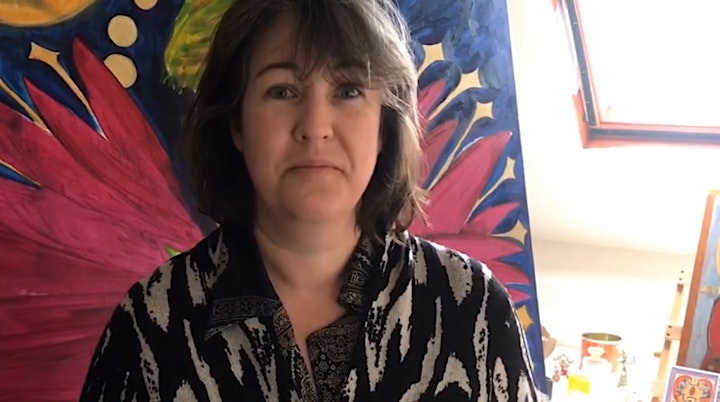 About the Artist
Sarah is an artist and designer with a studio in Stroud, Gloucestershire. She originally studied Biology, and after graduation she lived in Amazonian Ecuador learning about the relationship between humans, animals and plants. Her art practice focuses on ritual and how we can repurpose and create new rituals for healthier, happier living in better connection with our spirit and with nature. She is interested in materials and how they are sourced, from the earth, and has studied icon painting in Cyprus, portrait painting and other traditional and ancient art practices. She is a co-founder of the collective The Women's Art Activation System (WAAS), and is a coach qualified with Relational Dynamics 1st.