Sales Have Ended
Registrations are closed
Thank for registering. We look forward to celebrating a Spiritual Diwali with you on the 14th November. Do share with you family and friends. If you wish to be part of the team presenting the Jaap contact hello@scvp.info
Sales Have Ended
Registrations are closed
Thank for registering. We look forward to celebrating a Spiritual Diwali with you on the 14th November. Do share with you family and friends. If you wish to be part of the team presenting the Jaap contact hello@scvp.info
Diwali, celebrating the wondrous occasion of Mahavir Bhagwan's Moksha Kalyanak & Guru Gautam Swami's Keval Gnan with SCVP and Young Jains.
About this event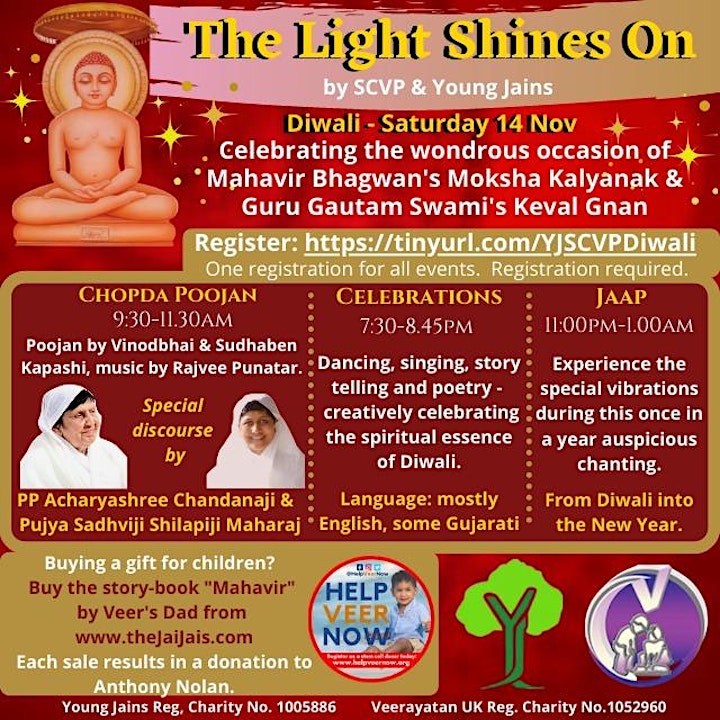 3 wonderful family friendly events throughout Diwali day. The one registration gives you access to all 3.
(1) Chopda Poojan 9:30am - 11:30am
Poojan by Vinodbhai & Sudhaben Kapashi, music by Rajvee Punatar.
Special discourse by PP Acharayashree Chandanaji & Pujya Sadhviji Shilapiji Maharaj
(2) Celebrations 7:30pm - 9:00pm
Dancing, singing, story telling and poetry - creatively celebrating the spiritual essence of Diwali.
Including first time sharing of a Bharatnatyam Dance to an English pop song, "Search for the Hero" by M People and a live rendition of another English pop song along with traditional stavans. Stories from Mahaveer Bhagwan's previous births and a reading from the Jai Jais story book , Mahavir .
(3) Jaap 11:00pm - 1:00am
Experience the special vibrations of auspicious chanting to bring in the New Year with absolute spiritual bliss and devotion and look at life with positivity.
We will be doing a Jaap which will benefit our mind, body and inner spirit, to bring about a powerful balancing force for both ourselves and those around us and their wellbeing.
We would like the whole community to be involved and if you and your family would like to participate in the recitation of the jaap in a time allocated slot please contact us by email on Scvp email: hello@scvp.info Yj email :- info@youngjains.org.uk
We are supporting the HelpVeerNow campaign and you can help support it too.
Buying a gift for children?
Buy the book "Mahavir" by Veer's Dad from https://bit.ly/mahavir-preorder
Each sale results in a donation to Anthony Nolan.
Click name to find out more about Young Jains and SCVP
Young Jains Charity No. 1005886 Veerayatan UK Charity No. 1052960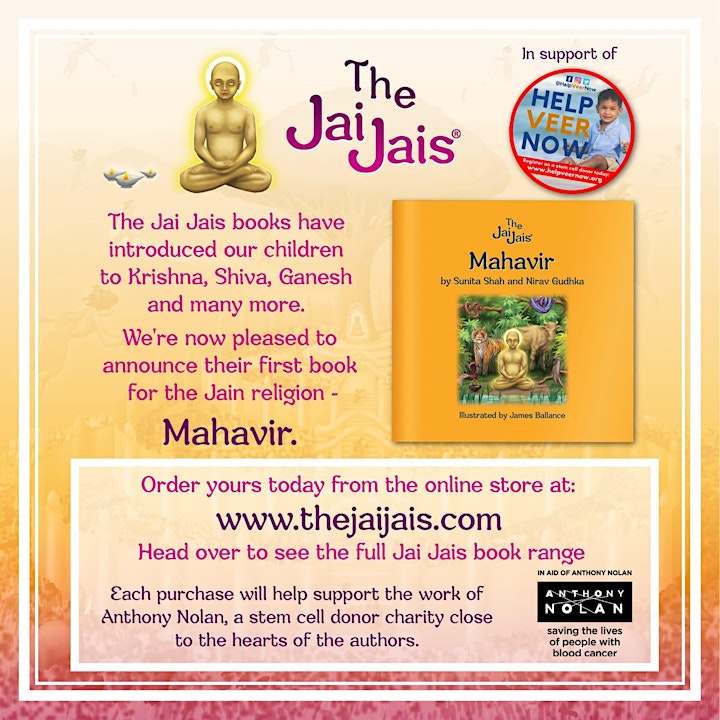 Organiser of The Light Shines On
Young Jains UK is a non-sectarian organisation that encourages the discussion and exploration of Jain philosophy, spirituality and its practical importance to life. Formed in 1987, it is an independent non-profit making charitable organisation (registered charity no 1005856).
Activities include discussions, retreats, debates, quiz nights, musical evenings, study sessions, conventions, etc. which are held on various themes and topics including: understanding Jain principles, ethics, the environment, debating social concerns, health matters, visiting temples and increasing awareness about other faiths.
Young Jains provides an opportunity for its members to be actively involved in delivering events and develop skills that are applicable to all aspects of life. Everyone is most welcome to the Young Jains Experience regardless of age, caste, nationality, faith, etc.