The annual LitPR summer media party is back... online but with goodies, giggles, giveaways, guest speakers & more!
About this event
Every summer apart from 2020 we've hosted the Literally Summer Media Party in a bar in central London. Surrounded by books, authors, journalists, publishers, literary agents, bloggers, reviewers, bookworms... and of course the fabulous LitPR team and clients past, present and future, we get to enjoy an evening of conversation, wine, food, gin, books and cocktails. This year we decided we wouldn't let coronavirus kill our buzz! We will be organising a fun-filled hour of book-related summer fun on 13th July and as long as you live and breathe books, you're welcome!
Spaces will be limited and a waiting list will be in operation. If you can no longer attend, please cancel your ticket so someone else can take your place.
We can't guarantee the sunshine, but we can guarantee books, goodies, giveaways and giggles.
Sign up before July with your postal address and you'll receive a party bag in advance packed with fab goodies (and of course including a book!). And at the party itself there are going to be some amazing giveaways including 3 x £20 Waterstones gift vouchers sponsored by amazing author Sharon Sutila (The Stealing, out October 2021). GET INVOLVED IF YOU LOVE BOOKS AND HAVING FUN!!
LitPR (www.literallypr.com) is a prize-winning PR and marketing agency based in Kent, England that has worked on almost 400 book campaigns. From social media management to online book tours, traditional PR campaigns to podcast pitching, we have been in the business for a decade, and love shouting about amazing authors and brilliant books.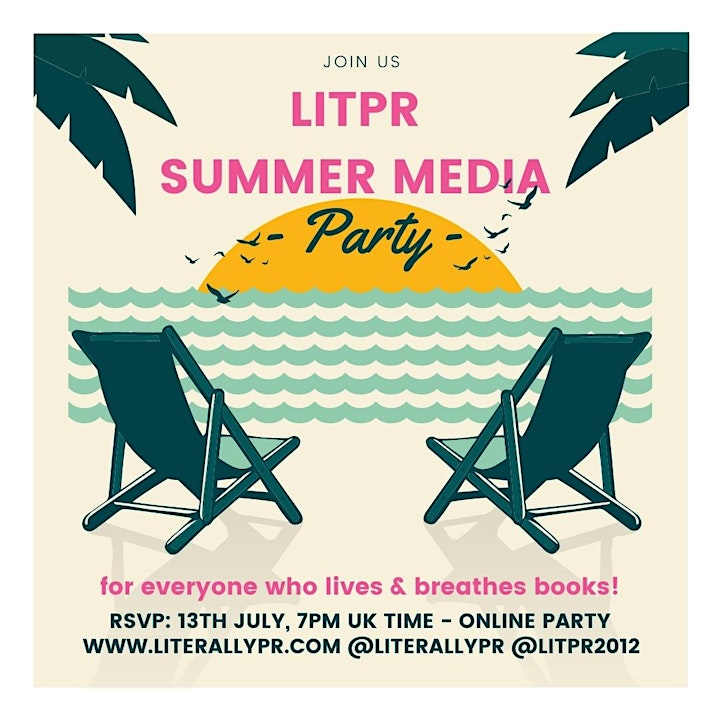 Organiser of The Literally Summer Media Party
Literally Public Relations is a boutique agency specialising in creative, innovative and cost-effective PR solutions for self-published and published authors, publishing houses, food writers, chefs, food&drink producers and retailers. With a proven track record of getting media coverage across print, online and broadcast media, Literally PR is a successful and fast-growing company built on the 17+ years experience of director and founder, Helen Lewis who continues to work as a freelance journalist alongside the PR activities.