Description
The Little Show Off presents: Goodbye 5 Torrens Street / Hub Xmas Party!
Many moons ago, Impact Hub Islington used to host something called 'The Little Show Off' – a kind of madcap cabaret, almost exclusively made up of performers from the wonderful community of Hubbers.
We saw poets, musicians, dancers, comedians, magicians and anything else you can think of take to the stage – we once saw performance art that involved soap and a microwave!?! All this was then compared by professional fool and Hub-veteran Loose Baker.
To celebrate and commemorate Impact Hub Islington moving down the road we shall be bringing this back one more time which means we need YOU.
—-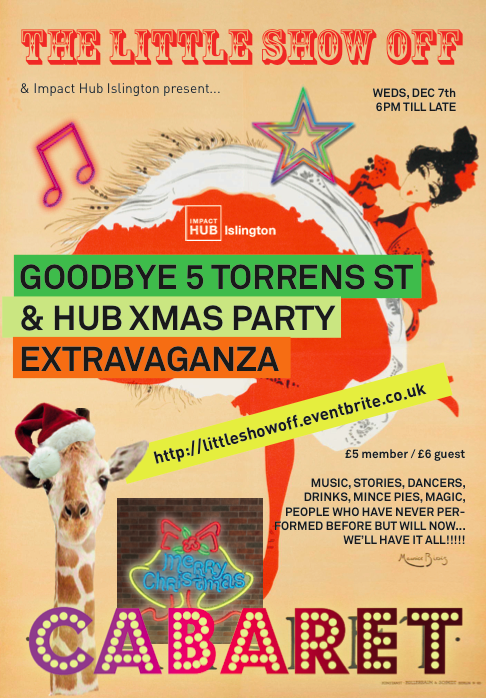 CALLING ALL HUB MEMBER PERFORMERS AND
SHOW
OFF
'S OF ANY KIND
Can you perform anything?
Do you like
showing

off

?
Could you put together a Hub boy band?
Have you always dreamt about stepping on stage?
Would you like to be involved but don't know how?
BE IN TOUCH and email Loose <loosebaker@gmail.com>