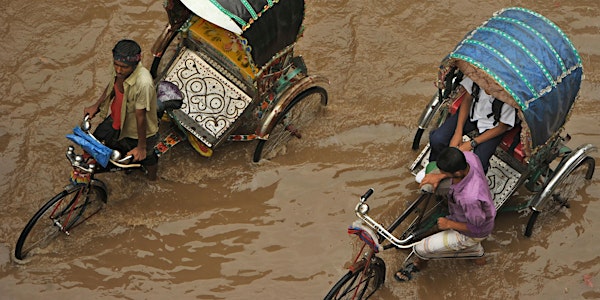 The Lived Experience of Climate Change: One Piece of Land in Dhaka
Location
The Manchester Museum
Oxford Road
Manchester
M13 9PL
United Kingdom
Description
Dhaka, Bangladesh is on the front line of climate change, but what does that mean to the people living in its slums? As part of the Manchester Museum's Climate Control exhibition Dr Joanne Jordan presents the premiere of a short film exploring her findings on the everyday realities of climate change in Dhaka.
Dr Jordan spent months in the slums of Dhaka talking to over 600 people in their homes, work places, local teashops and on street corners to understand how climate change is linked to many other problems experienced in their 'everyday' life.
With the research completed, Joanne teamed up with the University of Dhaka to explore the findings through a 'Pot Gan'; a traditional folk medium, featuring melody, drama, pictures and dancing. Performances were used to encourage slum dwellers, researchers, practitioners and policy makers to reflect on the day to day realities of living with climate change.
At this 'After Hours at the Museum' event, you'll get the chance to see the first ever public screening of a documentary charting the Pot Gan project, grapple with some of the dilemmas facing slum dwellers in Dhaka and hear directly from Dr Joanne Jordan.
For further information on the project:
Web: bit.ly/Dhakaclimatechange
Twitter: #GDIpotgan
Facebook: @GDIpotgan