About this Event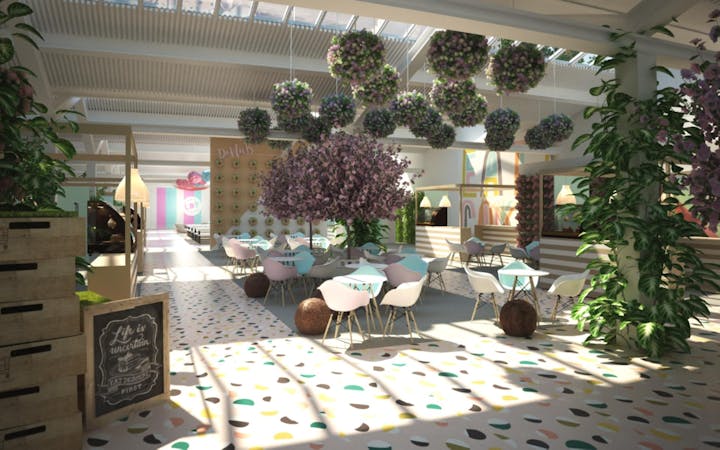 The Experience
Journey through this incredible celebration of London's finest and most fanciful creations, and let your senses guide you.
Through the use of scents, flavours, textures, sights and sounds, we'll take you on a voyage of discovery.
With appearances from top influencers and some of the biggest names in gastronomy, this truly immersive experience will inspire, captivate and entertain. In the sweetest way you can imagine.
What's included:
Gather your #PuddsSquad and join us for the sweetest day ever. Your Standard ticket includes entrance into the event for 3.5 hours, plus:
Installations
Captivating installations ready to take over the 'gram. Explore new worlds from artists and visionaries and strike a pose against our custom Insta-friendly backdrops.
Take a bath full of sprinkles engulfed by mouthwatering aromas as you indulge your curiosity and enter an otherworldly festival of imagination. We're about to show you that anything is possible...
A WHIRLWIND OF CREATIVITY, ORIGINALITY AND INSPIRATION
Desserts
Experience a round-up of 60 of London's most indulgent and imaginative dessert brands, set within an immersive, sensory landscape.
Taste a selection of trending desserts, designed and created exclusively for sale at the London Dessert Festival. From designer donuts, vegan and sugar-free taste sensations, gravity-defying milkshakes and artistic ice cream sundaes, brilliant brownies and exquisite patisserie. Its desserts done differently!
DELVE INTO THE DESSERTS EVERYONE'S TALKING ABOUT
▀▀▀▀▀▀▀▀▀▀▀▀▀▀▀▀▀▀▀▀▀▀▀▀▀▀▀ ▀ ▀ ▀ ▀ ▀ ▀ ▀
★ Nosteagia
★ Pleesecakes
★ Poptails by LAPP
★ Whipped London
★ Humbledough
★ Sesame Kingdom
★ Maize & Grace
★ Wheelcake Island
★ YogLand
★ plus 30 more!
▀▀▀▀▀▀▀▀▀▀▀▀▀▀▀▀▀▀▀▀▀▀▀▀▀▀▀ ▀ ▀ ▀ ▀ ▀ ▀ ▀
Drink
There is no experience a cocktail can't improve!
Savor spellbinding dessert themed cocktails from extraordinarily talented Mixologists.
If you're a bit of a mindful drinker, don't fear - we're also bringing together a few of London's trendy new low and non-alcoholic spirits, gravity-defying milkshakes and unique beverages.
#SundaeSchool
Learn to instagram like a pro, with food photography and design demos at our #SundaeSchool Lab.
MEET & LEARN FROM LEADING DESSERT INFLUENCERS AND SOCIAL HEROES
FREE treats
Smiling yet? Did we get you at 'free'? Here is a few of the free stuff:
Complementary dessert snacks and candy. Fruits to help "cleanse your palate" between all the dessert bites so you can indulge on more. And we thought we should throw in some complimentary water as well - (just in case we have a few light-weights...shhh!)
...As well As
...a few hidden surprises along the way!
Session Information
Saturday 17th August
Session 1 - Saturday morning - 10:30am - 2:00pm
Session 2 - Saturday afternoon - 3:00pm - 6.30pm
Sunday 18th August
Session 3 - Sunday morning - 10:30am - 2:00pm
Session 4 - Sunday afternoon - 3:00pm - 6.30pm
For more information visit www.londondessertfestival.com
FAQs
Entrance only valid for the time (Session) and date on your ticket. Session time slots are non-transferable. This is a ticketed event and we expect to be at capacity. Please arrive at least 15 minutes prior to your entry time. There will be no refunds. Event is mostly indoors with some outdoor space and is rain or shine.
Children of all ages are welcome but must be supervised by a guardian at all times during the event. Children under the age of 6 do not require a ticket.
Attendees under the age of 16 must be accompanied by a responsible guardian over the age of 21.
Desserts are available for purchase from each vendor through our Sprinkles DessertCard. - available to all ticket holders.
Website: www.londondessertfestival.com
Press inquiries & collaborations: thescoop@londondessertfestival.com
FAQs: www.londondessertfestival.com/faqs
Join the conversation on social:
@londondessertfestival
#londondessertfestival