About this Event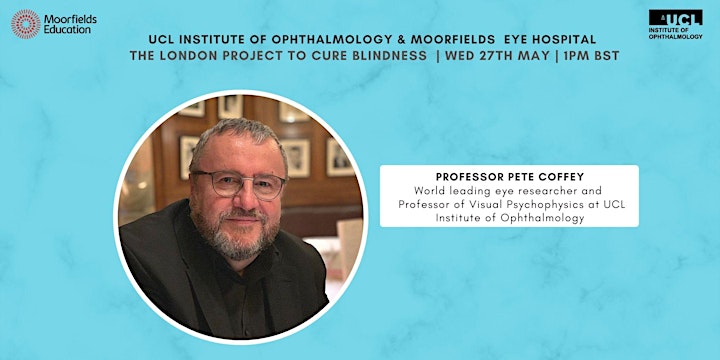 The London Project to Cure Blindness is a partnership between Professor Pete Coffey from UCL and Professor Lyndon da Cruz, retinal surgeon at Moorfields Eye Hospital. The Project has been supported by the UCL Institute of Ophthalmology and the National Institute for Health Research (NIHR) Moorfields Biomedical Research Centre.
Researchers wanted to see if they could improve vision for people with sudden severe visual loss caused by wet AMD by replacing the diseased cells at the back of the patients' affected eye using a stem cell-based treatment.
After receiving the treatment, the two patients who took part in the study went from not being able to read at all even with glasses, to reading 60-80 words per minute with normal reading glasses. The results from the study suggest that the treatment is safe and effective.
The results of this ground-breaking clinical study, published in Nature Biotech, described the implantation of a specially engineered patch of retinal pigment epithelium cells derived from stem cells to treat people with sudden severe sight loss from wet AMD. It is hoped that it will also help treat dry AMD in the future.
Join Professor Pete Coffey in this free webinar where he will discuss the ground-breaking clinical studies and successful trials over the last 10 years and the future of the London Project to cure blindness
There will be an opportunity to interact and ask questions afterwards.
You will also find out about our exciting Bioscience Entrepreneurship MSc delivered jointly by leading experts at UCL and Moorfields Eye Hospital, starting in September 2020. (More info here - https://bit.ly/2WP0jlM)
Register Now!