'The Look of Silence' Preview Screening + Director Q&A

Saturday, 20 June 2015 from 19:00 to 23:00 (CEST)
Event Details
SOLD OUT! 
THIS EVENT IS ADVANCED TICKETS ONLY. APOLOGIES TO THOSE WHO HAVEN'T BEEN ABLE TO GET TICKETS THIS TIME.
JOIN OUR MAILING LIST TO BE THE FIRST TO HEAR ABOUT OUR NEXT EVENT: http://eepurl.com/lRg0j
"PROFOUND, VISIONARY, STUNNING" – Werner Herzog

BERLIN FILM SOCIETY
presents

An exclusive preview screening of 

'THE LOOK OF SILENCE' (2014)

followed by a Q&A with Oscar-nominated director, Joshua Oppenheimer, and the film's brave protagonist, Adi Rukun.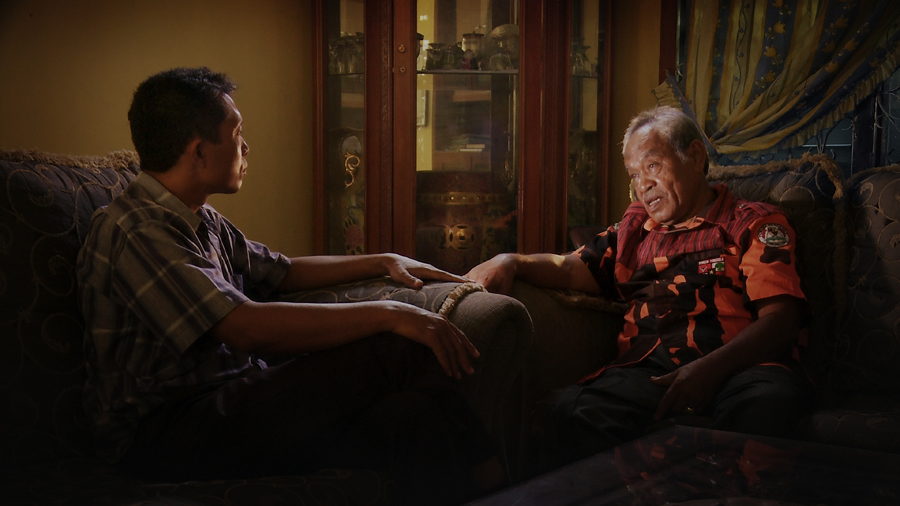 19:00 doors open
20:00 FILM STARTS
21:45 DIRECTOR Q&A

Berlin Film Society is honoured to present an exclusive preview screening of Joshua's Oppenheimer's acclaimed film, 'The Look of Silence', two months before the film's official general release in German cinemas in September.

We're excited to announce that Joshua Oppenheimer will be returning to Berlin especially for this screening (it's been two years since our preview of his first award-winning first film, 'The Act of Killing'). The film's protagonist will also be in attendance for the Q&A.

______________________________________________
ABOUT THE FILM

'The Look of Silence' is Joshua Oppenheimer's powerful companion piece to the Oscar-nominated 'The Act of Killing'. Through Oppenheimer's footage of perpetrators of the 1965 Indonesian genocide, a family of survivors discover how their son was murdered, as well as the identities of the killers. The documentary focuses on the youngest son, an optometrist named Adi, who decides to break the suffocating spell of submission and terror by doing something unimaginable in a society where the murderers remain in power: he confronts the men who killed his brother, asking them to accept responsibility for their actions. This unprecedented film initiates and bears witness to the collapse of fifty years of silence.

'The Look of Silence' premiered In Competition at the 71st Venice Film Festival, where it won five awards including the Grand Jury Prize, the international critics award and the European film critics award.

______________________________________________
ABOUT THE DIRECTOR

Joshua Oppenheimer was born in Austin, Texas and lives in Copenhagen. His debut feature film, 'The Act of Killing' was named Film of the Year in the 2013 by the Guardian and the Sight and Sound Film Poll, and won 72 international awards, including the European Film Award 2013, BAFTA 2014, Asia Pacific Screen Award 2013, Berlinale Audience Award 2013, and Guardian Film Award 2014 for Best Film. It was nominated for the 2014 Academy Award for Best Documentary, and has been released theatrically in 31 countries. Oppenheimer is a partner at Final Cut for Real in Denmark, and Artistic Director of the Centre for Documentary and Experimental Film at the University of Westminster in London.
______________________________________________
WITH THANKS TO

Joshua Oppenheimer

Konzulát

The Circus Hotel 
www.circus-berlin.de

WOLF Consultants
http://www.wolf-con.com/
When & Where

Konzulát
Leipziger Straße 60
10117
Germany


Saturday, 20 June 2015 from 19:00 to 23:00 (CEST)
Add to my calendar
Organiser
Established during the Berlinale 2012, the Berlin Film Society is a monthly cinematic experience. Each month a specific theme, motif, director, or idea will be explored within the films that are screened. From Director Q&As and retrospectives, to themed culinary experiences and live music events, the Society aims to create a whole new approach to experiencing film. Previous events have included the German Premiere of the critically-acclaimed UK film, 'Dreams of a Life', with director Q&A, exclusive screenings of Alejandro Jodorowsky's controversial cult classics, 'The Holy Mountain' and 'El Topo', Chaplin's satirical masterpiece, 'The Great Dictator', and David Gelb's appetising documentary, 'Jiro Dreams of Sushi'.

Feel free to get in touch: info@berlinfilmsociety.com