The Lost Legacy

Saturday, 14 March 2015 at 09:30

-

Sunday, 15 March 2015 at 17:30
Event Details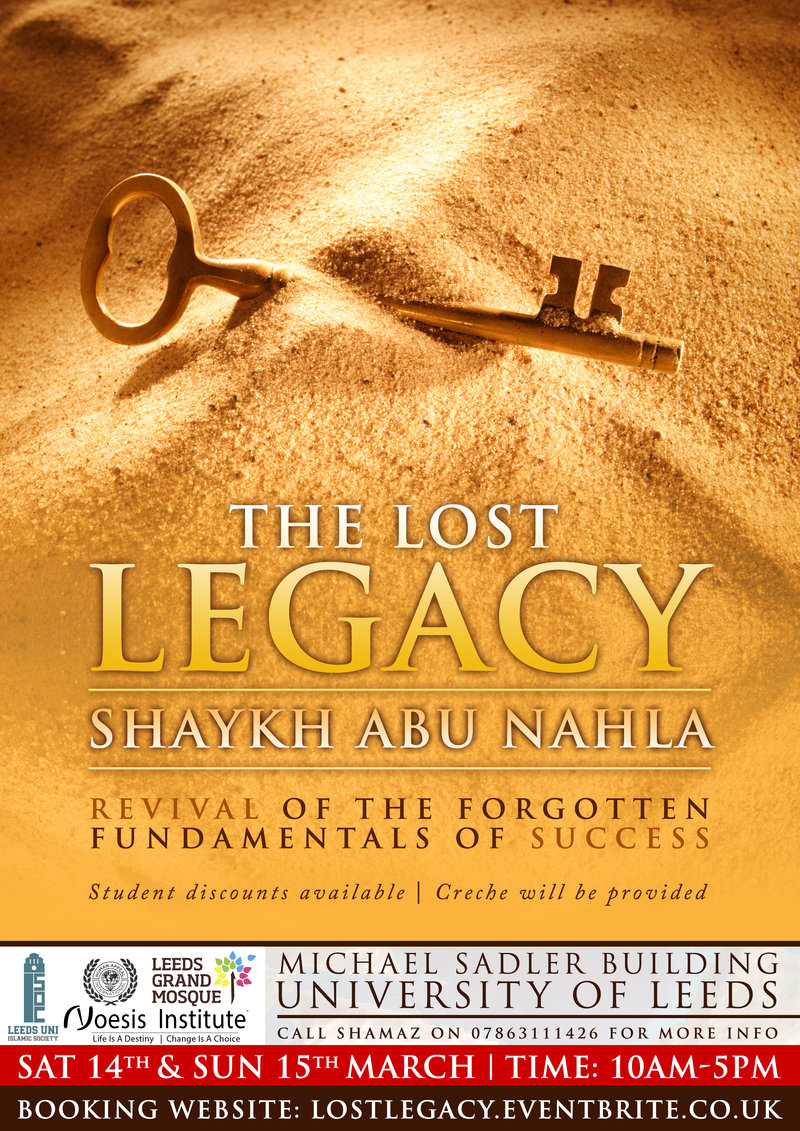 The Prophet SAAW was sent with the formula for success, for humanity, until the end of time. The Qur'an has been preserved and the Sunnah protected. The Ummah still exists and humans are still humans; yet misguidance still remains and we don't see the success that first generation attained.
The question that begs itself is what did that unique generation do with the same tools we have today; to change their lives, transform humanity, and attain success beyond measure?
What are we doing wrong?
What are we missing?
And how can we do it right?
In this unique and essential course we will explore important pre-requisites, essential concepts and fundamental principles that must be upheld to attain success and make it last. Join us for this 2 day course to rediscover and revive these fundamentals; to become a builder, rather than an obstacle on the way to success.
Venue
The course will be hosted by the Leeds University Islamic Society on the University campus:
Michael Sadler Building, University of Leeds, Woodhouse Lane, Leeds LS2 9JT
(see map here) - Michael Sadler Building is number 78 on the map.
Creche
Creche facilities are available for 1-10 year olds. Priority will be given to those who book first as places are limited. To book a place in the creche for your child, please contact Isma on 07912484866.
Costs are as follows:
£40 for children under the age of 2

£30 for children aged 2-10
Children under the age of 6 must be registered in the creche - no children will be allowed into the lecture theatre.
*Please note the creche is NOT a free drop off service, paid bookings only via prior registration*
Lunch
Lunch and refreshments throughout the day will be made available to all attendees.
Accommodation
We have negotiated a special discount for course attendees to receive 20% off the best available rates at any of the Roomzzz locations in Leeds. To receive this discount, please quote 'Leeds Grand Mosque' when calling the central reservations office on 0203 504 5555 or email them at reservations@roomzzz.com
Student Discounts
Students tickets are only available to university, college and school students - anyone over the age of 18 will be asked to provide a student ID as proof of their student status.
ISOC tickets are only available to Leeds University ISOC members. You will be asked to provide your student ID number at registration, your ticket will not be valid without this.
Course Instructor
Shaykh Abu Nahla has been teaching for 29 years in the field of Dawah and Tarbiya. He studied Islamic Shariah in Palestine and the Sciences of Tasawwuf in both Palestine and Egypt. He obtained several Ijazahs from his well-respected teachers and has become a leading expert in his field. He has also become known for conducting unique Quranic Tarbiya intensives.
Tarbiya touches upon all sciences, including but not limited to Quran, hadith, tasawwuf, and fiqh. While many have never tasted the fruit of tarbiya because of fear or misconceptions around tasawwuf and Sufism, Shaykh Abu Nahla manages to deliver the best of the fruit in his intensives: the fruit that is aligned with the Quran and Sunnah and bound by Shariah.
He appreciates the truth and studies all facets of the deen to gain a better understanding and obtain the most comprehensive view of Allah's religion. Shaykh Abu Nahla's main concerns are the revival of lost Quranic concepts, the true understanding of Islam, as well as Tarbiya and the sciences of application. He is trying his best to improve the condition of the Ummah by serving the revival of true Islamic concepts.
When & Where

Michael Sadler Buillding
University of Leeds
Woodhouse Lane
LS29TJ Leeds
United Kingdom


Saturday, 14 March 2015 at 09:30

-

Sunday, 15 March 2015 at 17:30
Add to my calendar
Organiser
Please contact Shamaz on 07863111426 for more information.
Please contact Isma on 07912484866 for creche enquiries.