THE forum for discussing 1970s lovers rock history & clarifying some of the inconsistencies and controversies, ahead of the BBMC exhibition
About this event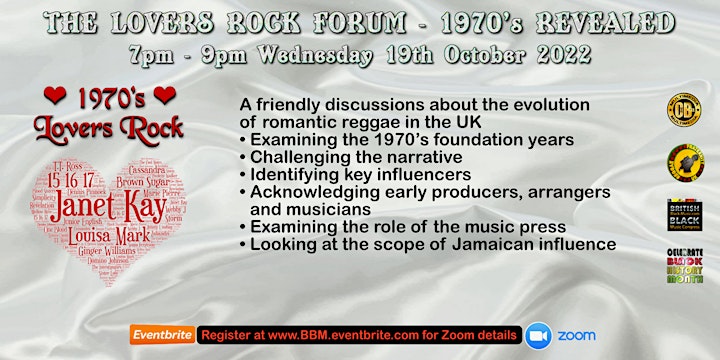 BritishBlackMusic.com/Black Music Congress presents in association with CeeBee Multimedia the go-to online conference to (re-)discover or confirm the facts about 1970s lovers rock.
Join reggae presenter Colin 'CeeBee' Brown of Reggae Fraternity UK, Kwaku of BBM/BMC and special guests to be confirmed, for an enlightening and eye-and-ear-open discussion, ahead of the 1970s lovers rock exhibition at BBMC, 385 High Rd, London NW10 2JR near Willesden bus garage.
Book now - you will be updated. And keep an an eye for booking details of
The 1970's Lovers Rock Exhibition
Celebrating 50 years of Lovers Rock in the UK 1972 to 2022
Examining the 1970' foundation years
Charting the evolution from a Jamaican sound to a distinct British sound
Curated by CeeBee Multimedia aka Colin Brown, this exhibition is the first ever to focus on the foundation years of the genre. Artists and bands who have so often been overlooked are highlighted and the most successful artists of the period like Janet Kay ('Silly Games') are celebrated.
A serious attempt is made to establish the chronology of when UK based reggae artists and bands released their first Lovers Rock song. The exhibition charts the evolution from a Jamaican sound to a distinctively British sound, from Romantic Reggae to UK Lovers Rock.
25 October - Exhibition Open - 31 October - Exhibition Closed
LOCATION: Theorem Music Village formerly BBMC Rehearsal Studios
385 Willesden High Road, Harlesden, London. NW10 2JR