The Luxury of Jesus - Meetings on 25th January 2018

Thursday, 25 January 2018 from 19:00 to 21:00 (GMT)
Event Details
Hi All,

Join us!
Thursday 25th January 2018 at 7PM
www.theluxuryofjesus.com/#news 
OUR SPECIAL GUEST:
Siam Hurlock-Noel professional singer, poet & actress.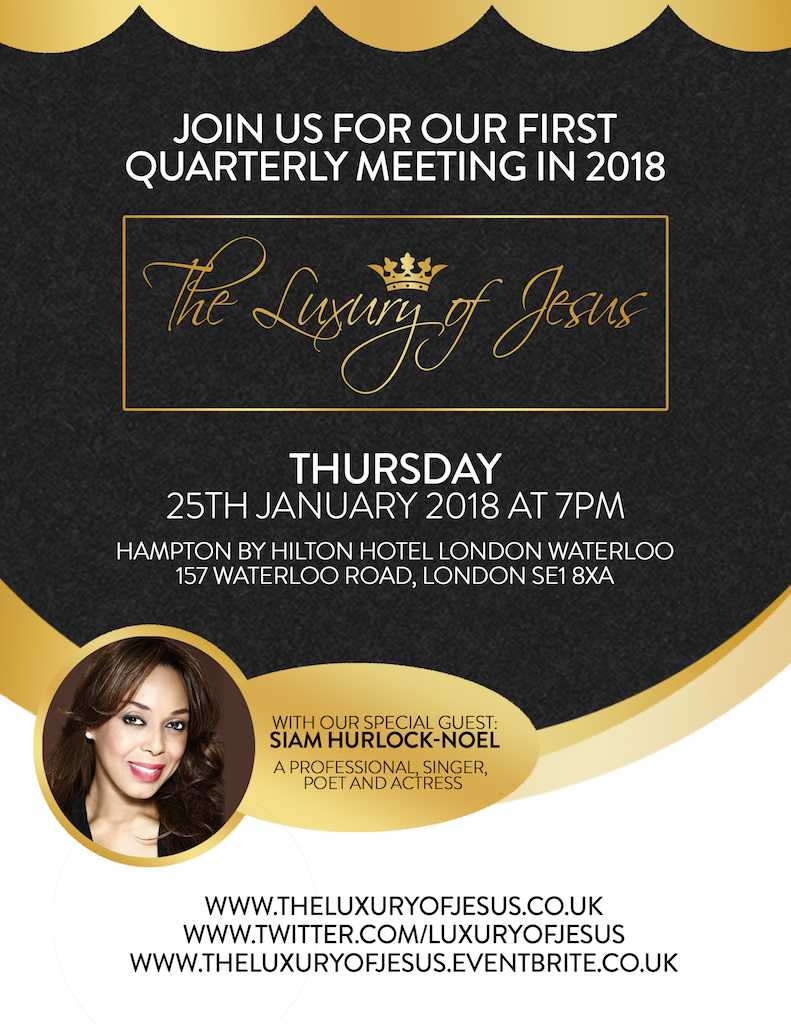 LEADING WORSHIP:
Special guests & Matteo Di Battista a rising star professional international actor.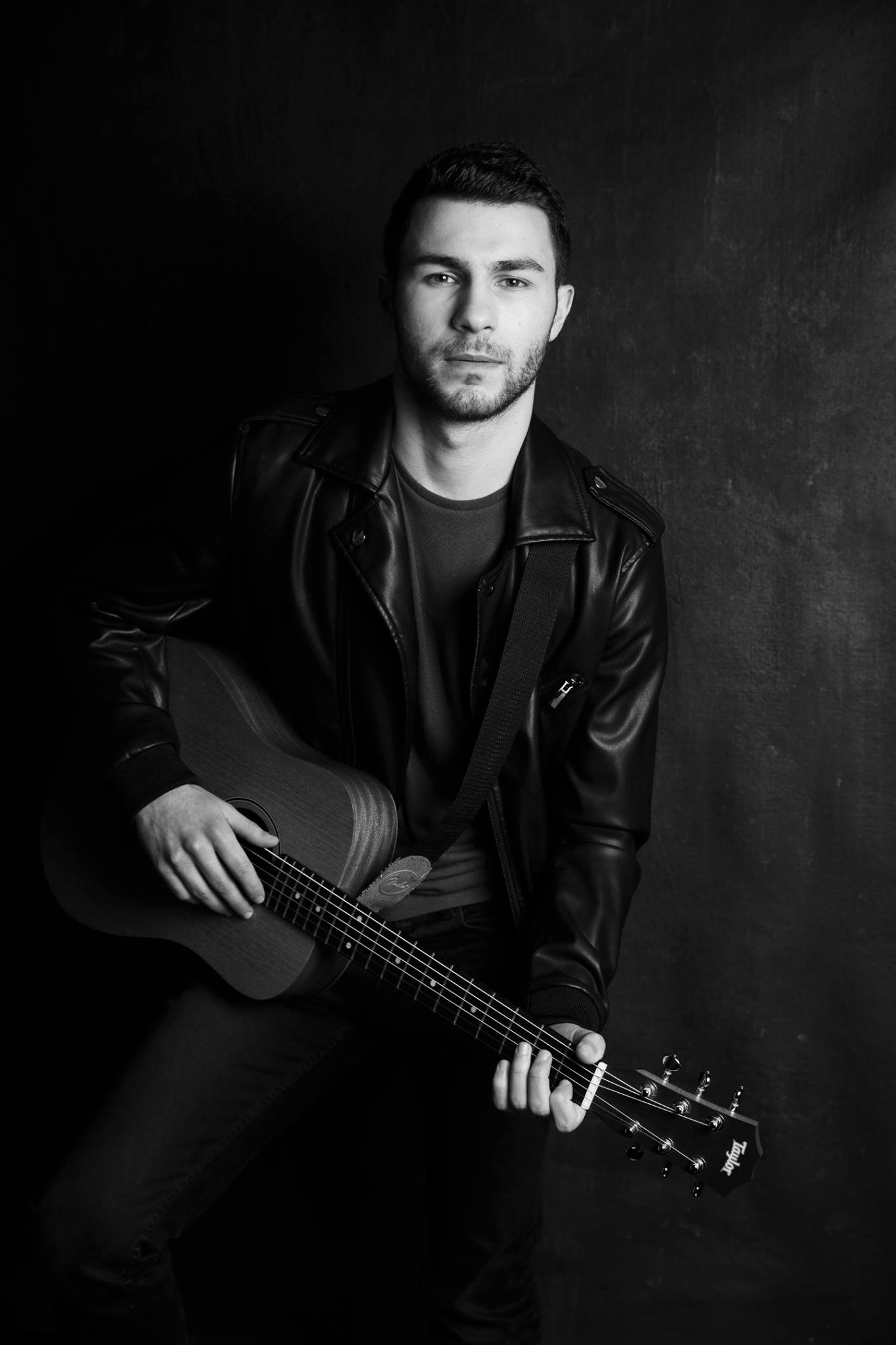 REGISTER FREE NOW:

www.theluxuryofjesus.eventbrite.co.uk
You can also join us by phone every Wednesday at 8pm for 10 minutes. 
Join us at 8PM - 8:10PM and every WEDNESDAY on the
PHONE (10 minutes of EMPOWERMENT).
We will remember & PRAY for our communities, families, friends & leaders. (ALL PRAYER REQUESTS WELCOME). 
CALL: 0330 606 0520   ACCESS CODE: 23 86 25
(0330 numbers are charged at the same rate as calls to normal landlines, 0330 numbers are also included in call allowances and bundled or 'free' minutes)  
INVITE your FRIENDS & FAMILY. Get EMPOWERED & INSPIRED #PASSitON #TEXTit #FORWARDit #WHATSAPPit #ExcEL LIFE God bless YOU. 
www.twitter.com/luxuryofjesus
GOSPEL SONGS WORSHIP, PRAYER & ENCOURAGING WORD.
At the Hampton Hilton Hotel Waterloo London.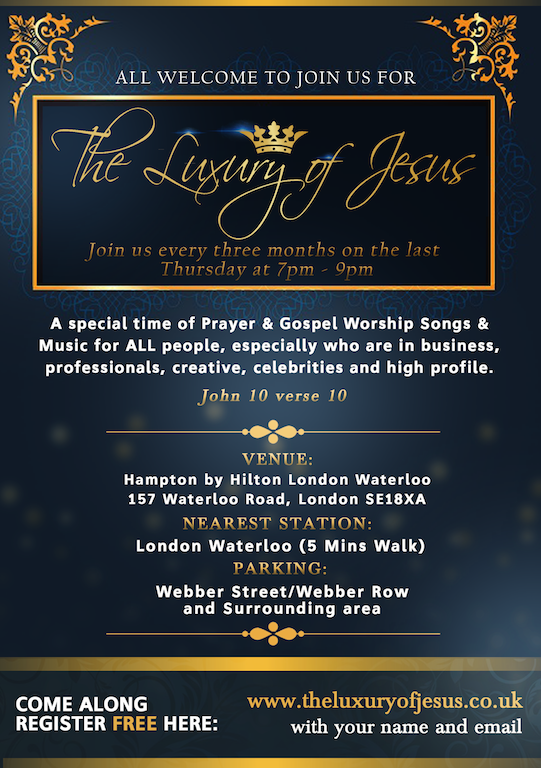 2018 Dates:

 

(Every last Thursday every THREE months)
www.theluxuryofjesus.co.uk
www.facebook.com/theluxuryofjesus
www.twitter.com/luxuryofjesus




@

luxuryofjesus


Thursday 

25th

 January 

2018 

at 

7pm

Thursday 

31st

 May 

2018 

at 

7pm
Thursday 

27th

 September 

2018 

at 

7pm


Various Singers & Musicians Leading Worship Songs.
 
 
SOME FEEDBACK OF WHAT PEOPLE ARE SAYING ABOUT THE LUXURY OF JESUS SERVICE:

"Great experience", "Lovely atmoshphere", "Glad I came", "The prayers and music is on point", "Great Singing", "Always excited to attend the Luxury of Jesus service", "I felt the presence of God", "I was touched", "I was blessed and refreshed", "Amazing", "God Bless You Awesome".
WE ARE CURRENTLY LOOKING FOR VOLUNTEERS 
volunteer musicians, especially that can play the keyboard or guitar, volunteer singers, volunteer outreach team, volunteer marketing & promotions, volunteer ushers/greeters, volunteers to help set-up and pack up, volunteer admin & counselling/follow up, volunteers for the sound, PA/Mixer (technical equipment) and financial supporters to assist with the costs of this vision.
This can be done securely by the following methods:

1. PayPal using email info@theluxuryofjesus.co.uk 
2. On Website www.theluxuryofjesus.com DONATE PAGE
3. Bank Account details below to make one off or regular Donations.

PLEASE LEAVE YOUR NAME AS A REFERENCE:
Bank Account Name: Excel Life 
Account Number: 03 75 67 26   |   Sort Code: 20 05 73
International Payments: Swift Code (BIC): BARCGB22
IBAN Number: GB87 BARC 20057303756726 


The aim of this service is an ENCOUNTER outreach with prayer & gospel worship songs focused! Reaching all especially professionals, high profile people, celebrities in the City/Central London.

 
COME ALONG REGISTER FREE HERE:  www.theluxuryofjesus.co.uk 7pm - 9pm 
All welcomed to join us for 'The Luxury of Jesus' A special time of Prayer & Gospel Worship Songs & Music for people who are singles, in business, professionals, creative, celebrities and high profile. John 10 verse 10
Join Pastor, Dr J & guests 
at 7pm and every last Thursday of the month. 
1Peter 2:9 YOU ARE SPECIAL...
Spread the word. GOD BLESS YOU!
Venue: Hampton by Hilton Hotel London Waterloo  
157 Waterloo Road, London SE1 8XA  
Nearest station:  London Waterloo  (5 Mins Walk)

Parking:   Webber Street/Webber Row 
(Free after 6:30pm 2 Mins Walk)
and surrounding areas *Note please check 
Parking Restrictions & Times to avoid parking ticket*

COME ALONG REGISTER FREE HERE:  www.theluxuryofjesus.co.uk 

Email: info@theluxuryofjesus.co.uk

Telephone: +44 (0) 8432 894 017

Mobile: +44 (0) 7939 996 111

7pm - 9pm 
THE LUXURY OF JESUS VISION   

1.  THE LUXURY OF JESUS SERVICE is a Prayer & Worship Encounter Outreach

2.  Empowering all people, especially professionals, high profile, celebrities and creative people to discover their core PURPOSE, recognise the POWER of GOD in their lives and how to overcome the plans of satan, 
John 10:10, Luke 10:19, Psalm 68, 1Peter 5:8, Isaiah 10:27, 
Isaiah 54:17, 2Corinthians 2:11: Lest satan should take advantage of us; for we are not ignorant of his devices
3.  Lives/Souls saved and transformed John 3:16, John 14:6, 2Peter 3:9, 
Romans 10:9-13, Romans 12:1-2, Jeremiah 29:11-14, 2Corinthians 5:17

4.  People Encountering God John 4:24, John 15:1-17, 2Chronicles 20:3-21, 
Jeremiah 33:3, Psalm 16, Psalm 23, Psalm 24, Psalm 37:4, Proverbs 3:5, Matthew 6:33

5.  Format of The Luxury of Jesus service: PRAYER, WORSHIP/SINGING, ALTAR CALL

6.  God's GLORY revealed in all - Isaiah 60:1-3, Isaiah 61:1-3, Romans 8:19, Matthew 5:14-16, John 17:1-5, Philippians 3:12-21, Colossians 1:27, 
Psalm 139:1-17, 2Corinthians 1:20, 2Corinthians 3:18, 2Corinthians 5:17 
 
7. Worshippers/Christians creating and changing atmospheres to facilitate an encounter with God Almighty Psalm 29:1-9, Psalm 99:1-9, Psalm 100, 
Psalm 150, Romans 12:1-2

8.   It's about lives being changed, and people getting their breakthrough, whether it is healing, marriage, birthing a vision, encouraging and inspiring vision, business, dominion, purpose. Romans 8:28-29

AIMS
We aim to purchase a building for the purpose of running a weekly prayer and counselling centre for all especially those who are professionals, high profile, celebrities and creative people.

We aim to provide food to feed homeless people and also provide sleeping bags for those sleeping rough.

We aim to hold regular empowerment workshops and seminars at the Luxury of Jesus Prayer Centre.

YOU are SPECIAL! Thank YOU and much Love Agape Behaviour...


 Website: www.theluxuryofjesus.co.uk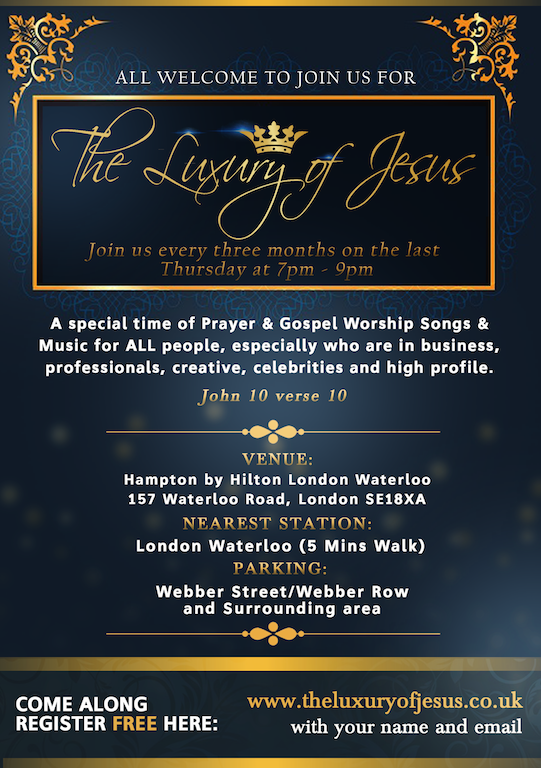 Website: www.theluxuryofjesus.co.uk
Save This Event
When & Where

VENUE: Hampton by Hilton Hotel London Waterloo
157 Waterloo Road
SE1 8XA London
United Kingdom


Thursday, 25 January 2018 from 19:00 to 21:00 (GMT)
Add to my calendar
The Luxury of Jesus - Meetings on 25th January 2018