Location
Hatfield House
Great North Road
Hatfield
AL9 5HX
United Kingdom
The Luxury Wedding Fair at Hatfield House. Join us at this super event packed with local wedding supplier, fashion shows, and so much more
About this event
The Luxury Wedding Fair at Hatfield House.
A simply wonderful Wedding Fair held in the historic Old Palace and contemporary Riding School at Hatfield House. As well as over 60 top wedding professionals from Hertfordshire and beyond, this unique, new Wedding Fair also includes masterclasses on wedding related topics and pop-up bridal shops. Whilst part of the Old Palace will be decorated and looking splendid as it might on your wedding day.
There are usually fashion shows throughout the day (normally 12:30pm & 2pm) featuring the very latest bridal and couture gowns, often menswear and mother of the bride is included too, together with an array of live entertainment.
The courtyards shops, galleries and restaurant will be open for you to browse and enjoy.
Knowledgeable staff from both Hatfield House Hospitality will be available to discuss your wedding ideas and to offer advice.
Please visit our website for full details.
Admission and Car Parking are free of charge.
If you are attending in a vehicle, please enter via George Gate for our main visitor car park (AL9 5HX).
Pedestrians will be able to enter on foot or via public transport through our Fore Street Gate, please first approach the gate opposite Hatfield Train Station; here they will be able to direct you to the Fore Street Gate.
We look forward to meeting you.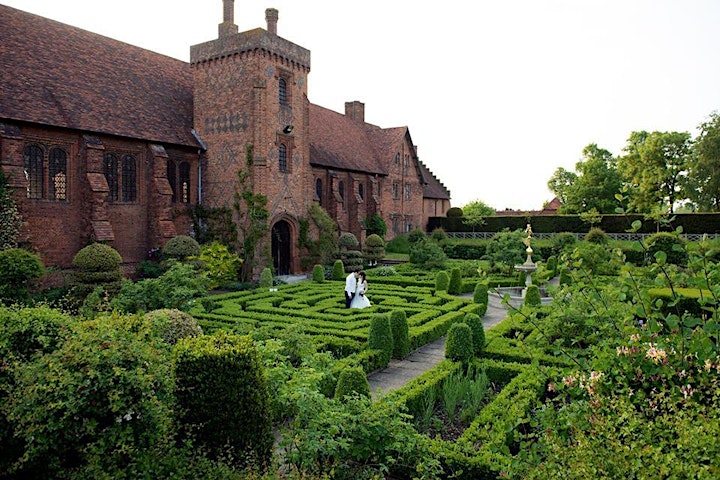 About Hatfield House
Hatfield House is a fine Jacobean House set amongst parkland with stunning picturesque gardens, and spectacular countryside, yet just twenty-one miles from central London.
Superb examples of Jacobean craftsmanship can be seen throughout Hatfield House such as the Grand Staircase with its fine carving and the rare stained-glass window in the private chapel. Displayed throughout the House are many historic mementos collected over the centuries by the Cecil's, one of England's foremost political families.
Hatfield House was completed in 1611. It was built by Robert Cecil, first Earl of Salisbury and son of Lord Burghley, the chief minister of Elizabeth I. The deer park surrounding the house and the older building of the Old Palace had been owned by Elizabeth's father, Henry VIII, who had used it as a home for his children, Edward, Elizabeth, and Mary. It was while she was living in the Old Palace, in 1558, that Elizabeth learned of her accession to the throne.
The Cecil's' former home was at Theobalds, also in Hertfordshire. In 1607, Elizabeth's heir, James I offered to exchange Theobalds for the Old Palace and manor of Hatfield. A draft Parliamentary Act of exchange survives in the Cecil Papers at Hatfield, dated May 1607. Salisbury began building work immediately. The main architect of the house was Robert Lemynge but Simon Basil, the Surveyor of the King's Works and Inigo Jones also contributed to the design.
Salisbury had been appointed Lord Treasurer in April 1607 as well as Chief Secretary, but he became ill and died, aged only forty-eight, in April 1612. Although he was buried in Hatfield, he did not live to enjoy the house that was to become the home of his descendants the Cecil's, for the next four hundred years.
Today, Hatfield House is the home of the 7th Marquess and Marchioness of Salisbury.