The Wedding Fair at Madingley Hall Cambridge, a truly unique event not to be missed, set within a historic venue with wonderful exhibitors.
About this event
About The Madingley Hall Wedding Fair
As you travel up the long drive towards Madingley Hall, you are immediately transfixed with the splendid grounds and the sight of such a grand building. Parking by and walking through the walled gardens enhances the expectation of no ordinary Wedding Fair.
The Madingley Hall Wedding Fair is the perfect place to start planning your wedding. Packed with leading inspirational exhibitors from the Cambridge area and beyond offering services and products covering every aspect of your wedding and some that you might not have considered. Whether you're seeking a gorgeous cake or simply some advice help is on hand.
There are usually fashion shows throughout the day on our signature catwalk in the Ballroom featuring the latest bridal gowns and often menswear too. Plus, great live entertainment.
Knowledgeable staff from Madingley Hall will be present to show you around and to discuss your wedding plans and ideas.
Madingley Hall is a beautiful wedding venue and if the weather is kind it is certainly worth visiting the grounds.
Please click here to find out more and to reserve your arrival time
Admission and car parking are free of charge. Open 11.00am – 3.00pm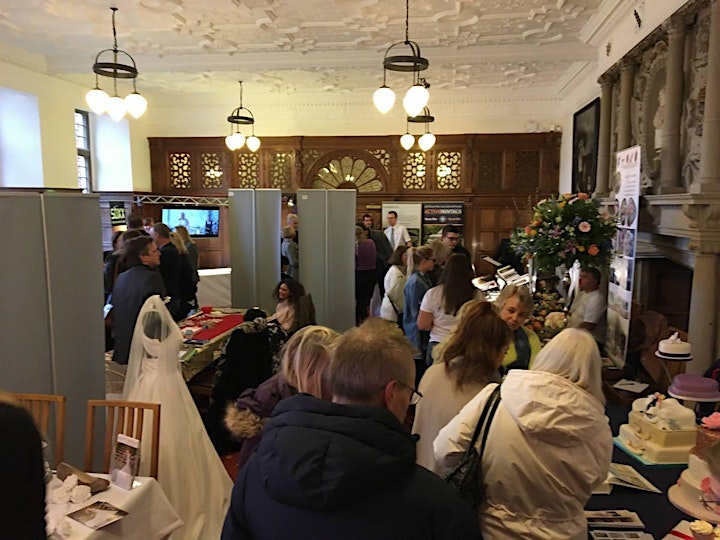 About Madingley Hall, Cambridge
Madingley Hall is a beautiful Tudor Hall which dates to 1542. Set in seven acres of magnificent landscaped grounds Madingley Hall, Madingley, nr Cambridge provides an unforgettable setting for your wedding day.
Although the Hall was built between 1543 and 1547, the earliest recorded image of the gardens is an engraving dating from 1705, showing a formal, Dutch-style garden to the north and east of the Hall.
The upper hall had a splendid viewing platform, leading to speculation that the Hall was originally conceived as an extravagant hunting lodge, built to flaunt the wealth of the newly-rich Hynde.
This garden was replaced by the prevailing trend for naturalistic parkland and in 1756, Lancelot Capability Brown was employed to create a fashionable and yet stunning landscaped gardens complete with water features.
Today Madingley Hall still retains many of the original period features, making this a truly striking venue both inside and out.
It's not difficult to imagine that Madingley Hall can be the perfect choice for your wedding day.
Imagine your wedding breakfast in their magnificent panelled Dining Hall, stately Saloon or enjoying the breathtaking gardens for reception drinks and formal photographs. With the combination of their historic setting and first rate staff and catering, you and your guests will be guaranteed a day to remember at Madingley Hall.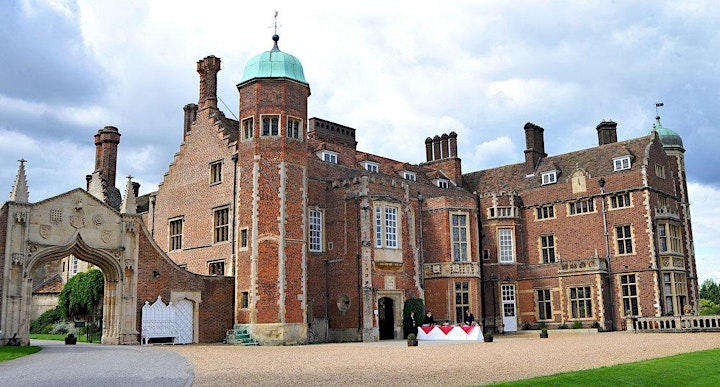 Organiser of The Madingley Hall Cambridge Wedding Fair
For over 30 years, we've been working with amazing venues and outstanding wedding professionals to create "inspired wedding fairs locally". Wedding fairs that are informative, enjoyable and exciting, whilst offering the very latest wedding innovation, products and services. Perfect when planning your special day.
Each wedding exhibition offers an incredible array of fine suppliers covering every aspect of your wedding from great photographers, creative bakers and fabulous florists, to intriguing magic plus lots of ideas and services that you might not even have considered!
Most of our wedding shows also include fashion shows (a great way to view and see modelled the dress of your dreams) these are provided by leading local bridal companies often accompanied by menswear and live entertainment too, whilst the venues are often dressed for such a grand and auspicious occasion.
So, there's much to see and enjoy. Admission is free.