The MAGIC of Opera 2021 is a gala concert of classical music and operatic arias, with a tasting of Italian wines!
About this event
The MAGIC of Opera
GS Wines present The Magic of Opera - a gala concert featuring our highly talented cast of singers and pianist, who will perform much loved operatic arias and classical songs, including many by great Italian composers such as Puccini and Verdi.
Attendees can be assured that GS Wines take the safety and security of our performers and audience very seriously. The measures will all comply with government guidelines to ensure Covid-19 security for all guests, performers and staff. (See reference to guidelines below) [Please see our 'Updates' section for news on Covid-19 security measures and on updates about our event.]
Join us for a unique evening - combining a tasting of some of our high quality Italian wines with music and arias celebrating the magic of Opera in evoking raw human emotions - and look forward to an evening of sensual enchantment!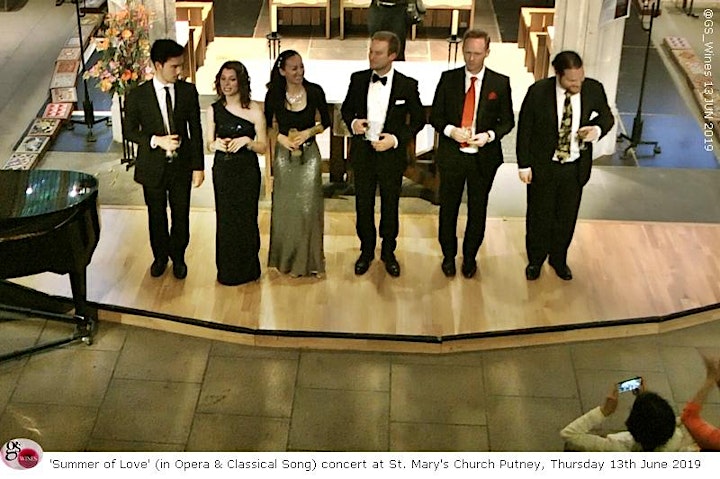 We are delighted to present Italian soprano Francesca Matta, who possesses excellent technique and beautiful voice, and who has performed many of the great soprano roles in Italian opera. Our tenor for the evening is Roberto Abate, whose gloriously rich, powerful voice can deliver thrills with his rendering of the big tenor arias. Francesca and Roberto will be joined by emerging talent, baritone Patrick Keefe and soprano Mariana Fernandes. They will draw you into a magical operatic world of passionate emotional highs with their glorious voices and superb technique as they perform arias from the greatest operas and much-loved songs - accompanied on the Grand piano by highly accomplished collaborative pianist Caroline Jaya-Ratnam!
Featuring arias from best loved operas such as Le Nozze di Figaro (Mozart), Madame Butterfly, Turandot, La Bohème (Puccini), Aida (Verdi) and wonderful classical songs including Italian lieder (such as those by Sir Paolo Tosti), this concert will be a treat for music lovers and opera lovers in particular!
Arias expected to feature in the concert include:
Un bel di Vedremo (One Fine Day) from Madame Butterfly by Puccini soprano solo)
Recondita Armonia from La Tosca by Puccini(tenor solo)
'Yeletsky's Aria' from Pique Dame by Tchaikovsky (baritone solo)
O Soave Fanciulla from La Bohème by Puccini (soprano/tenor duet)
Donde Lieta Uscì from La Bohème by Puccini (soprano solo)
Nessun dorma from Turandot by Puccini (tenor solo)
and many more! (NB. Music programme on the evening is subject to confirmation, and we may invite additional guest performers depending on their availability)
Additionally, we will have the pleasure of live classical music performed by Mark Sheridan (cello) and Caroline Jaya-Ratnam (piano)!
----------------------------------
What a member of our audience said about one of our concerts ['Love, Betrayal, Death' (in Opera)] (20th October 2018): "What a successful and wondrous evening you gave us – many thanks.  I was delighted to see a packed church and those singers certainly deserved the standing ovation."
----------------------------------
To round off the evening, why not take advantage of Putney Pantry's special 'Opera Gala' 3-course dinner specially designed for our concert-goers - for only £27.50 per head* PLUS a free glass of wine courtesy of GS Wines! (N.B. this is payable at the restaurant and not included in the ticket price). Please see below for menu.
Putney Pantry is a cafe and restaurant run by chef Isso Cissokho, located right next to St. Mary's Church.
UPDATES
Wednesday 21st April 2021
Launch of ticket sales for our rescheduled concert via Eventbrite!
Tuesday 4th May 2021
We are pleased to welcome emerging young talent, baritone Patrick Keefe to sing some solo arias at our concert by Bellini, Mozart and Tchaikovsky! (Please scroll down the page to see his bio).
Tuesday 25th May 2021
Just days to go before our concert, and we have exciting news! We are delighted that Mariana Fernandes will join the show as guest soprano, and will perform some more glorious arias from Puccini's operas! We have only a few more tickets left, so please come to the show to discover and enjoy her singing!
Our Piano and Cello duo have finalised their music programme, which will include works by Beethoven, Tchaikovsky and Saint Saens.
At the optional 'Operatic Dinner' (see below for details) at Putney Pantry after the show, diners will not only get a free glass of prosecco with the meal, but also have a chance to try some top quality Japanese sake - Hakutsuru Tojikan (courtesy of loyal Putney resident, Wine Educator and Sake Expert, and Marie Cheong-Thong) - after dinner!
Thursday 27th May 2021
Putney Pantry's 'Operatic Dinner' is now fully booked! However we do have a few tickets left for the concert.
Friday 28th May 2021
Correction made to timetable - please note, doors open at 5:30 PM and you will be shown straight to your pre-allocated seat, and a welcome drink will be brought and served to you at your seat. Concert starts 6:15 PM.

--------------------------------------------------------
St Mary's Church Putney Pantry "OPERATIC DINNER NIGHT"*
Wednesday 16th December 3 courses £27.50 on pre-order only
*Special Offer post-concert Dinner at Putney Pantry for £27.50 - choice of starter, main course and dessert PLUS a free glass of wine courtesy of GS Wines! Dinner guests - please pre-order your meal (starter, main and dessert) to assist planning by the chef and restaurant staff.
Starters
Crab and celeriac milles feuilles, crab biscuit, watercress salad
Duck liver parfait, onion jam, grilled bread
Caramelised onion and goat cheese tart, walnut and chicory salad
Mains
Osso Bucco, risotto Milanese (saffron risotto), gramolata
Portuguese Bacalao, steamed vegetables, black olive aioli
British asparagus, mushroom and parmesan arancini, tomato and basil coulis
Dessert
Poire belle Hélène - Poached pear, vanilla ice cream, hot chocolate sauce
Glazed lemon tart, honey crème fraiche
Stilton and cheddar cheese board, chutney and oat crackers
-----------
Tel: 0208 789 1137
info@putneypantry.com
St Mary's Church Putney High street London SW15 1SN
EVENT TIMETABLE
17:30 Arrival - allow time for seating + Welcome glass of Italian bubbly
18:15 Concert starts - first part - 45 mins
19:00 Intermission (20 min) + glass of Italian wine from a selection
19:20 Concert 2nd Part - 45 mins
20:05 End
[Total concert time including Intermission approx. 2 hours]
TICKET TYPES
ADULT £37.50* entitles ticket holder to socially distanced seating (operated according to prevailing Covid-19 security rules), refreshments (including a welcome glass of Italian bubbly and a tasting of wine during the intermission) + concert programme booklet.
Concession: Children under age of 18 years, accompanied by adult, £7.50* per child.
*plus Eventbrite Service fee
Reference
Working safely during coronavirus (COVID-19) - Performing Arts
From: Department for Business, Energy & Industrial Strategy and Department for Digital, Culture, Media & Sport Published: 11 May 2020 Updated: 15 April 2021

Italian soprano Francesca Matta graduated in opera singing at the Conservatorio di Musica G.P.L. da Palestrina and continued her vocal studies with renowned international artists such as Giusy Devinu and Bernadette Manca di Nissa. Over the years she performed, both in Italy and UK, roles such as Tosca; Cio Cio San, Madama Butterfly; Gilda, Rigoletto; Mimí, La Bohème; Elisabetta, Maria Stuarda; Contessa, Le Nozze di Figaro; Donna Elvira, Don Giovanni; Fiordiligi, Così fan Tutte. In summer 2021 Francesca will make her debut as Violetta in La Traviata with Regents Opera.

Perth born Roberto Abate recently made his European debut in Holland as Don José for the International Bel Canto Academy in conjunction with Opera Noord-Holland-Noord. He also performed with WA Opera from 2006 to 2010 as a principal artist, playing Nemorino (L'elisir D'amore), Harry (La Fanciulla del West), Beppe (I Pagliacci), and covered Don Jose and Nadir. In 2010, Roberto appeared as soloist in the West Australian Symphony Orchestra's Gala Concert with Sumi Jo. As recipient of the Australian International Opera Awards scholarship, Roberto trained at the Wales International Academy of Voice, 2012. In the UK, numerous roles have included Canio (I Pagliacci )(Opera North) Don José (Carmen)(The Grange Festival, Opera-Up-Close), Riccardo (Un Ballo in Maschera)(Bury Port Opera), Rodolfo (La Boheme)(Regents Opera/King's Head Theatre) and Gherardo (Gianni Schicchi)(Fulham Opera).

Portuguese soprano Mariana Fernandes is currently studying for her MA at the Guildhall School of Music and Drama. Her studies are generously supported by Fundação GDA, The Kathleen Trust, and the Guildhall School. Mariana has won several national prizes in Portugal including the Concurso International de Música "Cidade de Almada" (2016). Most recently Mariana performed the role of Suor Angelica and Erste Dame in a set of opera scenes with director Simon Iorio and music director Alex Ingram, Donna Anna in a set of opera scenes with director Ella Marchment and music director Zeynep Ozsuca, and Contessa Almaviva in a production of The Marriage of Figaro with director John Ramster and music director Linnhe Robertson (Guildhall School of Music and Drama). In July she will be performing the roles of Leonora, Fiordiligi and Sandman in a series of opera scenes with director Ella Marchment and music director Alex Ingram. Mariana is deeply interested in the connection between music and other art forms, and therefore enjoys incorporating these in her musicality and interpretation.

Patrick Keefe, baritone, is currently on the prestigious Opera course at the Royal Academy Opera (RAO) at the Royal Academy of Music. Prior to this he studied at the Guildhall School of Music and Drama, and before this at the University of Oxford where he completed a BA (Hons) and Masters with distinction in Music and sang with the Choir of Merton College. At RAO, he has recently enjoyed presenting the roles of Demetrius (A Midsummer Night's Dream), Guglielmo (Così fan tutte) and Aeneas (Dido and Aeneas). He is a Help Musicians Sybil Tutton Award holder for 2021-2022, and an Opera Prelude Young Artist. He is grateful to have been supported by a D'Oyly Carte Memorial Award, Fordyce Award, and the Behren's Foundation.

Following her Masters degree in Music (Cambridge University), accomplished concert pianist, accompanist, violinist and singer Caroline Jaya-Ratnam was appointed Junior Fellow at the Royal College of Music. She has appeared on TV accompanying world renowned opera singers including tenor, Rolando Villazon, baritone Bryn Terfel and soprano Danielle de Niese. She has appeared at the Royal Albert Hall in numerous Proms as part of the London Symphony Orchestra and the BBC Concert Orchestra.

Mark Sheridan studied at the Yehudi Menuhin School and attended the Royal Northern College of Music where he was awarded the Barbirolli prize, and gave several concerto performances with college orchestras. He was awarded the Sir Mark Turner Memorial Scholarship to attend masterclasses with Janos Starker at the School of Fine Arts in Banff, Canada, and later won a Royal Society of Arts Scholarship to study with Arto Noras at the Sibelius Akaktemia in Helsinki. He also participated in masterclasses with Pierre Fournier, Janos Starker, Jacqueline du Pre and Zara Nelsova. Mark is a member of the BBC Symphony Orchestra, and has given many chamber music performances with BBCSO players, with whom he performed in Seoul Korea, and the group also recorded for BBC Radio Three. More recently Mark has given recitals with pianist Caroline Jaya-Ratnam, and several trio concerts with her and violinist Stephen Bryant.
How to get to there
St Mary's Church is next to the river at the southern end of Putney Bridge. It is in a controlled parking zone, so we recommend you come by public transport.
Putney is very well-served by buses, tubes, and the rail network.
By Bus:  Many bus routes go through Putney. Here are a few useful ones:
From Piccadilly Circus to Putney Common, take a number 22
From Hyde Park Corner to Putney High Street, take a number 14
From Oxford Street to Putney High Street, take a number 74.
Other routes include 220, 270, 424, 430, & 485 [stops outside of the church]
By Tube:  Take the District Line to Putney Bridge station on the Wimbledon branch, and then simply walk south over Putney Bridge, (5mins walk) or to East Putney station and walk west along the Upper Richmond Road and then north down Putney High Street to Putney Bridge (15mins walk).
By Rail:  Very frequent trains from London Waterloo, via Clapham Junction, to Putney Rail station. From Putney Rail station there are fairly frequent trains to Richmond, Hounslow and out towards Windsor. Walk north down Putney High Street (5mins walk)
Organiser of The Magic of Opera 2021
Gordon Stuteley MBA, CEO GS Wines, has had a keen interest in wines from all over the world since the 1970s. He has delivered numerous informal and entertaining talks (at corporate events as well as private wine tastings) about Italian wines, grapes and winemakers, sprinkled with interesting historical anecdotes and notes in general about wine making. He has recently combined his love of operatic music and Italian wine in events that offer the best of both worlds such as concerts of operatic arias with a bit of wine tasting!