'The Making Of Marcus Garvey': A Research Feedback Presentation By Joy E. D...
Description
THIS IS FOR INFORMATION PURPOSES ONLY! TO BOOK, PLEASE GO TO:

Xtra History Sessions @ Harrow Mencap in association with Akoben Awards, BTWSC/African Histories Revisited and Friends Of Marcus Garvey Bust Collective present 'The Making Of Marcus Garvey': A Research Feedback Presentation By Joy E. Douglas.

This is a rare privilege to have Jamaica-based independent historian Joy E Douglas (see below for her CV and research abstract) share some of her research into *Marcus Garvey's early years and to solicit feedback on this period of Garvey's life, which is not widely documented.
Please note: that this is decidedly meant for a small group, so only book if you are certain of attending, in order not to deprive someone else the opportunity. Click here to book.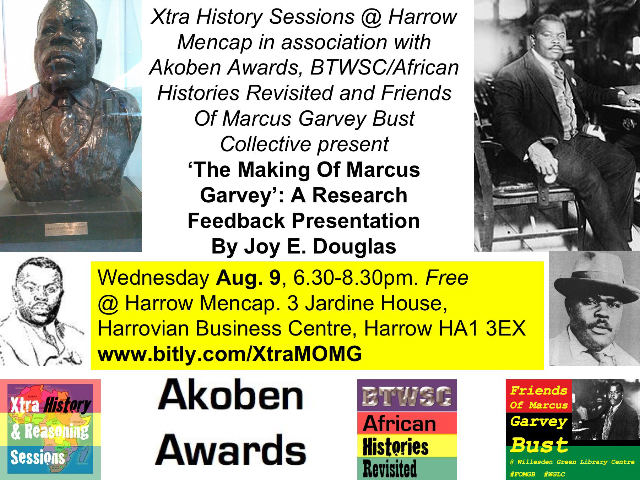 *While there has been extensive research on Garvey and the movement he founded, there has been limited research on his early life in St. Ann's Bay from the time of his birth in 1887 to the time of his departure from St. Ann's Bay in 1905 at eighteen years old.
This paper presents research on the early period of Garvey's life, based on the clues contained in his own writings that focus on the people and institutions that played a significant role in shaping his character and beliefs when he lived in St. Ann's Bay.
Specifically, the role of the Weslyan Methodist and Anglican Churches as well as the Friendly Society, the Ancient Order of Foresters will be discussed.
International champion of the Afrivan cause and Jamaica's first National Hero, Marcus Mosiah Garvey was born in the tiny seaport of St. Ann's Bay, Jamaica in 1887.
In Kingston, twenty-seven years later in 1914 he founded the Universal Negro Improvement Association (U.N.I.A.) a movement which by the 1920s was to have 1,200 branches in over 40 countries of the world.
The tenets of Garvey's teachings on race, self-reliance and nationhood struck a chord in people of African ancestry wherever in the world they happened to be living.
Indeed, Marcus Garvey succeeded in raising the level of consciousness of Africans both as individuals and as a group and motivated them to organize socially, economically and politically to seek personal and collective Independence.

His challenge brought into the open the often unspoken assumptions about race and colour.

The Garvey movement of the 1920s was therefore a catalyst, bringing the whole question of human rights and dignity into sharp focus on a world scale.

Joy E. Douglas is a Geographer and Master of Urban & Regional Planning, and presently Senior Adviser to the Minister of Local Government and Community Development in Jamaica. She also serves on several public Boards. She is Chairman of the National Library of Jamaica, member of the Jamaica National Commission for UNESCO and Chairman of the Man & the Biosphere National Committee, Trustee of the Jamaica National Heritage Trust, Chairman of the Office of Disaster Preparedness and Emergency Management, and Chairman of Spanish Town High School.
Remember:
2015-24 is

UN's

IDPAD

(

International Decade For People Of African Descent

)

Click

here

to book for

The Marcus Garvey Annual Pan-Africanism Presentation 2017

@ Willesden Green Library on

Thursday Aug. 17

, 6.30-8.30pm

Go to HarrowBHM.eventbrite.com to book our next upcoming Xtra African History Sessions @ Harrow Mencap events:
Aug. 21 2017 Remembering Aug. 23: International Day Of African Resistance Against Enslavement (Kwaku)
We'll mark International Day Of African Resistance Against Enslavement with a round table meeting focused what we as individuals and collectively can do about the UN's IDPAD (International Decade For People Of African Descent) initiative. Includes mini-presentation by Ade Olaiya MA.

Aug. 28 2017 Remembering Aug. 31: African History Reflection Day (Kwaku)
We'll mark the 4th African History Reflection Day by focusing on African History Month UK @ 30.


Harrow Mencap has free on site parking, and is less than a 5 minute walk from Harrow On The Hill tube or bus station (see map below)