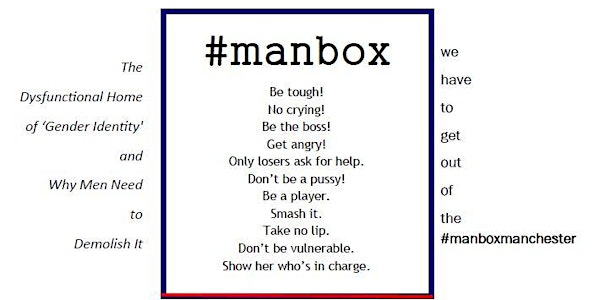 The 'Man-Box': The Dysfunctional Home of 'Gender Identity' and Why Men Need...
Event Information
Location
Quaker Meeting House
6 Mount Street
Manchester
M2 5NS
United Kingdom
Description
A chance to meet and discuss how boys and men can resist and lessen restrictive influences within masculinity (A.K.A. The Man-Box), making life better - in the process - for women and girls, other men and themselves.
As men we know we are not pre-ordained to act out the narrow versions of 'being a man' sold to us all too often by culture: 'Be tough!', 'take control!', 'be the champ!', 'don't ask for help!', 'smash that!', 'no pain!', 'take no lip!' - and all that stuff.
We believe that 'gender' (as distinct from 'sex') is a set of socially-constructed stereotypes which men and women are invited / cajoled / coerced from birth to act out. We believe that because these stereotypes are not innate that they can - and should - be challenged. We are concerned that presenting young people with a notion that this cultural 'product' called 'gender' (as distinct from 'sex) is natural and 'innate' to us closes down critical thinking about the society that produces it - and ultimately reinforces the sexist thinking that limits us (women particularly and in multiple obvious ways, but in the long run men too).
We can expand our understanding of what it means to 'be a man', to value emotions and diversity of self-expression, to prize caring, nurturing and openness.
We need to acknowledge how things can go very wrong if we rigidly adhere to masculine 'scripts': in terms of relationship abuse, violence (against women and girls, other men and indeed ourselves), risk-taking behaviour, detachment, friendlessness, ill health, depression, imprisonment, neglected creative or artistic impulses, not asking for help... it's a long list.
We will be talking about:
the reality and the impacts of 'The Man-Box' as illustrated in some key resources such as Tony Porter's seminal TED Talk HERE

the basic truth that Male violence Against Women & Girls #mvawg is not a 'women's problem' but a men's problem that affects women and girls - and we will be asking each other what steps we can take to end that violence. ref Jackson Katz's TED Talk HERE

the problems inherent to the recent 'turn' to 'gender identity' as a way of explaining alienation, detachment and frustration in young people - and how analysing our own internalised 'man-box' can help us see a way beyond 'gender' to a complex and rich humanity - healthier and happier for all. See here for background reading on this theme: https://aeon.co/essays/the-idea-that-gender-is-a-spectrum-is-a-new-gender-prison
We aim to do this in a way that is clearly cognisant and supportive of the incredible struggles - through feminism - by women over the decades for their full human rights - a struggle by no means over and indeed facing renewed assault on many fronts.
There will be several speaker contributions from men and women who work in relevant fields. Confirmed to date:
Michael Conroy @michaelconroy68 - 14 years in Secondary Education, trainer/facilitator in 'understanding social influences on boys and young men' www.menatworkorganisation.org @menatworkorg Dad and uncle.

Jonathan Best @JonnyBest, campaigner and writer, former director of Queer Up North International Festival

Gemma Aitchison, @Gemma_Brett , Campaigner, YesMattersUK

Nina, Survivor, Trainer & Helpline worker for the Freedom Programme, Nina works with women and children who have experienced trauma through violence. Mum of a 10 year old boy.

Speaker TBC

Key quotes:
"The problem with gender is that it prescribes how we should be rather than recognizing how we are. Imagine how much happier we would be, how much freer to be our true individual selves, if we didn't have the weight of gender expectations." Chimamanda Adichie
"If it would 'destroy' a boy to be called a girl what are we then teaching him about girls?" Tony Porter
"The wounded child inside many males is a boy who, when he first spoke his truths, was silenced by paternal sadism, by a patriarchal world that did not want him to claim his true feelings. The wounded child inside many females is a girl who was taught from early childhood that she must become something other than herself, deny her true feelings, in order to attract and please others." Bell Hooks
"Calling gender violence a women's issue is part of the problem. It gives a lot of men an excuse not to pay attention" Jackson Katz
Date and time
Location
Quaker Meeting House
6 Mount Street
Manchester
M2 5NS
United Kingdom