A workshop for public figures in search of an edge
About this event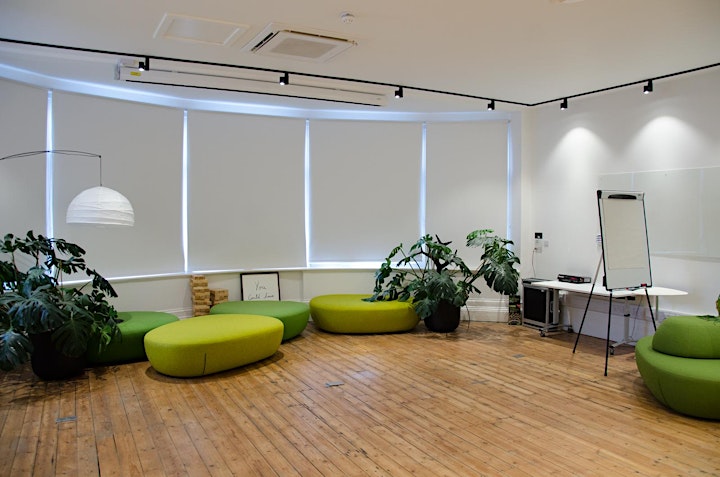 Nietzsche said, 'Be who you are'. This workshop shows you how
What is the Mastery weekend?
The Mastery of Self-Expression is an intensive three-day personal development workshop that traditionally takes place over a weekend.
It was created by Hollywood acting coach, Dan Fauci, who became head of comedy at Paramount Studios.
The principles behind the 'experiential' training have evolved over 40 years.
The workshop was originally devised to help actors develop their presence and charisma.
Since then professionals with many different backgrounds have taken this workshop.
They report that it improved their confidence, challenged their fears and gave them a fresh sense of direction.
How does it work?
Imagine an X-Factor scenario. You perform a piece in front of an audience, but instead of competing with others, you're free to act without anyone passing judgement.
This exercise is used to identify your passions and reveal to others the strengths you already possess. In partnership with the other participants, and a panel of trained leaders, you explore these insights during the weekend.
The leaders are supported by a 'backrow' of graduates of The Mastery, who contribute their intuitions and suggestions.
What do I have to do to enrol?
Please give Brian Jenner a ring or send him an email if you'd like to join us for the weekend +44 7545 232980/ info@europeanspeechwriters.org
Like an actor going for an audition, you need to learn a two-minute piece – it can be a poem, a speech, a song, a mime or a dance, and you have to deliver it in front of the group.
Choose something that reflects your emotional core because that's the bit of you we're keen to see during the weekend.
Lots of fruitful results can come out of exploring our shadow side. Be adventurous!
The more work you put into your piece, the more you will get out of the workshop. It will ensure you get great value and you will further enrich the work of the group.
Before you register, there are two forms to fill in covering mental health and confidentiality.
What's the format?
We have 16 places for the weekend beginning Friday 26 June 2020.
The timings are as follows:
Friday 6.30pm till after 11pm
Saturday 9.30am till after 10pm
Sunday 10am till after 8pm
We will provide snacks and refreshments during the weekend.
We go out to a restaurant for lunch on the Saturday and Sunday afternoon.
You need to find accommodation separately, but we can make some suggestions if required. The venue is in the centre of Bournemouth, so there are many hotels within 100 metres of where it all happens.
How do I pay?
The cost is £2000 + VAT.
You can request an invoice for payment, or if you prefer to pay by card you can register through Eventbrite.
We will be in touch to make sure you have filled in your forms.
The fee is refundable up to one month before the workshop. If you can't attend at the last minute, we'll be happy to register you on the next one.
Read the book
In 2010 Christine Kimberley published a book, On the Edge. It contains testimonies from people who have been involved in the workshop as founders, leaders and participants.
They all agree that the Mastery of Self-Expression can have a profound, lasting and positive psychological impact.
What people say about The Mastery
The Mastery tapped into my pre-existing strengths and gave me a direct experience of being different.
Since being on the Mastery, I've felt a strong drive to take action and to be more expressive. I'm more in touch with my feelings.
It was like being shot out of a cannon!
Rule one: nobody talks about what happens at the Mastery.
There's no coercion. In fact, it's so laid back you'll probably be surprised and delighted.
Everyone has magnificence somewhere inside them. This workshop brings it out.
The Leaders
Adrian Longstaffe
Adrian has worked as a teacher in more than six careers including veterinary medicine, choreography, acting training and educational technology. He graduated as a psychotherapist in 2000 and leads his own personal development workshops.
The Mastery has been a vital element in my journey. I have sat on the back row of more than 40 masteries in the last 27 years and have spent the last 10 years in leadership training, gaining the Diploma in Leadership of the Institute for Creativity in 2003. I also train Mastery leaders. My experiences across the fields of academia, personal development and theatre have resulted in a fascination with the training of actors - one of the few groups of people for whom the taking of emotional risk is part of the job description. Responsible acting training has so much to offer in terms of emotional intelligence for the rest of us.
One of my aims is to enable people to walk their emotional universe with the same confidence that they walk their intellectual universe - balancing the rational with the non-rational.
Jan Castle
Jan is a professional coach and leadership facilitator who works with clients and businesses throughout the UK and Europe. She first became interested in our ability to create and 'be' without constraint in the 1990s when exploring the traditional art of the The Fool. She went on to create her own workshops, helping people make empowering life changes.
When I first attended The Mastery I realised I'd found a workshop that explored the 'edge' I experience in myself and see in others, between being a version of myself that I imagine is acceptable, and fully showing up in all my wonderful, messy, creative humanity. I am constantly moved and inspired at the workshops by what I see as the powerful key to this work: unconditional acceptance - of self, others and whatever emerges.
Sam Chittenden
Sam is the Director of creative development company Different Development, based in Brighton. Her experience includes many years as a Board Director in the NHS, and as an actor/director, writer & poet. She is fascinated by stories and the characters that inhabit them. Sam is the author of leadership textbook, Rhyme & Reason - The Poetry of Leadership. She hosts a variety of personal development workshops and retreats both in Brighton and in a remote farmhouse in Brittany.
When I took the Mastery in 2007, I discovered a voice and a determination I didn't know I had, and this has led to my continued involvement. I continue to be fascinated by what participants discover in the space this workshop creates. The Mastery of Self Expression is a weekend of exploration for everyone involved. I am always bowled over by the creativity and passion shown by participants, and by the changes they choose to make in their worlds.
Organiser of The Mastery Weekend - Bournemouth
The European Speechwriter Network is a new career-enhancing resource for a multilingual and mobile profession. We provide a place to sharpen your skills, promote your services and set professional standards.
The UK Speechwriters' Guild is a pioneering group of people, committed to sharing knowledge about effective communication.