Description
School leaders and music educators are invited to take part in the Mayor's Summit on School Music. The summit will bring together the best music education practice, provide delegates with practical support, and shape the vision for school music in the capital. The next five years will be an historic period for music education in London. We hope that this summit will open the door to a new era of musical excellence in London's schools. Throughout the day delegates will hear a series of thought-provoking presentations from educationalists, musicians and government representatives. Speakers include:
Nick Gibb MP, Minister of State for Schools
Sir David Carter, National Schools Commissioner
Chi-chi Nwanoku MBE, Founder of Chineke Orchestra and Founder Member of the Orchestra of the Age of Enlightenment
Sir Kevan Collins, Chief Executive, Education Endowment Foundation
Dr Munira Mirza, Deputy Mayor for Education and Culture
Anne Canning, Chair of the Mayor's Music Education Taskforce and Director of Hackney Learning Trust
Sir Nicholas Kenyon, Managing Director, Barbican Centre
Anita Kerwin-Nye, Managing Director, London Leadership Strategy
Mark Philips, Senior HMI, London, Ofsted
London Music Champions
Panel sessions will look in-depth at headteachers and their role in music education; continuing professional development (CPD) for classroom music teachers; and what outstanding music looks like in a London school. Delegates will also have the opportunity to debate music education policy, engage with guest speakers and the Mayor's Music Education Taskforce and network with colleagues.
View full programme below.
The Mayor and his Music Education Taskforce have invested £1.8 million in new initiatives. They have worked with heads, teachers, music education hubs and the music industry to create the London Music Pledge. Delegates attending the summit will find out more about the London Music Pledge and the support that is now available to school leaders, teachers, parents and students.
This event is produced by Sound Connections in partnership with the Mayor's Music Education Taskforce and the Greater London Authority.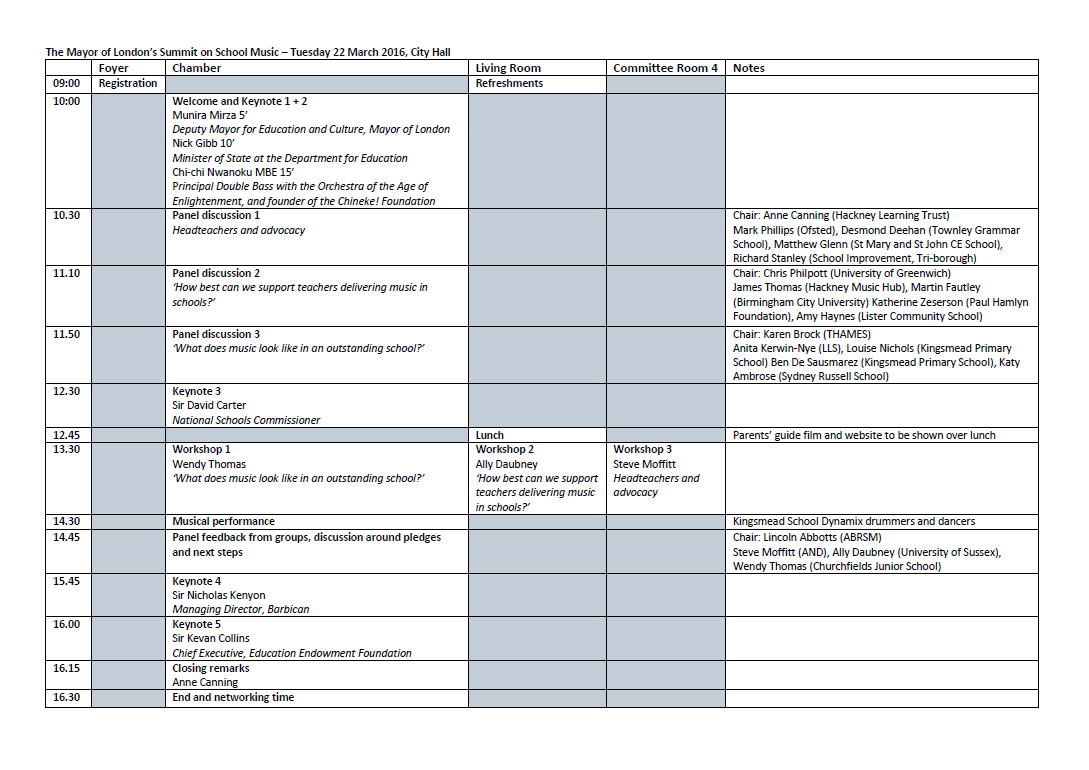 Click to enlarge