New album launch of 'Dreamless Days' by The Meadows, with special guests!
About this event
Golden Grove Gelli Aur Country Park is thrilled to host The Meadows launch of their new album DREAMLESS DAYS
With Special Guests: -
Steve Balsamo - Welsh singer and sognwriter
Aelwyd Penrhyd Clog Dance
Sweyns Ey Morris - Morris and Sword Dancers
and the Nantgaredig Community Band (subject to good weather)
This will be a special evening with performances by the candlelit arboretum & inside the mansion house.
Tickets (including parking):
£15 per adult
£8 per child (10 to 16 years of age)
Start:
Gates will open at 6.30pm
Drinks and Food:
Your ticket will include a complimentary glass of wine or soft drink.
There will also be a licenced bar and food.
Bring a chair or rug for the first half of the evening which wil take place on the lawns and in the arboretum outside the House.
All ticket sales proceeds will go to the Gelli Aur Mansion Restoration Fund. Tickets can be bought via Eventbrite or at the Cafe.
https://TheMeadowsByCandlelight.eventbrite.co.uk
google-site-verification: google6d88bf1878a9e74b.html
The Meadows
The Meadows are an award winning, multi-instrumental, Folk group, based in South Wales. They draw their inspiration from both Classical and Folk traditions from around the world.
The group perform original compositions which weave between foot stomping reels to rich vocal harmonies, taking their audiences on a spellbinding journey.
The Meadows have played at many festivals and events, including Glasgow's Celtic Connections, the International Music Eisteddfod in Llangollen, the Fishguard Folk Festival, How the Light Gets In, The Little Big Gig, Cardiff's WMC. They regularly appear on national and international radio and T.V. networks.
They are classically trained and they have been showcased by Fatea Magazine as one of the best emerging U.K. Folk bands.
Their music has been described as:
"Transfixingly beautiful!" - Adam Walton, BBC Radio Wales
and "something special, with a deep and sincere passion for preserving the folk songs and tales of the British Isles" - Michael Kennedy, Sound Board Magazine
"The girls' harmonies just cannot be beat." Mick Tems, Folk Wales
For more detailed information and to find out more about The Meadows see:
https://www.themeadowsband.co.uk
or follow them on:
Instagram:
https://www.instagram.com/the_meadows_band/
and
Facebook:
https://www.facebook.com/TheMeadowsMusic/
And for reviews of Dreamless Days:
https://folking.com/the-meadows-dreamless-days-pokey-cupboard-records-pokeycd3/
and
https://brightyoungfolk.com/records/dreamless-days-the-meadows-1
google-site-verification: google6d88bf1878a9e74b.html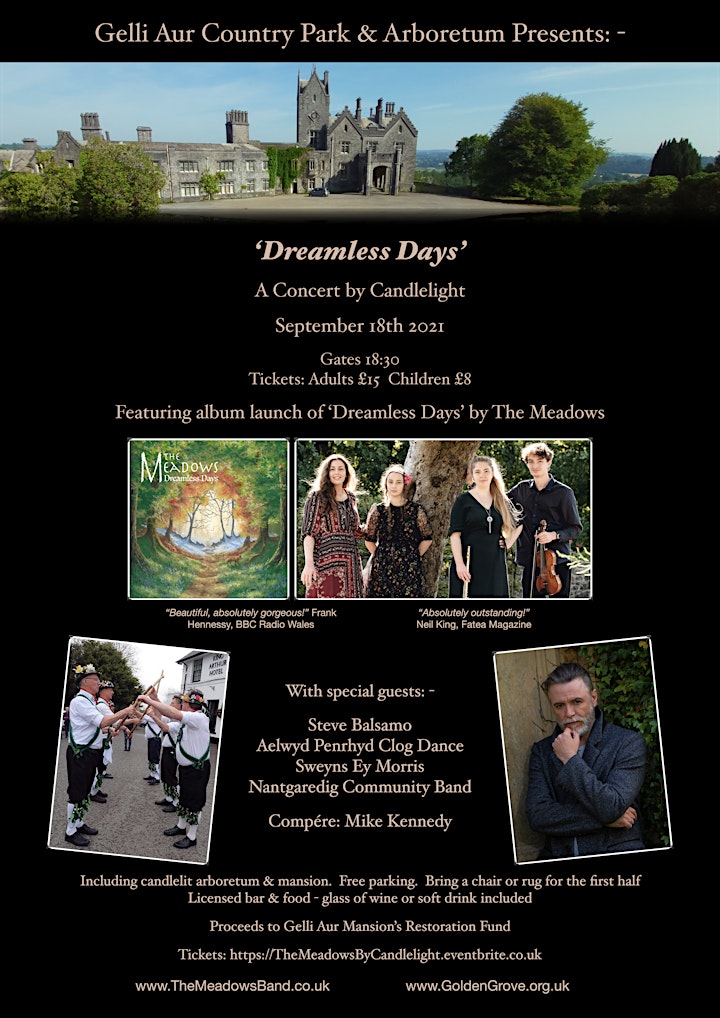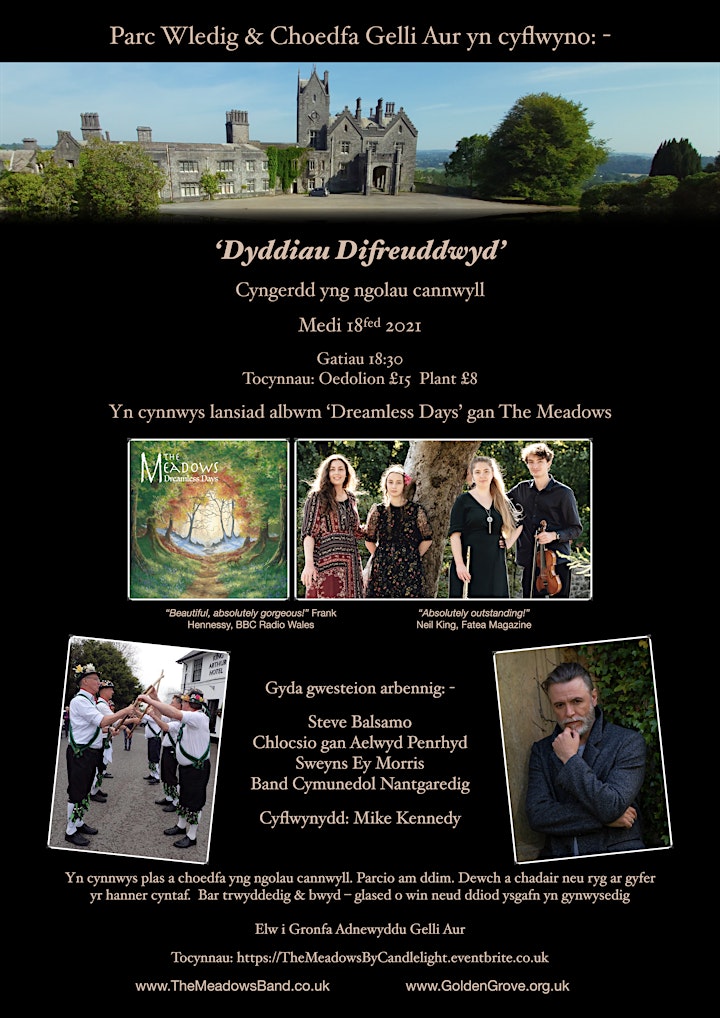 Organiser of The Meadows present "Dreamless Days" - a Concert by Candlelight