The Mental State of Noise & The New Frontiers of Cognition: John Ratey MD
Professor John Ratey, 'The concept of noise, then and now.'
About this event
THE CONCEPT OF NOISE, THEN AND NOW
John J. Ratey, MD, Associate Clinical Professor of Psychiatry, Harvard Medical School
ABSTRACT
It was 35 years ago when the medical journal, "Psychiatry" published a paper written with Stephen Sands on the Concept of Noise. At the time, the motivation was to examine an inner state describe by the most violent and self-abusive patients. They often talked of a noisy brain, full of crowding, booming, buzzing and confusion. It interrupted their ability to think, process logically, and fully engage with the world.
Over the years, the concept evolved from looking at the effect on only the most incapacitated patients, to seeing the consequences of a noisy brain on those described as "neurotypical" as well as those with other psychiatric disorders, particularly ADHD. It led me to write 4 books on ADD and a career in helping those navigate through their noisy state with science based alternatives.
All of us have a noisy brain at different points in our lives- often sparked by high stress events, being inundated by social media, or trapped in rumination after a life changing event. We will discuss the evolution of the concept of noise, how the body can contribute to lessening the state of noise through movement and meditation, and look at the Default Mode network (DMN) a unique network in the brain, which has the potential to be the physiological and metaphorical home of noise.
Respondent: Dr Cécile Malaspina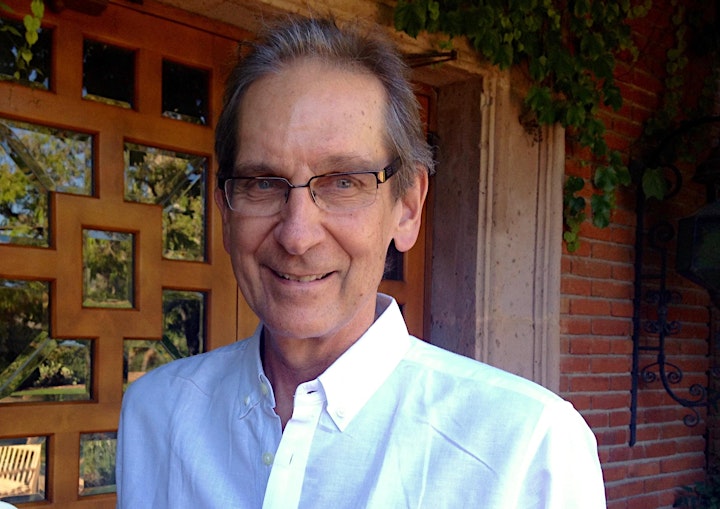 SPEAKER BIO
John J. Ratey, MD, is an Associate Clinical Professor of Psychiatry at Harvard Medical School and an internationally recognized expert in Neuropsychiatry. He has published over 60 peer-reviewed articles, and 13 books published in 15 languages, including the ground breaking ADHD "Driven to Distraction" series with Ned Hallowell, MD.
With the publication of "Spark:The Revolutionary New Science of Exercise and the Brain", Dr. Ratey has established himself as one of the world's foremost authorities on the brain-fitness connection. His latest book, "ADHD 2.0" explores the latest understanding of the ADHD brain and summarizes current treatment.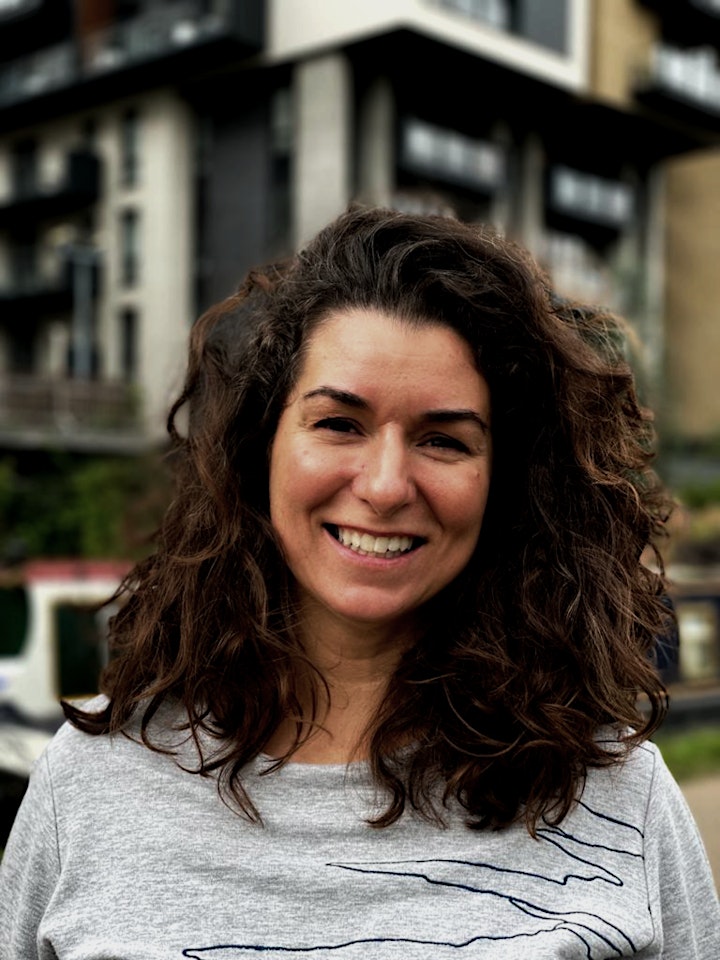 RESPONDENT BIO
Cécile Malaspina (PhD) is directeur de programme at the Collège International de Philosophie, Paris (Ciph) and visiting fellow at King's College London, where the department of Digital Humanities and the department of French host her series of seminars for the College International de Philosophie, Paris. She is is the author of An Epistemology of Noise (Bloomsbury, 2018) and principal translator of Gilbert Simondon's On the Mode of Existence of Technical Objects, (University of Minnesota Press, 2017).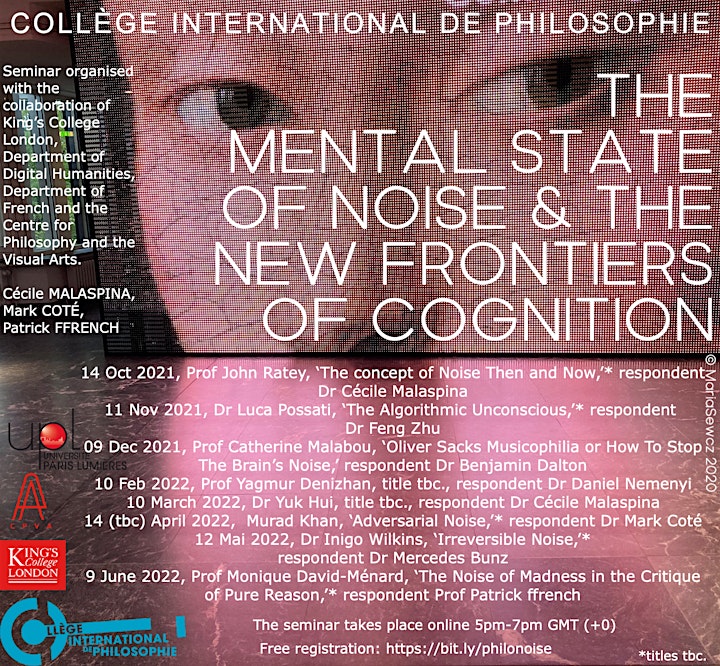 C O L L È G E I N T E R N A T I O N A L D E P H I L O S O P H I E
S É M I N A I R E S
Philosophie / Sciences et techniques
..................................................................................................................................................................................
ORG.: Cécile MALASPINA, Mark COTÉ, Patrick FFRENCH
Monthly open access seminar organised with the collaboration of King's College London, Department of Digital Humanities, Department of French and the Centre for Philosophy and the Visual Arts.
The mental state of noise & the new frontiers of cognition
Rationality has historically been modelled on the power of calculation (ratio- Lat. reor, to count, calculate). Artificial intelligence, in turn, is commonly mapped onto received ideas of human intelligence. Suggesting a perfect if unequal fit between human and artificial intelligence, this narrow vision of intelligence conflates both with the power of calculation and logical deduction. Speed, volume and variety of forms of information processing have served as a measuring rod, to the extent that one thing is easily forgotten: the concepts of intelligence and of information remain fuzzy. This openness affords a degree of freedom, but it also facilitates the arbitrary imposition of a reductive conception of intelligence.
But what if we turn the question around? Rather than focus on the quantifiable performance of both human and artificial intelligence, we may ask: what qualitative aspects of intelligence are foregrounded, if we look at the specific ways humans and machines malfunction or capitulate before noise? Instead of comparing human and artificial processing power, we may ask more specifically about intelligence's resourcefulness in the face of noise. How does our thinking about learning change, if we take into consideration the way humans and machines mobilise the generative potentials of noise? In this context, we will start with a working concept of noise that shall refer broadly to a source of uncertainty, unaccounted for variation or perturbation, but with a particular interest in the concept of 'the mental state of noise' as developed by S. Sands and J. J. Ratey. [1]
This seminar calls on thinkers from all disciplines, from philosophy to mental health and engineering sciences, to tackle the outstanding conceptualisation of noise specific to the context of cognition. The objective is to foreground aspects of intelligence that are neglected in the traditional focus on the quantifiable power of information processing. To this end, we will adapt the famous remark by the physiologist and surgeon René Leriche: 'health is life, lived in the silence of the organs'. If pathology reveals the hitherto silent functions of our organs, we may ask by analogy what the breakdown of intelligence reveals about its silent functions and that of its organs, be they human or technical, individual or collective entities.
[1] Steven Sands, Jay J Ratey, "The Concept of Noise," Psychiatry 49, no. 4 (November 1986): 290-297.
The seminar takes place online 5pm-7pm GMT (+0)
Attendees will receive an MS Teams link
Organiser of The Mental State of Noise & The New Frontiers of Cognition: John Ratey MD