Description
Migration is a defining feature of humanity, yet it is a complex, multifaceted phenomenon that can pose challenges to countries and society.
The Mexican Summit at UCL 2018 will explore the migration phenomenon from a multidisciplinary perspective, from migration modelling to policy and human rights.
Join us for an exciting set of roundtables and panels for an evidence-based discussion on migration issues, from internal migration, international, refugees and expats and more.
The Mexico Summit at UCL is a yearly multidisciplinary event organised by the UCL Mexican Society, bringing together researchers, decision-makers and academic experts to discuss Mexico's current challenges and how they relate to the rest of the globe.
The event is free entry but registration is required. Please book a ticket even if you are interested in attending only certain parts of the event.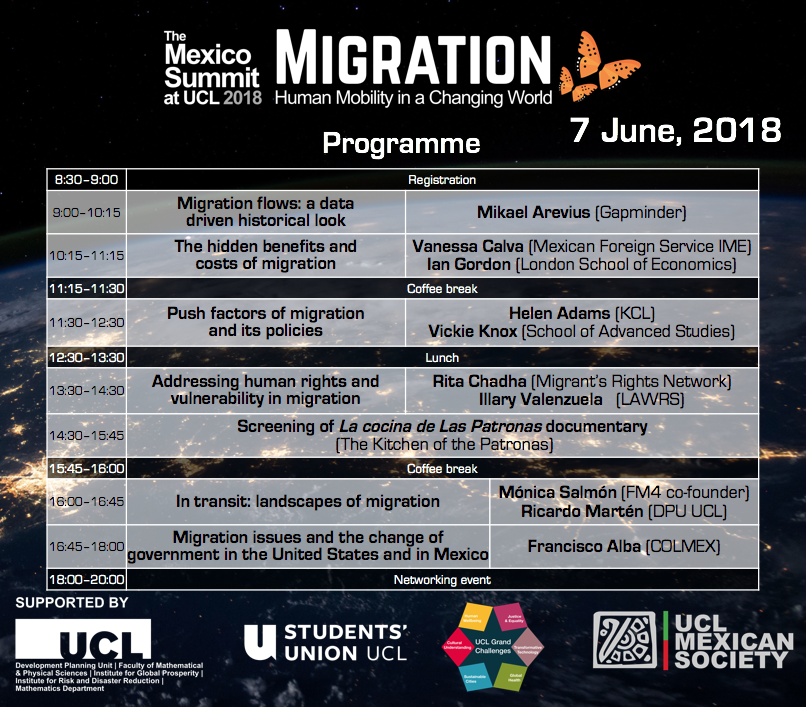 The programme of the event is here!
---
Thanks to the UCL Development Planning Unit | Faculty of Mathematical & Physical Sciences | Institute for Global Prosperity | Institute for Risk and Disaster Reduction | Mathematics Department and the Vice-Provost (International) | Global Engagement Office for their support!