Multiple Dates
The MidLife Rethink with Avivah Wittenberg-Cox & Bonnie Marcus
Online workshops to Rethink Life from the Middle - $99 for three 90-minute sessions - February 21, 28, & March 7 12pm PST/ 3pm EST/ 8pm GMT
About this event
The MidLife Rethink is a 3-part online workshop to help design what's next. "Ready or not, each phase of life demands that we grow and change," says Avivah Wittenberg-Cox. "A bit of thinking goes a long way in becoming a skilled life transitionist, ready to redraw (or just update) the map of our lives." For Bonnie,"This workshop provides the opportunity to share and acknowledge our personal journey so far, assess where we are now, and design an empowered path forward."
Careers are moving from sprints to marathons. Most of us aren't training for the long haul. We've got our heads down trying to manage the moment. Major crises – like 2020! - invite a rethink. Ready to creatively revisit your thinking about work, love, wealth and wellness across much longer lives? Useful, whatever age or stage you're at.
The MidLife ReThink - Overview
Session 1: Harvest the past. Where I've been: A review of life to date, where you've come from, what you've experienced, and what you've learnt.
Session 2: Assess the present. Where I'm standing: Where am I in the arc of life and with who am I travelling? What roles/ relationships/ beliefs do I want to keep, and what might I let go of?
Session 3: Map the future. Who I want to become: The dream, the role models and the choices to make today to move towards the future I want.
If you have any queries prior to signing up to the event please contact us at queries@20-first.com.
Author, coach, and CEO of 20-first, Avivah Wittenberg-Cox has worked with individuals and businesses around the world to design balanced lives and businesses. The author of multiple books, including Late Love: Mating in Maturity and Why Women Mean Business, she is a 3 x TEDx speaker and a regular contributor to Harvard Business Review and Forbes. She lives in London with her sculptor husband, dog Daisy and is occasionally visited by her two, globe-trotting, gender-balanced children, a son and daughter.
Bonnie Marcus, M.Ed, is an executive coach, author, founder of Bonnie Marcus Leadership, LLC., and host of the podcast, Badass Women at Any Age. A Forbes contributing writer, Bonnie's first book, The Politics of Promotion: How High Achieving Women Get Ahead and Stay Ahead, helps women successfully navigate the complexities of the workplace. Her upcoming book, Not Done Yet! How Women Over 50 Regain Their Confidence and Claim Workplace Power, now available for pre-order, is a guide for women to defy ageist assumptions and stay marketable at any age. She lives in Santa Barbara, California.
"I never would have thought an hour could be so shape-shifting! But it made me see my next phase with entirely new eyes."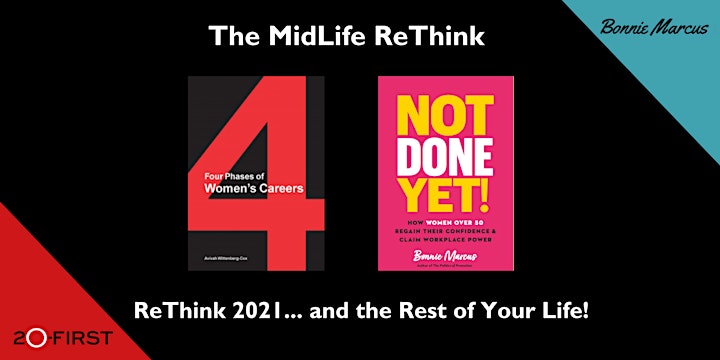 Organiser of The MidLife Rethink with Avivah Wittenberg-Cox & Bonnie Marcus