Description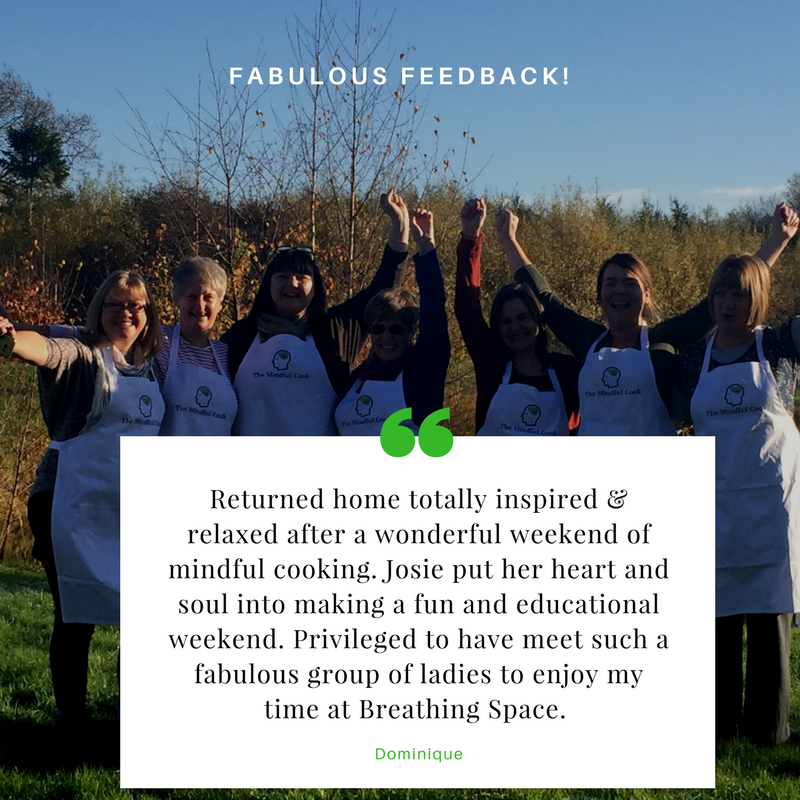 Join The Mindful Cook, Josie Buck and other guests for a two nigt residential retreat focussing on healthy cooking and Mindful eating.
You can get hands-on in some simple food preparation, share in creating some tasty, healthy dishes and gain insight into how to prepare and eat food mindfully. At the end of the weekend you will leave having learned some new dishes, gained some knowledge on ingredients and have the recipes and know-how to re-create them at home, not to mention having had lots of fun doing it!
A mindful meditation will also be included in the weekend, run by one of the fantastic therapists at Breathing Space.
"I had the most fantastic time at this retreat – it was relaxing but we packed loads in ! Josie is a brilliant cook and her passion and love are in everything she does – I highly recommend this course as an enriching and inspirational experience."
The weekend includes two nights bed and breakfast at the Beautiful Breathing Space in Norfolk (details below), an evening meditation and all your meals. I aim to include at least one vegan and one gluten free dish in each food retreat. NB: If you would like to attend a retreat that focuses solely on either of these areas please get in touch as I intend to arrange these according to demand.
The Venue:
Just 2 minutes from the Norfolk broads and 4 miles from the stunning local beaches, Breathing Space is a welcoming holistic bed and breakfast, set in the heart of rural Norfolk. The house, parts of which date back to 1735, has a warm and cosy feel to it with log burning fires, large comfy sofas, and a gorgeous farmhouse kitchen where we prepare food, entertain guests and run our retreats. The house is set in substantial grounds with a lake, and lots of lovely tranquil places to sit, relax or stroll.