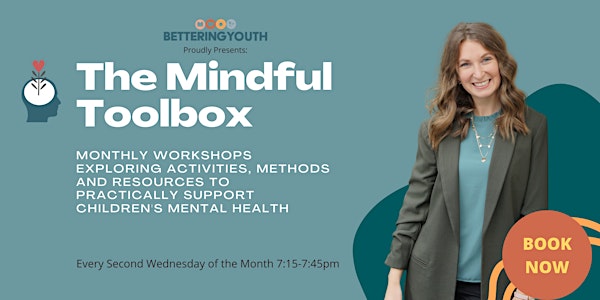 The Mindful Toolbox: A monthly series dedicated to Children's Mental Health
Join us every second Wed. of the month as we explore mindfulness, emotional literacy activities, and tools to support your child's wellbeing
About this event
Is your child hung up on things they don't have?
Are you worried about how Social Media is impacting their mental wellbeing?
If your child loves to say the word "can't"
If your child experiences mysterious tummy aches,
Lacks the courage to try their best,
Swings from being lovely and calm to outraged and erratic,
Suffers from performance anxiety,
Is preparing for a big transition or experience big change,
Or you can feel there's something on your child's mind that they just can't put into words,
These workshops are your answer.
Each month will explore a new topic that relates to Children's Mental wellbeing and provide tools, activities, discussion prompts and support.
October 13th @715pm: Creating a Safe Space to Share can be found as a recording on our website.
November 10th @7:15pm: How to Handle Overwhelming Feelings can be found as a recording on our website.
December 8th @7:15pm How to Stop the Self-Sabotage can be found as a recording on our website.
January 12th @7:15pm Gratitude's Great Gift - recording available now.
February 9th @ 7:15pm Help your child Self Soothe
march 9th @7:15pm Supporting your Child during times of Uncertainty
April 13th @ 7:15pm Creating Healthy Boundaries: Exam prep
May 11th @7:15pm Study skills for effective revision
June 15th @7:15pm Maintaining momentum
July 13th @7:15pm
This 30-minute class, led by Sarahlynn, a mindfulness coach, teacher, and emotional wellbeing expert, is sure to inspire.
You may be certain that you'll feel more empowered to help your family after learning these practical activities that have shown to be successful in aiding families through emotional identification and expression.
-----------------------------
This session is part of a series on the numerous advantages of mindfulness and emotional literacy in improving children's mental health.
These additional sessions will take place on the Second Wednesday of the month from 715-7:45pm.
To learn more about our upcoming sessions, please click our profile or visit our website:
https://betteringyouth.co.uk/mindful-toolbox