How To Academy presents... The Misunderstood Science of Metabolism | Duke Professor Herman Pontzer in Conversation with Robin Ince
About this event
Did you know a hunter-gatherer burns the same calories each day as a sedentary North American? Evolutionary biologist Herman Pontzer is here to change the way you think about food, exercise and life.
Why does exercise not tackle obesity? Do more active people have faster metabolisms? Why do so many diets lead to more weight gain? What can we learn from traditional cultures about so-called 'diseases of civilisation'?
Evolutionary biologist Herman Pontzer has spent twenty years conducting ground-breaking research studies into the science of metabolism. Now he joins How To Academy for a myth-busting tour of this vital system, exploring the ways it influences every aspect of our health – from fertility to immune function. And you'll discover why exercise does not increase our metabolic rate – and what this means for effective weight loss.
He says: 'Everything our bodies do— growing moving, healing, reproducing— is the work of the metabolism. Knowing how our energy is spent is the foundational step in understanding how our bodies work. And yet, despite its importance for life and health, metabolism (the way our bodies burn energy) is badly and almost universally misunderstood.'
Challenging the consensus of the dieting and exercise industries and offering new scientific insights with the potential to transform how you think about your health, weight and fitness, is an unmissable opportunity to understand how our bodies work and what this means for how we live our lives.
Praise for Herman Pontzer's Burn: The Misunderstood Science of Metabolism:
"Burn will make you question what you think you know about metabolism and your waistline" -- Stephan Guyenet, PhD, author of The Hungry Brain
"Burn is science writing at its best... will reshape what you thought you knew about how our metabolisms work" -- Alex Hutchinson, New York Times bestselling author of Endure
"A fun, fast-paced, eye-opening, and innovative book that will revolutionize how you think about the energy that fuels your body and everything you do" -- Daniel E. Lieberman, author of Exercised and The Story of the Human Body
"Herman Pontzer is one of the most gifted science writers of our time" -- Kelly McGonigal, PhD, author of The Joy of Movement
"Pontzer's findings have huge implications for our attitudes to exercise, diet and public health" -- Mark Webster ― Sunday Times
Herman Ponzter is a biologist and evolutionary anthropologist who has conducted pioneering research over the last ten years into how metabolism really works. He is Associate Professor of Evolutionary Anthropology at Duke University and Associate Research Professor of Global Health at the Duke Global Health Institute.
Robin Ince is the co-presenter of Radio 4's multiple award winning The Infinite Monkey Cage. He spent 2019 appearing across the world in the Universal tour with Brian Cox – travelling from LA to Oslo, Wellington to Aberdeen and ending up in Reyjavik after shows at the 02 and Wembley Arena. Robin co-wrote How to Build a Universe (part 1) with Brian Cox and his most recent book is I'm a Joke and So Are You, a book about why we become who we become and how we deal with it.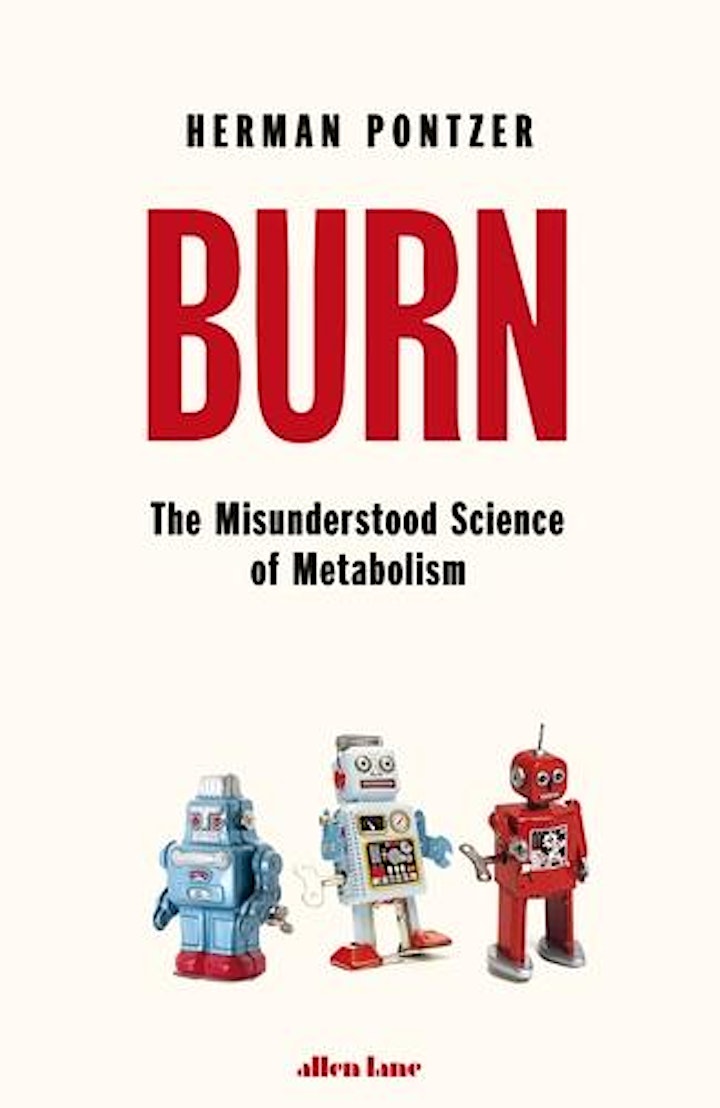 Organizer of The Misunderstood Science of Metabolism | Duke Professor Herman Pontzer
How To Academy is an organisation for people who think big. From Nobel laureates to Pulitzer Prize winners, we invite the world's most influential voices to London to share new ideas for changing ourselves, our communities, and the world. 
We host leading artists and thinkers in an unrivalled programme of public talks, debates and conferences – from Yuval Noah Harari to Natalie Portman, Emma Watson to Eric Schmidt.
We help businesses discover transformative new strategies, anticipate the future, and inspire their staff with keynotes and workshops by internationally-acclaimed economists, psychologists, politicians, and thought leaders. 
We offer masterclasses live and online with experts in essential twenty-first century skills, like leadership, public-speaking, decision-making and resilience. And we make books, podcasts and films to share insight and innovation around the world.