Description
Now Fully Booked.
The MIX IN is an evening event designed to inspire and develop collaborations around cultural tourism across the Dundee and Angus region. Creative Dundee and Scottish Enterprise are pleased to be hosting the event on Thursday 15 June 2017, 6 - 9pm at Hospitalfield House in Arbroath.
Cultural Tourism describes a visitor's engagement with a particular place to experience their cultural activities, whilst gaining an understanding into the lifestyles of the people that live there.
With the significant increase in tourists expected to the area over the next few years, there's a huge opportunity to make sure that the products and services are appealing to visitors coming to experience our vibrant cultural offer. You can read a profile of the type of visitors the region expects to see more of on Visit Scotland's website here.
The MIX IN gives you the chance to hear from a number of speakers on a range of cultural tourism topics - current and future, urban and rural. Alongside many local speakers including Cultural Tourism Fund recipients, we're delighted that Alex Saint, Managing Director of Creative Tourist based in Manchester will join us to speak about her experiences of cultural tourism. You can also share your own work, connect with others and discuss the opportunities for cultural tourism across the region.
There's also the chance for you to briefly share what you are working on and the skills/support you are looking for to develop your own cultural tourism offer.
Through this free event held in this remarkable venue, Hospitalfield House, with refreshments provided, we aim to ensure those working within the creative and tourism industries are well connected, visible and continue to thrive.
This is the second MIX IN that has been hosted locally, the first was in 2015 connecting the food/drink and creative industries - you can read more about this event here.
The MIX IN is brought to you by Creative Dundee and Scottish Enterprise. A big thanks goes to Dundee-based Illustrator, Laura Darling for the brilliant illustrations featuring local landmarks.
The MIX IN - Cultural Tourism
Venue: Hospitalfield House, Arbroath, DD11 2NH - directions can be found here.
Date: Thursday 15th June 2017
Time: 6pm - 9pm
Tickets: Free but must be booked in advance
Twitter: #MIX_IN
Free places must be booked in advance here and refreshments will be provided.
Speakers include, with more to follow:
Alex Saint, Managing Director, Creative Tourist Consults - After 25 years of working in cultural marketing around the UK, Alex Saint founded Creative Tourist Consults to spread the learning from an innovative project she first trialled and tested with Manchester Museums and Galleries Consortium, a project which has played an instrumental part in Manchester's recent cultural renaissance.
From its base in Manchester, the 5-strong specialist directors of Creative Tourist Consults develop original ideas to test and prove new cultural tourism and place-making concepts, before applying the learning with other destinations looking to reposition their destinations as places which cultural tourists genuinely want to visit. The CTC model is founded on helping partners create the right conditions for cross-sector collaboration, an essential ingredient for cultural destination success, and a priority for all destinations regardless of size or scale.
Over the years, CTC has delivered bespoke cultural tourism strategies and projects in many different contexts - from capital and metropolitan cities (such as London, Manchester, Bristol and Cardiff); counties (such as Lancashire, Cumbria, Norfolk and Suffolk); coastal resorts (such as Blackpool and Torbay); cultural-heritage cities (Bath, Cheltenham and Lancaster) and countries (Northern Ireland).
CTC is currently engaged in active hands-on delivery for Arts Council England/Visit England Cultural Destination programmes; Discover England projects and Great Place schemes, as well as pure consultancy for other clients and is about to deliver a thought-leadership programme in the Nordic Region.
Lucy Byatt, Director, Hospitalfield - Lucy joined Hospitalfield as director in September 2012. She is interested in developing models of arts organisations that primarily support artists and production as she believes the dominant publically funded models find it hard to retain this as a core value in balance with their focus on audiences. At Hospitalfield she leads an historic cultural organisation that has huge potential to meet the needs of artists and audiences today.
With her small team she has established a new public programme based on supporting new production which, at its heart, provides residency opportunities across arts disciplines with visual arts at its root. Hospitalfield's Future Plan will include capital investment to restore existing and build new buildings to create a world class place of production for artists and a fascinating place destination for visitors. The aim is to ensure a dynamic sustainable future whilst also caring for the historic house and collections.
She was Head of National Programmes at the Contemporary Art Society, London (2008-20012) and director of Spike Island, Bristol (2002-2008). At Spike Island she established a public programme alongside the Associate Programme for artists and led the £2.5m capital development. This investment made it possible for the organisation to realise the potential of the peppercorn lease negotiated in the 1990's by the artist groups with Bristol City Council for the 80,000sq ft. building.
Samantha Bannerman, Museum Manager, Dundee Museum of Transport - A native Dundonian and graduate of the University of Dundee, Samantha has worked in museums in Tayside and Fife since 2011. With a background in museums and a love for her City, Sam is interested in sharing Dundee's cultural heritage and making it more accessible. Sam took up the post of Museum Manager at Dundee Museum of Transport in August 2016. Dundee Museum of Transport is one of Dundee's newest attractions, established in 2010 with the aim of saving the former Maryfield Tram Depot, a Grade 'B' listed building, and redeveloping the site into a transport museum for the City. Alongside this project, the museum opened its doors at its Market Street premises in 2014 and continues to go from strength to strength in readiness for the move to the former Maryfield Tram Depot.

The museum was awarded funding from the Cultural Tourism Fund in February 2017 to trial heritage tours of some of the City's key attractions. Operated by Dundee Museum of Transport and Airport Travel Dundee, the tours gave visitors an opportunity to see at least two cultural attractions, take the hassle out of arranging transport and provide a unique afternoon-tea experience on a Pullmans Restaurant Coach. With the trials completed in May 2017, the tours are being developed so that they are ready to be booked for the summer season. The museum is also aiming to link-up with other attractions to develop new tours in the near future.
Tara Wainwright, Destination Leaders Programme - Tara is Marketing & Audiences Manager for V&A Museum of Design Dundee. A textile design graduate she began her career in the cashmere industry before moving into graphic design and latterly marketing, communications and audience development.
Part of the core team delivering Scotland's new design museum, Tara enjoys working with creative talent from across the country to nurture and promote Scottish design talent in all its varied forms, as well as the opportunity to tell the previously untold story of Scotland's outstanding design heritage and its role in shaping the designs – and designers – of the future.
Along with Kim Adamson (Dundee Heritage Trust), Gaynor Sullivan (Dundee City Council) and Louise Tobin (Scottish Enterprise), she recently completed Napier University's Destination Leaders Programme, which aims to address the particular challenges facing the leadership and growth of destination development, given the range, scale and mix of businesses that need to work together to deliver an internationally competitive tourism experience. Through this programme the group have developed the concept of Design Tourism, and explored the opportunities and challenges it presents for Dundee and the city region.
Malath Abbas is an independent game designer, artist and producer working on experimental and meaningful games.
Malath has helped deliver a number of innovative projects through collaborative partnerships with cultural organisations and local authorities. Malath is keen to explore games in cities, interaction design led services and large scale public experiences that tap into infrastructure and technology to create a strong cultural offering.
Malath is establishing Scotland's first game collective and co-working space Biome Collective, a diverse, inclusive melting pot of technology, art and culture for people who want to create, collaborate and explore games, digital art and technology.
Clare Cooper is an independent producer working primarily with arts and culture. Currently, she is co-producing Cateran's Common Wealth, a new initiative which is using the Cateran Trail as a stage for a multi-year programme of arts, culture and heritage events aimed at celebrating and sustaining the 'common wealth' of this part of Eastern Perthshire. With her sister, Olivia, she operates Vanora's Cottages in Alyth where she lives, which specialises in offering self-catering holiday accommodation for less able older people and their families. She is also co-founder of Alyth Craft Tourism, a new collaboration between local artists and self catering holiday providers which offers bespoke learning opportunities with some of Scotland's finest artists and crafts people. A founding Director of Alyth Development Trust she is leading a working group of local tourism related businesses who are aiming to turn Alyth and its connectivity to the Cateran Trail into Scotland's second ecomuseum. She is a member of the Local Action Group for the Perth & Kinross rural LEADER programme.
Jessica Reid is Head of Communications & Visitor Services at Dundee Contemporary Arts, where she is responsible for the organisation's marketing, PR and front of house activity, managing a busy and hard-working team. DCA's programme of visual arts, cinema, printmaking and learning, together with its retail activity, make it an endlessly varied place to work, with a broad range of audiences to match. Finding the best ways to communicate with those audiences, and building their engagement with DCA, is at the heart of Jess' team's work.
Working in partnership with Creative Dundee, DCA was recently awarded funding through Scottish Enterprise's Cultural Tourism Fund to trial a new walking tour of the city's cultural highlights. The first Behind the Scenes Dundee event took place in May, taking in a range of public and private locations and featuring behind-the-scenes talks, tours and demonstrations.
Ryan McLeod runs design studio Slurrp where they create things that generally involve the internet, clever thinking and a sense of humour. In the past Ryan has worked with a whole range of clients including Channel 4, The Chemical Brothers, Dundee Design Festival and Dundee Rep Theatre. He's also created an array of fun side projects like ootside - the Scottish weather app and his podcast Creative Chit Chat - Dundee. He says that the driving force behind his work is to 'never be beige'.
Ryan is working on Design Details, to create points of interest for visitors that would otherwise go unnoticed. Dundee's hidden design gems such as murals, unusual architectural features and typography will be the focus of a new GPS based audio tour identifying and telling the stories behind Dundee's existing and unusual design features.
Danny Cowe, Business Development Executive of Mountain Bike Centre of Scotland - a joint initiative headed by Edinburgh Napier University and Developing Mountain Biking in Scotland, with project partner Scottish Enterprise. The project is funded by the Scottish Funding Council and Edinburgh Napier University. We are Scotland's national centre for mountain biking innovation and excellence. From our base in the Scottish Borders, we support businesses of all sizes in developing world class mountain bike products and services. From market research to product development; knowledge transfer, testing and product launches, we are here to help Scottish businesses in capitalising in one of the country's fastest growing sports and to help bring Scottish mountain biking products and services to an international audience.
Graeme McLean – Project Manager of Developing Mountain Biking in Scotland - a partnership project, hosted within Scottish Cycling, which is responsible for overseeing the delivery of the world's first national strategic framework for mountain biking in Scotland. The original framework was launched in 2010. The framework was refreshed and launched in 2016 and details the key actions from 2016 to 2018 which should be delivered to help the activity maintain its status as a world leader in mountain biking development. On a day-to-day basis the DMBinS project provides a strategic approach to facility development, helps co-ordinate activity, ensure best practice is spread, delivers key projects and helps maximise the potential of mountain biking in Scotland.
Hilary Tasker, Sector Officer for Food & Drink in the Economic Development Department at Angus Council.
A confirmed foodie, Hilary says she has the 'best job in the Council' as she gets to meet all sorts of food related businesses, runs the Taste of Angus promotional campaign, and sometimes gets to sample the amazing local produce! Food and drink is a priority sector in Angus, and it is Hilary's role to support the sector, providing help and advice on topics such as premises, sources of funding, skills and marketing.
Hilary's background is in marketing, and previously looked after the tourism remit for the Council, focussing especially on visitor accommodation and outdoor activities.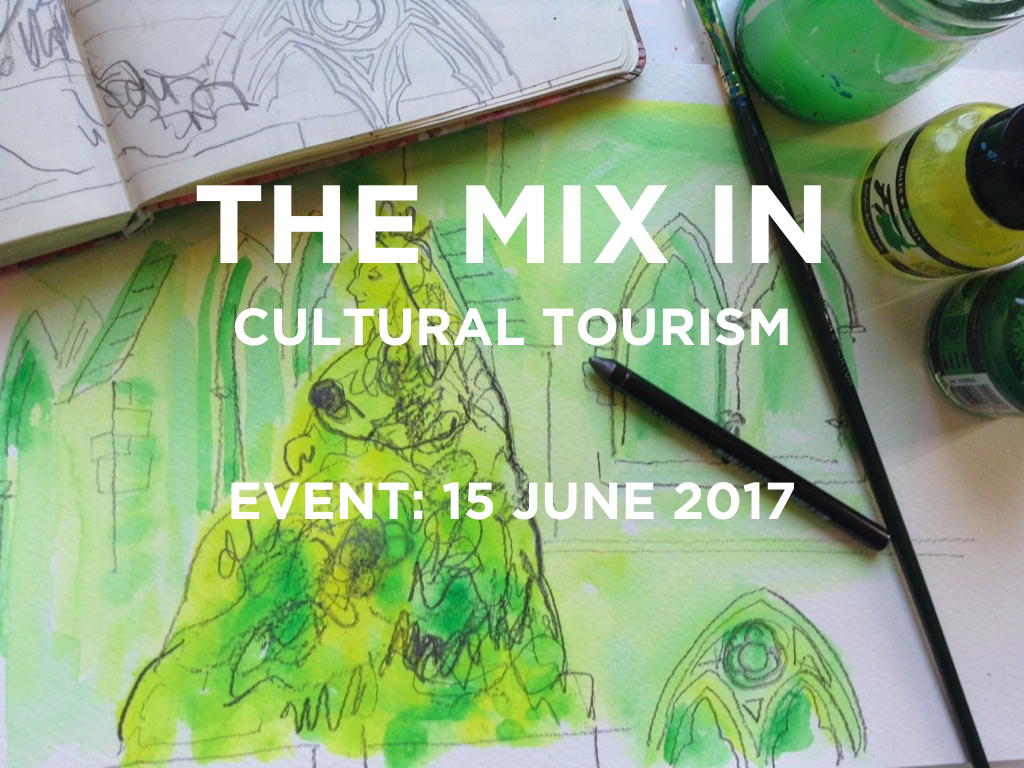 Organiser of The MIX IN - Cultural Tourism