Description

Happy New Moon in Gemini Healing Circle
This is a Sacred Coaching Meditation Workshop
from 7pm-10pm
on Sunday 5th June 2016
Please bring some food to share if you can.
(e.g. Vegetarian)
Thank you.
Element: Air
Symbol: Twins
GEMINI QUOTE:
"I could tell you my adventures – beginning from this morning …" "At least I knew who I was when I got up this morning, but I think I must have been changed several times since then." Alice in Wonderland
This New Moon Sacred Coaching Meditation Workshop is:
1. A time to honour the beginning of new things in your life.
2. A time to start again.
3. A time to refresh and look at your life in a new way.
4. A time of new beginnings.
In this Healing Circle, you will receive Empowerment through a LIVE Channeled meditation so that you can reclaim your Power whilst planting new seeds in your life, breaking through and going to the next level.
We will be working with these Gemini New Moon Energies:
1. We let go feelings of hatred, cruelty, impatience and arrogance.
2. We allow in love and joy to fill our whole being.
3. Become grounded in our body.
4. We look at Sacred contracts and vows.
5. Let go your worries and allow the new air to fill your body with serenity.
6. The energy vortex of the SOUL MATE frequency, the vibration you use to Call in the One.
7. Acknowledging yourself, acknowledging others.
8. Healing self sabotage, unresolved issues, blame energy, or anything that blocks what you say and think you are wanting.
We will be asking....
1. Are you ready for The One?
2. Do you really want a relationship with The One?

(You will not have it until you clear all the blockages to your happy relationship)
Toks has been holding New Moon Meditation Workshops for almost 20 years now. Toks Channels Invocation Blessings that Inspire and Encourage One's Own Personal Spiritual Journey. They are Channelled in such a way that it is as if she is talking directly to you and only you.
GEMINI QUOTE:
"Gemini says: I recognize my other self, & in the waning of that self, I grow and glow."

The New Moon Meditation is Guided and Channeled by Toks - Live, in the Moment. This is what it entails:
1. It is a Journey to your Sacred Space of Light or Sacred Cave of Light.
2. It is a Journey into your Deeper Self, your True Self, your Real Pure Note, your Spiritual Resonance.
3. It is a Healing Meditation on a Multi-Dimensional Level.
4. It is about Starting Afresh, Planting a New Seed and Connecting to your Higher Self.
5. It is a Self-Healing and Self-Discovery Meditation.
6. It Empowers you with the Knowledge and fact that Once you can Attend to Yourself, you can Attend to Others with Ease.
7. It is about Renewing Yourself, Rebirthing New Ideas and Activating the Creative Life Force in Yourself and Around You. It is a very Rejuvenating Meditation.
Here are some Benefits for this Workshop:
1. It empowers you, enabling you to return to your own centre.
2. It allows you to begin afresh when you may have felt stuck or disempowered.
3. It enables you to clearly see the reality of your life and it encourages you to face the truth and to move forward in a positive light.
4. Some of the types of realisations that come through include:
a. Deciding to get pregnant.
b. Wanting to get married.
c. Applying for a mortgage.
d. Changing jobs.
e. Getting a new partner.
f. Develop a better relationship with family.
g. Breaking away from people, places, and habits that no longer
serve.
h. Recognizing that you are on the right path and simply need to continue on your journey, with freshness and vitality.
HEALING REQUEST: If you need energy or support for an intention or for your life, please drop me a private email (tokscoker@handsoflight.co.uk) with your name, age, the area where you live and the subject. If you are asking on behalf of a friend, relative or animal, please ask their permission first. The act of asking already activates the healing.
Alternatively, please feel free to go to my Hands of Light Healing Facebook Fan Page - https://www.facebook.com/handsoflighthealing/. 3 Days before each Moon, a Pinned Image will be put up advertising said Moon. Feel free to put your healing request as a comment on this picture.
Toks tends to send healing for 3 nights, on the day of the New Moon, which you will receive when you are sleeping or when you sit quietly for 15 minutes and call it in.
What to expect during the Workshop....

1. We will be balancing the Life Force of Your Chakras.
2. We will be writing your New Moon Wishes; for this Moon and beyond.
3. There will be an Extensive Guided Meditation.
4. We will be working with crystals to clean, uplift and guide your Energy - a very healing experience.
5. We will be drawing cards towards the end of the workshop in order to crystalise what you have intended and what you have received.
6. We will be co-creating a Crystal Portal Matrix for the World. Here is One made at a previous New Moon: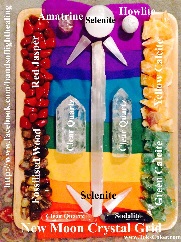 All of this will be done, and quite possibly more, all within a Safe Healing Circle with Guided Interpretation and lots of Laughter!

MAY THE FORCE BE WITH YOU.

TESTIMONIAL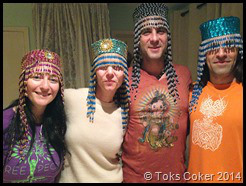 "Dearest Toks, I am in Brazil at the moment and we had planned to do our final session with the sacred planet on the 29th: so once more it is turning out to be a profoundly auspicious event. I shall lead the 14 participants (11 of whom are British) in a New Moon meditation at 5pm over here (which is 8pm your time) so I'm sure once more you and your group will be holding a portal open your side for some powerful new healing energies to become anchored.... As Always, Love and Light - Your Son, Gary xxxx" Gary Reich

Food Options: Vegetarian, snacks, nibbles etc.
Free Invocation Blessings:
http://tokscoker.wordpress.com/spiritual-blog/
Nearer the date of the meditation, or on the day itself, you can check the Energy of the Time - of that particular Now, by reading Toks' Invocation Blessing. This can be found on her blog. It is very extensive, informative and includes exercises for you to do so that you can gain greater clarity with your processing of the Energy of Now. These exercises, like the Invocation Blessing itself, are channelled each time and so they change with the Energy of each Moon.
2016 Moon Dates: http://tokscoker.wordpress.com/diary-dates/
Organiser of The Moon Alchemy Workshop – New Moon in Gemini
Toks Coker is a Master Healer, Teacher and Coach.
CLIENTS: Over the past 30 years Toks has been seeing her clients privately in St Johns Wood, either in person, over the phone or online via Skype or Zoom. Her sessions have enabled a lot of powerful personal transformations in the lives of her clients. 
STUDENTS: Toks is always teaching, even a conversation with her can reveal a teaching or insight that you needed to hear. Her work has changed thousands of lives. 
TEACHING: Toks is a Certified PGCE Teacher, Crystal Healing Teacher, Universal Healing Tao Certified Instructor and Energy Trainer. Over the years, she has taught many healing and empowering classes, such as: 8-Weeks of Forgiveness, Intensive 8-Days Spiritual Practice, Numerology Workshops and Full Moon and New Moon Meditations. She has taught  Indian Head Massage and Face Rejuvenation.
SERVICES: Toks offers a variety of services, which enables her to tailor a package or session, specifically for your need. As a Universal Healing Tao Instructor, she offers Taoist Microcosmic Orbit, Inner Smile and Healing Sound. She is a Crystal Healer, a Theta Healer Advanced DNA an Arcturus Quantum Healer, a Quantum Alchemy Crystal Bowl Practitioner, a Spiritual Healer, a Tao Hands Practitioner, an Angel Card Reader, an Energy EFT Master Practitioner, a Positive EFT Practitioner, an EMO Master Practitioner, an EMO Practitioner, a Pranic Healer, Reiki Healer and more. She is a certified Life Coach: Time Line Therapy Practitioner, Certified Practitioner of Neuro-Linguistic Programming; Certified NLP Coach Practitioner and Practitioner of Hypnosis.
ADVISOR: Toks is a Senior Practitioner and an Advisor for the BRCP. 
SPEAKER: Please contact her if you would like her to speak at your event.
"If you Light a Lantern for another it will also Brighten Your Way." Gosho Zenshu, p.1598