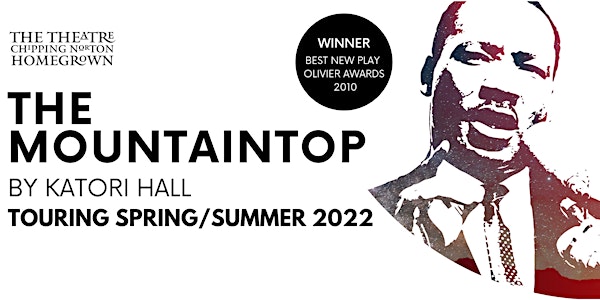 The Mountaintop: Open Rehearsal and Discussion
Location
St Luke's Chapel
Radcliffe Old Quarter
Oxford
OX2 6HT
United Kingdom
A TORCH Theatre and Performance Event
About this event
In Trinity Term 2022 TORCH presents a series of theatre-related events to take researchers 'Inside Creative Industries'.
This first event offers a rare glimpse inside the rehearsal process of a professional theatre show - The Theatre Chipping Norton's production of 'The Mountaintop' by Katori Hall. As well as watching the cast and creative team in rehearsal in their final week before the show opens, there will be opportunity to contribute your research perspective, offer your creative ideas and ask questions about what it takes to mount a touring production. The company are keen to engage with students and researchers from across Humanities and beyond, and will be inviting you to contribute to a crowdsourced digital resource 'Visit the Mountaintop'.
Free to Oxford staff and students - other interested parties please contact ruth.moore@humanities.ox.ac.uk.
Programme:
2 - 2.15: Welcome and introductions
2.15 - 3: In rehearsal
3 - 3.15: Refreshments and informal discussion
3.15 - 4: Chaired Q&A and opportunity to contribute to the playbill
More about the play:
Dr. Martin Luther King Jr, exhausted and self-doubting, returns alone to his Memphis motel room and orders up room service. The charismatic waitress who appears with his coffee takes the evening in unexpected directions, leading him to question the mission he has devoted his life to, and what he will leave behind.
Winner of the Olivier Award for Best New Play in 2010, this tender, stunningly theatrical play explores the conflict between heroism and humanity, and between the public image and the real person. Instead of the larger-than-life historical icon, this is an intimate side of Dr King, glimpsed in the last hours of his life.
To book to see the show visit The Theatre Chipping Norton Box Office online or call 01608 642350
----------------------
Guests are encouraged to wear a face covering to this event and to follow the venue guidelines on arrival.
Please do not attend this event if you are experiencing a fever or any flu like symptoms or have tested positive for COVID19.
----------------------
Eventbrite processes data (including any personal data you may submit by responding to this invitation) outside of the European Economic Area. Please only submit any personal data which you are happy to have processed in this way, and in accordance with Eventbrite's privacy policy applicable to attendees (available here: https://www.eventbrite.co.uk/support/articles/en_US/Troubleshooting/eventbrite-privacy-policy?lg=en_GB). If you prefer not to use Eventbrite for responding to this invitation, you may respond directly to torch@humanities.ox.ac.uk.