The Multidisciplinary, Orthopaedic and Vascular Reconstruction of the Charc...
Description
Kings Diabetes Foot Clinic Presents:
The Multidisciplinary, Orthopaedic and Vascular Reconstruction of the Charcot Foot (2019)
24th and 25th of June 2019
The Kia Oval, London.
---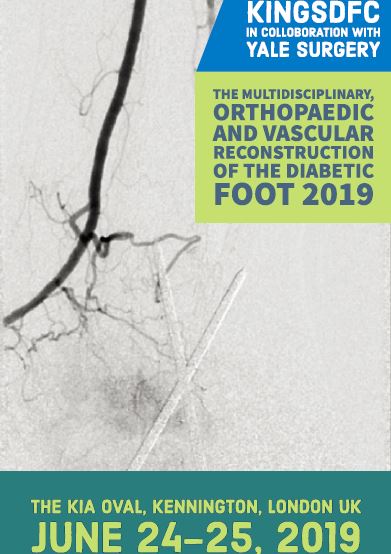 We have the privilege of welcoming you to the Multidisciplinary, Orthopaedic and Vascular Management of the Diabetic Foot 2019 symposium. The prevalence of diabetic foot disease is increasing with rising diabetes rates. At the same time, the treatment options have advanced, with limb preservation now becoming the gold standard aim. Modern concepts in diabetic foot deformity reconstructive surgeries and vascular reconstruction (endovascular as well as surgical) are now emerging and are likely to supersede current techniques.
This year's meeting, organised by KingsDFC with our partners in the USA, places an emphasis on the surgical reconstruction of the diabetic foot. We have designed the programme to provide practitioners with a comprehensive evidence-based approach to the podiatric, orthopaedic, vascular and medical management of the diabetic foot. The meeting objective is to cover the multi-disciplinary approach to diagnosis, modern non-operative treatment, recent advances in the orthopaedic surgical management of complex Charcot foot and ankle deformities, including the emerging external and internal fixation techniques and showcase evolving (and established) endovascular and vascular bypass surgical procedures, delivered by internationally eminent speakers from UK and the USA. This should act as a forum for discussion and continue to stimulate a lively debate on foot preservation and salvage strategies.
Hashtag: #kingsDFC
The programme is aimed at orthopaedic surgeons, diabetologists, general physicians, vascular surgeons, podiatrists, diabetes specialist nurses, CCG clinical leads, general practitioners and all members of diabetes foot networks or diabetes clinical networks.
CPD points are being applied from the Royal College of Surgeons, College of Podiatry and the Royal College of Physicians. Places are limited due to capacity and will be allocated on a first come first serve basis. A full agenda and further details will be uploaded onto this site around a month before the event.
Yours Sincerely
Venu Kavarthapu, Mike Edmonds, Hisham Rashid
Symposium Directors, KingsDFC, King's College Hospital
Bauer Sumpio
Symposium Director, Yale School of Medicine
---
The symposium is now sold out for certain tickets.
---
Programme Details:
Final Programme - Please visit our website: https://kingscharcotmeeting.com/programme/
You can also click here for the programme - opens into an external google drive link.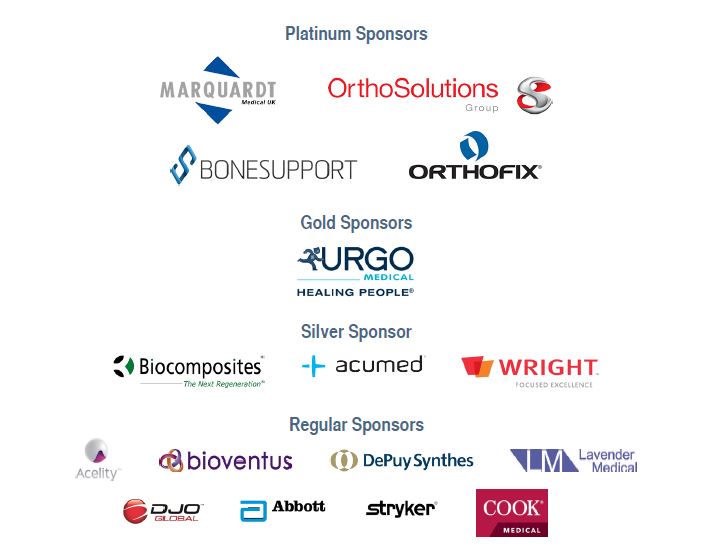 ---
Cadaver Workshop, Guy's Hospital Campus
26th June 2019
Registration closed. All successful registrants have been contacted
---
Additional Payment Details
If you are not paying for a place directly and require an invoice to be sent to your Trust/Sponsor in order to process payment please click 'SHOW OTHER PAYMENT OPTIONS' link above (under the green order now button). Please also email kingsdfc@gmail.com to inform us. We would, however, prefer you to use one of the direct payment options listed above. Please provide the following details to ensure the process of your payment (box for details provided on order form): Invoice contact name, invoice address, invoice contact telephone number, purchase order number (if required by your Trust)
FAQs
Where can I contact the organiser with any questions?
If you have any queries, please email kingsdfc@gmail.com. Allow up to 48 hours for a response.
What is the refund policy?
You will be entitled to a full refund if you can no longer attend and inform us before 20.05.2019. After this date, no refund will be offered to you. Please be aware the refund may not occur until the event closes. However, your colleague will be welcome to use your ticket and attend, just email us and let us know.
If the event is cancelled, rescheduled or changes location, you will be entitled to a refund. If the event is rescheduled to another date, your reservation will be valid. If you can't make the rescheduled date, then you will be entitled to a full refund.