Description
This event is strictly for over 18s only
FULLY BOOKED - please join the waiting list to be first in line for more tickets if they become available
From angst-ridden teenage letters to agony aunts to concerned posts in online parenting forums, it's clear that as a society we are haunted by a fear of being labelled abnormal. But who gets to define what's normal? It is really something to aspire to? And is worrying about 'being normal'... normal? Or does it have a history all of its own?
At this drop-in late event at Barts Pathology Museum, led by the Queen Mary Centre for the History of the Emotions, visitors will enter the 'land of the abnormal': a pop-up world of games, activities, talks and performances addressing different aspects of the history of normalcy and the normative. Expect lost emotions, historical psychometric tests, themed refreshments, arts activities, history of medicine talks and tours of the pathology specimens.
This event is part of the AHRC Being Human Festival of the Humanities, and supported by the AHRC and Queen Mary Centre for Public Engagement.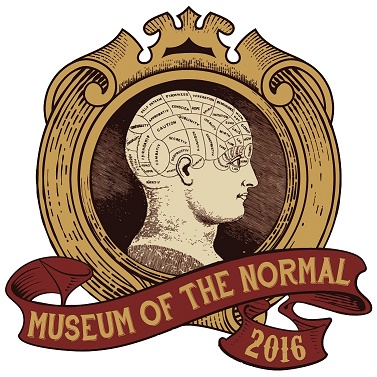 List of Talks
6.15 Waltraud Ernst (Oxford Brookes) - A brief history of the normal
6.45 Bonnie Evans (QMUL) - 'Autism, neurodiversity, and the "neurotypicals"'
7.15 Waltraud Ernst (Oxford Brookes) - A brief history of the normal (repeat)
7.45 Tiffany Watt Smith (QMUL) 'Blending in: The Lost Art of Disappearing'
8.15 Matt Lodder (University of Essex) 'Tattoos are not just for sailors: Over a century media of shock'
Activities will include:
Carnival of Lost Emotions. Travel back in time and discover emotions of the past, guided by researchers from the Centre for the History of Emotions.
Pathological Bodies. Learn more about how people have altered their bodies in different times and cultures to achieve particular ideals in a display of specimens from the Pathology Museum collection, including bound feet and the truth about the so-called 'corset liver'.
Pop-up Anthropometric Laboratory. Explore UCL's collection of items used by scientist Francis Galton in his quest to explore the 'normal' human body through statistics. Complete your own Victorian Anthropometric card and learn about the ways these measurements were used to support colonialism and eugenics (a term coined by Galton).
Drawing the Normal with Art Macabre.

Join this drop-in art workshop to sketch life models who challenge ideas of conventional beauty and bodily norms. From body shape and extreme fashion, to body art and body hair. Explore two individuals selves through drawing.

I'm an Early Modern Alchemist: Get me out of here! In many cultures, eating insects is perfectly normal, and may even provide an answer to global food shortages. Can you overcome your disgust in order to munch a bug? And how have attitudes to disgust changed over the years?
Psychobook Live. Over the last 150 years, the disciplines of psychiatry and psychology have sought to quantify and categorise normal and abnormal mood, behaviour and mental experience. Test your own anger, intelligence and modern life frustrations in a variety of real and fictional tests.
Museum of Transology. Museum collections are often presented in a way reinforce CIS gender binaries at the exclusion of all other gender expressions. The Museum of Transology readdresses this imbalance by collecting trans peoples' stuff, rewriting history into they-stories. Museum founder E-J Scott will be on hand to talk visitors through the project and accept further donations.
Psychic Driving. Hailed as a therapeutic revolution - but secretly funded by MK-ULTRA, the CIA's mind control programme - 'psychic driving' experiments aimed to render patients 'normal' by playing them endless loops of positive messages in their sleep. Record your own messages as part of a sound installation created across the evening, and find out more about the history of brainwashing and human experimentation.
The Victorian Traveller.

In nineteenth-century Britain, many spaces outside the home were effectively 'male'. For a woman travelling, researching or even walking alone in a city street involved negotiating these gender norms. During your own journey around the Museum of the Normal meet our Victorian traveller Earnest Brockbank.

Humoral Cocktails. For centuries, illness was thought to arise from an imbalance of the four humours, and a person's temperament was also affected by their humoral make-up. Get your humours back to a normal balance with cocktails themed around blood, black bile, yellow bile and phlegm.
Content Warning: Please be aware that the venue contains displays of pathology specimens such as medical tissues and organs that some attendees may find distressing. One of the optional planned activities will involve nudity. There will also be opportunities to take part in various medical and psychological tests. Test results are not intended to be diagnostic and are instead illustrative of different measures of normality that have existed in the past.
Please note that photography of the museum's pathological specimens and the life drawing session is prohibited.
Organiser of The Museum of the Normal
The Queen Mary Centre for the History of the Emotions, launched in November 2008, is the first research centre in the UK dedicated to the history of the emotions. One of its key objectives is to provide a focus for interactions between social and cultural historians of the emotions on the one hand, and historians of science and medicine on the other. It also seeks to contribute both to policy debates and to popular understandings of all aspects of the history of emotions.