Description
Edward Lear (1812-88), most famous as an artist and author of nonsense poems such as 'The Owl and the Pussycat', was also a keen musician. He composed and published settings of 12 of Tennyson's poems and many of his own poems were originally set to music. This seminar will explore Lear's sound-world and the importance of music in different genres to his development as a writer, as well as presenting new musical keys to some of his most famous works. The seminar will involve listening to new recordings of Lear's songs, some of which will receive their first modern outing at this event.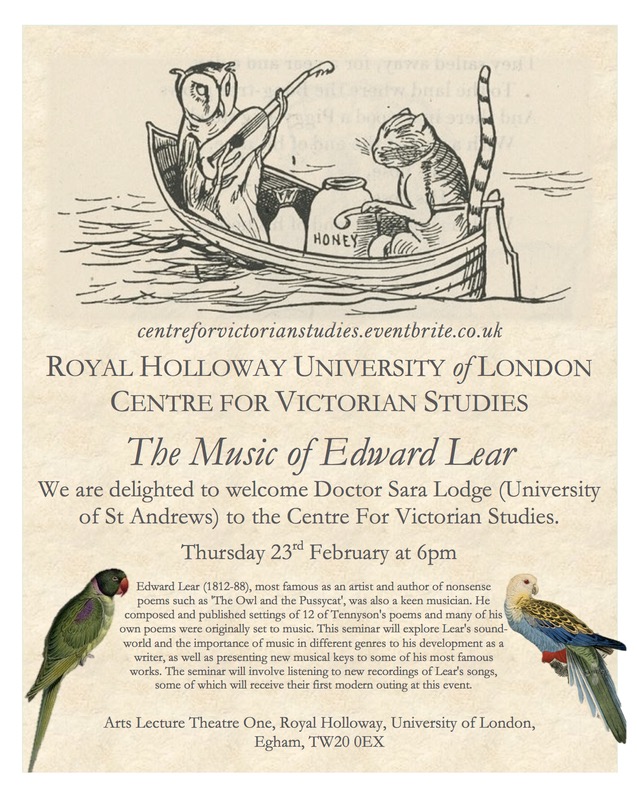 Who this event is for
Everyone. The event is free but there are limited numbers.
Location
Arts Lecture Theatre One, Royal Holloway, University of London Egham Campus.

Title
The Music of Edward Lear

About the speaker
Sara Lodge is a Senior Lecturer in English, specialising in nineteenth-century literature and culture, at the University of St Andrews. She has published two books and numerous articles on nineteenth-century topics and is particularly interested in authors who were also visual artists. She currently holds a Leverhulme Research Fellowship and is writing a book about Edward Lear for Harvard University Press.