The Mystery of Life: Book signing

Thursday, 8 October 2015 from 18:00 to 19:00 (BST)
Event Details
"The Mystery of Life" contains 12 Chapters that expound on Jakub's personal experiences and spiritual growth. To really achieve a state of "Happiness", some call this "inexhaustible bliss", it is necessary to experience self-realization. To understand one's place in the universal scheme of things. At this point, a person realizes that there is the "mind" and there is the "physical body". When one can accept themselves for their innate abilities and talents, they will be on the right path to true enlightenment. "The Mystery of Life" is a great vehicle for such a journey.

From the reviews: "The Mystery of Life is a quick read but a good one. It delves into the idea that life is a mystery that we all should embrace and enjoy. Through tales of personal experiences, both as a child and an adult, the author shares his insight and wisdom on success and happiness."

"I found that the author did an amazing job in being able to not only talk about his own personal spiritual journey, but to be able to make the reader think about their own spiritual journeys. This book was written so that it is easy to understand and promotes the thought of the reader. Honestly, this is by far one of the better spiritual books I have read."

If you would like to sign your book, or discuss over the topics in this book, or hear the music composed for this book, or listen to the reading from best parts then I would like to invite you to this book signing event in the heart of Camden in London.

Looking forward to meeting you!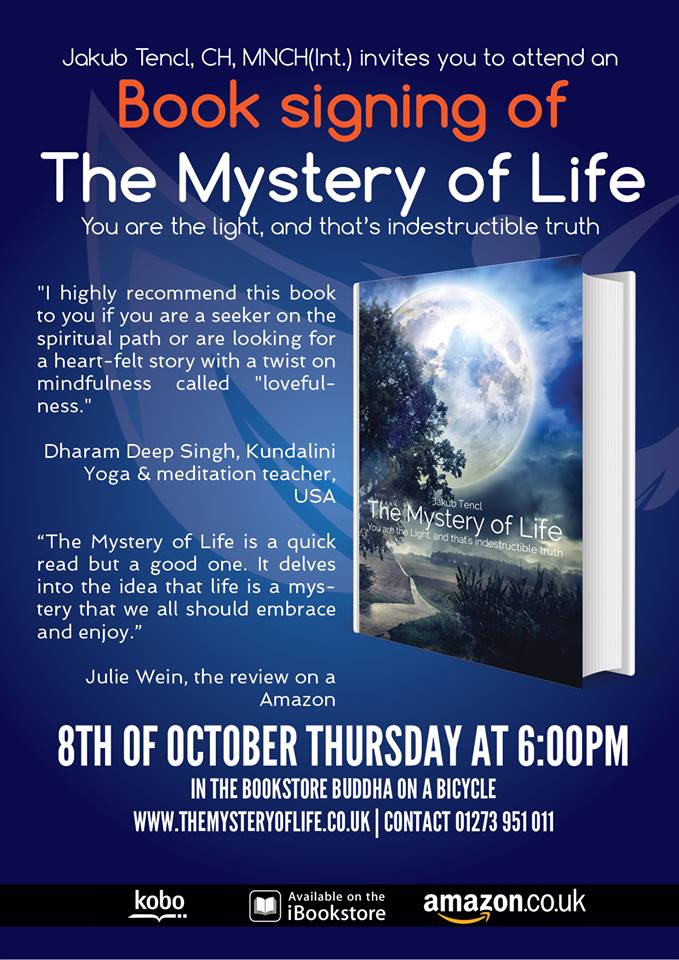 When & Where

Buddha on a Bicycle
27 Endell Street
WC2H 9BA Covent Garden
United Kingdom


Thursday, 8 October 2015 from 18:00 to 19:00 (BST)
Add to my calendar
Organiser
Jakub Tencl, Ph.D. MHS Accred (Dip. Psychology) is a clinical hypnotherapist based out of London, Brighton, and Prague. He has become known for his uniquely effective methods, including a system of mindfulness-based cognitive behavioral hypnotherapy that he developed himself. A natural leader, he has organized multiple therapeutic groups, his commitment to his clients' well-being always shining through.

When Jakub sets out to make something happen, he does so wholeheartedly. He is someone for whom motivation is always in abundance, and it is this highly efficient mindset that he tries to pass on to the people around him. His areas of expertise include self-confidence, self-forgiveness, self-mastery, dreams, fears, stress, guilt, and self-acceptance, a value that he believes all people can benefit from.

As a coach, Jakub is in demand. He is recognized for his ability to show people how they can uncover the best possible version of themselves and achieve their goals.

Jakub earned his Diploma in Hypnotherapy at HMI's College and Clinic of Hypnotherapy, graduating in 2014. He then went on to study for his Level 5 Cognitive Behavioural Therapy Award at Stonebridge Associated Colleges and his Doctor of Philosophy (Ph.D.) at Charter University. On top of that, he is a Certified Specialist in Trauma Recovery Hypnosis, Hypnosis for Immune Disorders, Smoking Cessation, Pain Management, and Healing the Inner Child.

As an author, Jakub has written multiple books, two of the most important of which are Perception from a Multicultural Perspective and The Mystery of Life, both of which are available on Amazon and other well-known bookstores. Perception from a Multicultural Perspective is a collection of his research-based conclusions on communication and being more effective overall in our interpersonal relationships, while The Mystery of Life is more about a spiritual journey, based in large part on his own life experiences, covering his lifelong search for truth. In both books, he draws on his experience in hypnotherapy and presents the culmination of his research-based conclusions for the benefit of his readers. He has also recorded CDs devoted to various hypnosis-related topics in two languages, CDs that are available on Amazon as well. The founder of The British Association of Therapists and Hypnotherapists and The Hypnosis Motivation College, initiatives devoted to the education and development of hypnotherapy students and professionals, showcasing his commitment to the practice as a whole, he is a well-respected leader in this industry.