Refund policy
Contact the organiser to request a refund.
Eventbrite's fee is nonrefundable.
Sales Have Ended
Ticket sales have ended
Thank you for booking with Wuffing Education. Please note that for cancellations you will be charged the Eventbrite booking fee of approximately (approx. £3 for individual ticket or £4.50 for couple ticket).
An exploration of the curious decorated stone bar from the Sutton Hoo ship-burial, usually described as a 'whetstone' or 'sceptre'.
About this event
Title-picture above: Stonemason Brian Ansell working on an exact replica of the Sutton Hoo stone (©Dr Sam Newton 14th March 2009 ). Brian's work has revealed the high level of skill used in the design and making of the original.
Among the great treasures found aboard the Sutton Hoo ship-burial are some real mystery-objects, such as the curious stone bar decorated with bronze fittings, including a beautifully stylised red deer stag with a full set of antlers.
There are also faces carved into each end of the four sides of the hard stone of the bar, which challenge us to understand who or what they may have represented.
Often described as a 'whetstone' or a 'sceptre', an examination of the detail of its carving and construction suggests clues as to its probable function(s), which may in turn relate to the origins of the East Anglian dynasty.
Above: Drawing of the stone bar and its fittings (© T.J. Newton 1993).
Provisional Timetable
10.15–11.15: The Stone and its Context - A description of the stone and its fittings, and some possible analogues in the archaeology of northern Europe.
11.15-11.45: coffee break
11-45-12.45: Design and Manufacture - Details of the stone carving and the manufacture of the fittings, with some thoughts on their significance.
12.45-13.45: lunch break
13.45-14.45: Enigmatic Faces - The eight faces clearly represent persons of great significance to the society which created the burial chamber and most of its contents - but who are they and why were they included?

Above: Detail of the Brian Ansell replica, with the metalwork made by David Roper, commissioned by Paul Mortimer, showing the carved faces, the great ring, and the red deer stag (©Dr Sam Newton 5th November 2011).
About Steve Pollington
Steve has many published titles on the Old English language, military culture, healing and herblore, runes and feasting in the 'meadhall', as well as a double CD of readings in Old English. He has lectured widely on aspects of Anglo-Saxon culture since 1991, from local history to the details of verse metre, from theories of the origins of the Germanic runes to the handling of Anglo-Saxon weaponry. He has worked on a number of television and radio programmes, and was script advisor to the ground-breaking 1000 AD, in which dramatic dialogue was spoken entirely in Old English and Old Norse. His current project is a French-language two-volume introduction to runes to begin publication this year: Runes: L'Ecriture des Anciens Germains. Tome I: Origines et Développement.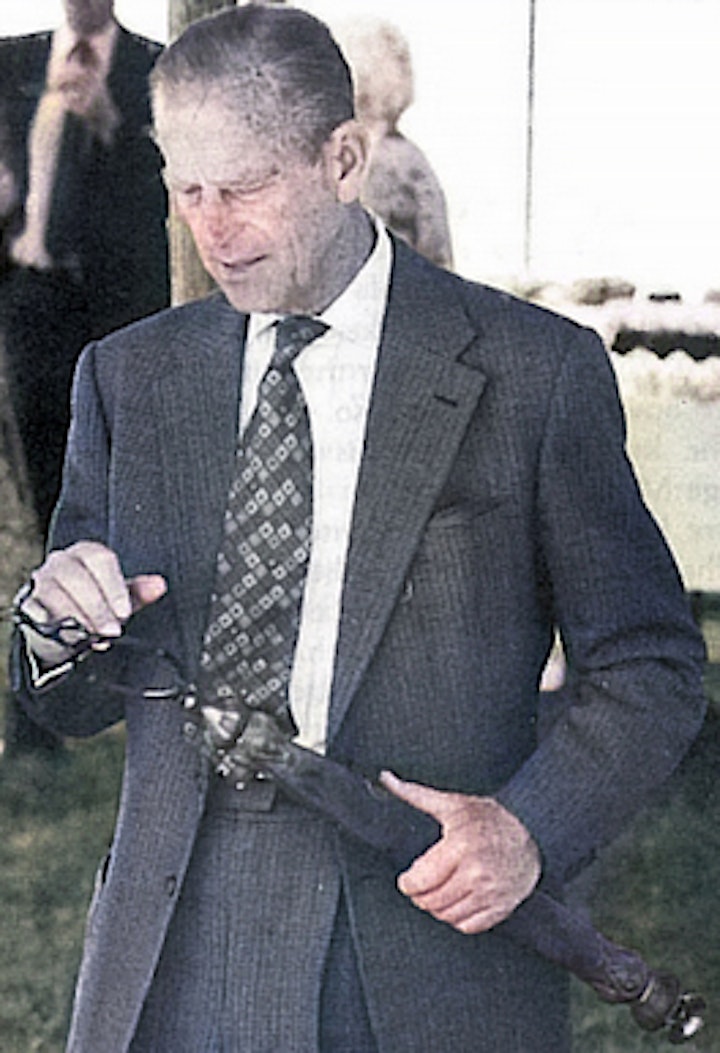 Above: HRH The Duke of Edinburgh holding a replica of the stone when he visited Sutton Hoo on 9th July 1987 (© Nigel Macbeth, Sutton Hoo Society Newsletter 7 [1988], p. 8).
Some Suggestions for Optional Background Reading
Bruce-Mitford, R., Aspects of Anglo-Saxon Archaeology. Sutton Hoo and Other Discoveries (London, 1974).
Carver, M., Sanmark, A., & Semple, S., Signals of Belief in Early England. Anglo-Saxon Paganism Revisited (Oxford, 2010).
Ellis, S. E., "The Petrography and Provenance of Anglo-Saxon and Medieval English Honestones, with Notes on Some Other Hones", Bulletin of The British Museum 2, no.3 (1969).
Enright, M.J., "The Sutton Hoo Whetstone Sceptre: a Study in Iconography and Cultural Milieu in Anglo-Saxon England", Anglo-Saxon England 11 (1982), pp 119-134.
Enright, M.J., The Sutton Hoo Sceptre and the Roots of Celtic Kingship Theory (Dublin, 2006).
Hansen, S.C., "Whetstones from Viking Age Iceland as Part of the Trans-Atlantic Trade in Basic Commodities", Thesis Sigillum Universitatis Islandiae (Rekjavik, 2009).
Keynes, S., "Rædwald The Bretwalda" in Kendall, C.B., & Wells, P.S., (eds) Voyage to the Otherworld – the Legacy of Sutton Hoo (Minneapolis, 1992).
Lamm, J.P., "On the Cult of Multiple-Headed Gods in England and in the Baltic Area", Przegląd Archeologiczny 34 (1987).
Meaney, A., Anglo-Saxon Amulets and Curing Stones, B.A.R. British Series, no.96, (Oxford, 1981).
Mortimer, P., Woden's Warriors: Warfare, Beliefs, Arms and Armour in Northern Europe during the 6th and 7th Centuries (Ely, 2011).
Mortimer, P., & Pollington, S., Remaking the Sutton Hoo Stone. The Ansell-Roper Replica and its Context (Ely, 2013)
Moore, T.D., "The Petrography and Archaeology of English Honestones", Journal of Archaeological Science 5 (1978).
O'Connor, L., "Irish Iron Age and Early Christian Whetstones", The Journal of the Royal Society of Antiquaries of Ireland 121 (1991).
Pollington, S., Kerr, L., & Hammond, B., Wayland's Work: Anglo-Saxon Art, Myth and Material Culture from the 4th to the 7th Century (Ely, 2010).
Price, N., & Mortimer, P., "An Eye for Odin? Divine Role-Playing in the Age of Sutton Hoo", European Journal of Archaeology 17 (2014).
Shaw, P., "The Uses of Wodan – The Development of his Cult and of Medieval Literary Responses to It" (Ph.D.thesis), 2002.
Simpson, J., "The King's Whetstone", Antiquity 53 (1979).
What happens next:
When you book tickets, it is essential that you open an account for yourself on Eventbrite at the same time (if you haven't already done so). I recommend that you do not book via the anonymous 'guest account' option.
This is because of the way in which Eventbrite works with Zoom - without an account, it won't let you sign in to join the study-day on Zoom.
After booking you will receive an email with a link to take you to a webpage with a timer counting down to the start of the event. When it reaches zero it will say 'Join Now'. Click on the link and Zoom will automatically start, but only if you have opened an Eventbrite account.
It's a good idea to have set up and tested your Zoom configuration well in advance and be aware of how to use the controls. There is guidance and a test link here.
You can type in 'Wuffing' to search in the Online section of Eventbrite to find more study-days with Wuffing Education.
You can also click on the 'Follow' button above to hear details about any of our events as soon as they are published.
And you can click here to receive our email newsletter about forthcoming events with Wuffing Education.