The Natural History of the Mammoth with Professor Adrian Lister
Description
In March 2017 whilst searching for archaeological remains on Mersea Island's mudflats, CITiZAN volunteers stumbled upon a beautifully preserved, 2 metre long Mammoth tusk. These fascinating Ice Age giants clearly once roamed the ancient landscape where Mersea Island now lies. But what can finds such as the magnificent Mersea tusk tell us about these incredible creatures? CITiZAN have teamed up with the Natural History Museum in London to bring you the chance to find out more...
Fortunately, more is known about the natural history of the mammoth than any other extinct prehistoric species. Thanks to the preservation of frozen carcasses in Siberian permafrost, the mammoth's adaptations can be studied in detail, even down to features at the cellular and molecular levels. Another unique source of evidence is the representations of mammoths in cave art from France and elsewhere. Even aspects of social behaviour can be deduced – did it differ from that of living elephants? This talk will describe the most recent mammoth finds and will draw on the latest research, including CT scanning and DNA analysis of fossils.
---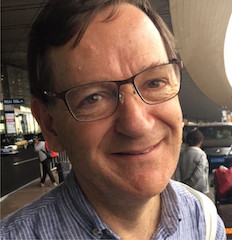 Adrian Lister is a Research Leader in the Department of Earth Sciences of the Natural History Museum. He obtained his BA and PhD in Zoology from the University of Cambridge, and from 1991 taught at University College London where he became Professor of Palaeobiology, before moving to the Natural History Museum in 2007. His research interests are in the evolution of mammals during the Quaternary ice ages – with special reference to large mammals such as elephants and deer. Adrian Lister has authored nearly 200 scientific papers and his two books on mammoths have sold over 60,000 copies in six languages. His latest book, Darwin's Fossils, will be published in spring 2018. Other research interests include the dwarfing of mammals on islands in the Quaternary, and the causes of extinction of large mammals at the end of the ice age. As well as his research on fossil mammals, Adrian Lister also studies the taxonomy of their living representatives, has served on the specialist panels of IUCN for both Asian elephants and deer, and has led expeditions to study living elephants in Nepal, India, Ghana and Borneo. He is a frequent contributor to TV and radio programmes on fossil and living mammals.