Description
The NAVIGATOR inspires business people to fast track their business to success, using a memorable sailing metaphor as the vehicle of FUN!
1 DAY - 8 TOPICS - DOZENS OF STRATEGIES & ACTION PLANS
Why use sailing as a metaphor for business? To skipper a boat you have to be master strategist. Sir Ben Ainslie, 4 times Olympic sailing champion is one! He jumped on the America's Cup boat this year when the team were losing 1-8 to the NZ boat. He analysed, strategised, implemented changes overnight which led a subsequent 7 victories for the USA team. The biggest sporting comeback in history!
Are you a master of your business?

A high performance skipper?

Would you like to learn some fast track business strategies to accelerate your growth?
This fast paced one day event is run by master strategist, Marina Nicholas, a multi-award winning entrepreneur and Virgin Start Up Mentor.
Visit http://www.the-navigator.com/learn-more.html for more details.
The 1 Day Workshop
Using the fun sailing metaphor for business, you will start the day completing a Business Evaluation Wheel. It is a diagnostic tool to assess your current business model and identify strengths and weaknesses.
1. The Boat = Company/Product/Service - assess the strength of your company, your products/service (boat) and fast track strategies to add even more value to your customers.
2. The Destination = Vision/Goals - review the destination, route map, milestones and duration you have chosen (business plan). Discover new strategies to get there stronger, faster and cheaper.
3. Skipper Strategy = Leadership - strategies to maximise performance, crew, teamwork and core values
4. Crew = Team- whose on board. Skills. Gaps. Maximising teamwork. 60 minute innovation.
5. Fee Paying Passengers = Sales & Marketing - innovative ways to attract more customers more often
6. Current Sailing Conditions = The Market - Sector. Season. Size, Saturation. Adaptability to change.
7. Navigation Systems = Performance tracking systems - methods and systems to track costs, cash, sales, KPI's
8. Bad weather conditions = Contingency Planning Accelerated route - strategies to assess risks seen and unseen. Plans for adversity. Accelerated routes.
CLARITY + FAST TRACK STRATEGIES + ACTION PLANS + GROWTH
GIFT : 25 page WorkBook with targeted questions and action plans.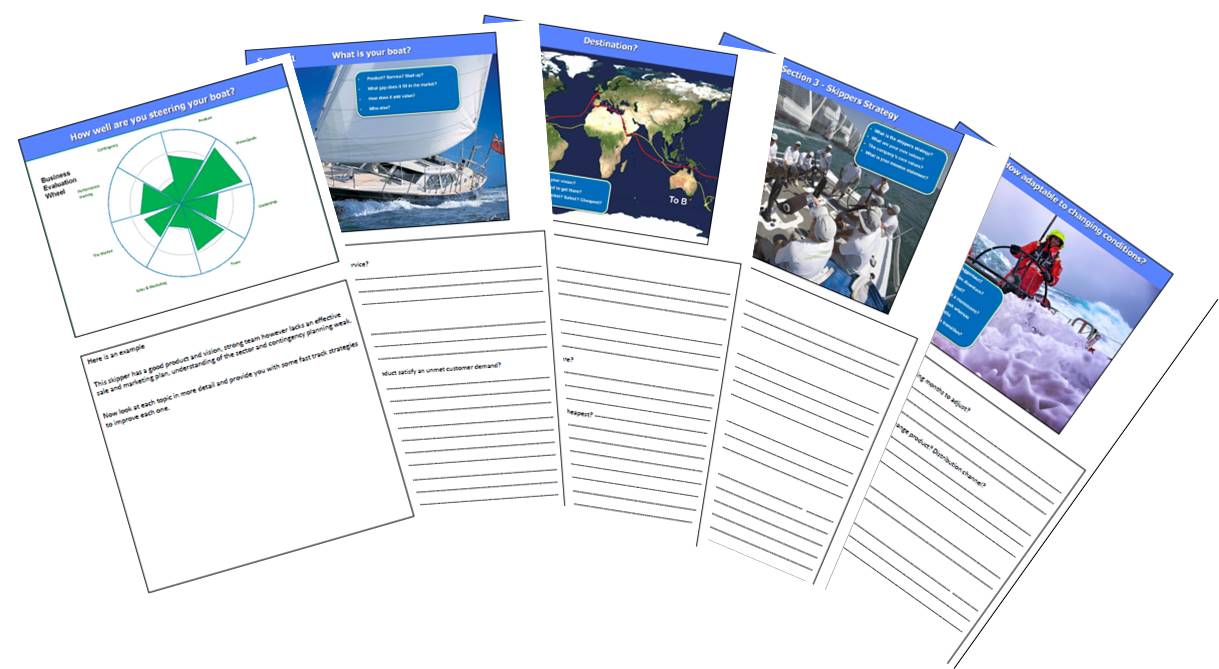 The Navigator Day will give you CLARITY + STRATEGIES to master your business.
A high octane day combining theory with fun memorable exercises!
---
MONEY BACK GUARANTEE:
We know it works which is why we can confidently offer a Money Back Guarantee. We guarantee you will learn at least ONE new strategy that will fast track your business to success or your money back!
---
WHAT PEOPLE SAY...
'I gained more from one session than another £5000 course I attended years ago!'
'Clarity, clarity, clarity..I now have it!'
'I feel powered up with new ideas to take my business forward to the next stage'
JOIN US!