Private view of I Am Belmaya (82mins) + Q&A with directors Sue Carpenter and Belmaya Nepali, in aid of The Nestling Trust
About this Event
*Tickets: minimum £10 per person*
Please join us for an exclusive online screening of the new feature documentary I Am Belmaya, and afterwards watch a specially recorded Q&A with director Sue Carpenter and co-director Belmaya Nepali.
Your chance to see this beautiful, inspirational film, set in Nepal, before it is released to the public. A story 14 years in the making, I Am Belmaya follows an uneducated young Dalit woman's transformational journey from subjugated wife to award-winning documentary filmmaker.
"I am hugely touched and impressed by this beautiful work. A daring and heartbreaking film, which fills one with hope and admiration. Its charm lies in its humour and sorrow, so deftly intermingled on the screen. Five shining stars from me" - Joanna Lumley
* UK Film Review's 5 star review of I Am Belmaya! *
Event Schedule:
From 6pm, Sunday 7 March until 11pm on Monday, 8 March: Screening of I Am Belmaya (1hr 22 mins; you can view the film at any time between these hours)
Followed by: Pre-recorded Q&A with Sue and Belmaya (16 mins)
You'll receive an email from Tideturner Films with your viewing link and password, 30 minutes before the event starts.
Late orders: If you order tickets after the start time of 6pm, Sunday 7 March, there will be no automatic mailout from Eventbrite. Instead we will be regularly checking orders and will manually email you the viewing links and password. If you don't receive them within an hour or two of ordering, please contact Sue on sue@tideturner.co.uk or text 07710 169410.
Tickets and Donations
This is a charity/philanthropic event, with a minimum donation of £10 per person, but we would be most grateful for donations above this sum. When you click on the ticket link, you will find just one ticket option - an empty box for you to fill in your donation amount. Please enter a minimum of £10 per person + any extra donation = total amount.
All profits will be split equally between The Nestling Trust (for a pilot programme for women who have fled domestic abuse, offering training in sewing skills so they can support themselves and their children), and Tideturner Films (to fund the film's outreach to amplify its important messages, with 20% of Tideturner's share going direct to Belmaya and her daughter).
NB We are listing this event with a 'Donation' only ticketing option, because this minimises Eventbrite admin and payment processing fees (2% fees will be calculated and added before your order is finalised) - meaning that 100% of your donation goes to support the charity, the film and Belmaya.
NB This event is for ticket holders only. Please do not share the film or Q&A links.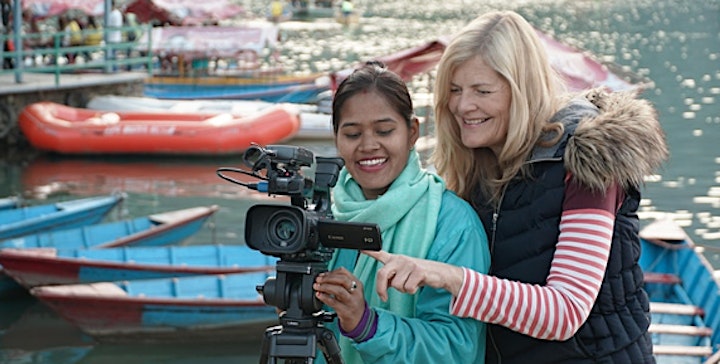 Sue Carpenter, Director/Producer
Sue has been involved in Nepal and women's rights for 20 years. A journalist and photographer, she moved into documentary filmmaking in 2013, and set up Tideturner Films, to make independent documentaries that spark social change. In 2006-07 she lived in Pokhara, running the My World, My View photo project, where she met Belmaya Nepali. Sue is a Founder Trustee of GlobalGirl Media UK, empowering young women through digital media training.
The Nestling Trust's Funding Goal
The Nestling Trust aims to protect needy children of Nepal and, by supporting a women's NGO pilot programme, we hope to help break the cycle of despair for single women and their children.
The proposal is a pilot by Helpful Development Society – Nepal (HDS-N), who are working in coordination with the local government in Bhaktapur, to improve the welfare of single mothers and their children by offering the women life skills, and needlecraft training. In collaboration with the Municipality, HDS-N has a long-term commitment to provide safe shelter for those women and children, who are victims of violence. The aim is to promote these women's independence by providing the tools for them to meet their own needs, and those of their children.