Description
The Networking Retreat Live! Content Marketing Masterclass - featuring Chris Marr
I am ALWAYS looking for ways to bring extra value to The Networking Retreat and I am thrilled that I have persuaded Chris Marr, founder of The Content Marketing Academy to bring his masterclass to Oxfordshire.
This is your opportunity to get yourselves massively ahead of your competition.
This is also a very rare chance to see Chris in England. His main event takes place every year in Edinburgh and I'm dragging him all the way down from Fife for this masterclass. I've locked it out at 20 people - and it will sell out.
Chris Marr
Multi award winning Entrepreneur Chris Marr believes content marketing is the only way to set business leaders free from the world of mediocre interruption marketing.

Chris is the Founder and driving force behind CMA, the UK's largest membership organisation of it's time.

He is raising the bar on talent curation, leadership, personal development, and community building. His pioneering work has changed the lives of hundreds of businesses, all through the power of Content Marketing.
The Networking Retreat Live! Content Marketing Masterclass - featuring Chris Marr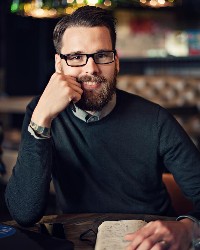 I know that you have an amazing business. You are the best at what you do.

However, there's a similar product or service, at a similar quality, at a similar price, and people can buy whatever they need from anywhere in the world.

This is the magical world we live in.

So why should someone choose to buy from you? How do you stand out from everyone else? How do you change from being A choice to THE choice?

It's fair to say that things have changed dramatically in the past 5-10 years. Consumers expect to be communicated with in a specific way, but as businesses we have not changed the way we communicate.

This is a major problem if we want to continue to do business and be relevant in 2016 and beyond.

As consumers we have access to all the information to help us make an educated buying decision. We also know that we hate being sold to, in fact we avoid sales people as much as we possibly can - it's the last thing we do!

Yet as businesses all we seem to do is try to sell.

Your potential customers are using the Internet today to make the majority of their buying decision before they contact your business for the first time. You are being judged online before being judged offline.

Are you doing everything you can to help your potential customers make an educated buying decision?

Are you doing everything you can to build a relationship and trust with your potential customer so they feel confident contacting you for the first time?
If all you are doing is 'selling', then that's not going to inspire anyone.

Just think about how you buy things today and the amount of information you require to feel confident contacting a business for the first time.

We need to figure out how to communicate effectively with our potential customers so we can build up enough trust so they will choose to contact us.

Would you be interested in this masterclass if...

...I could give you everything you need to help communicate with your potential customers in the best way?

...I could give you the knowledge and skills to be found by your potential customers when they've never heard of you before?

...You could uncover the single best way to communicate and grow your business and get the best customers you've ever had?
This is a masterclass that will teach you about the future of sales, marketing and business growth.

This is ideal for business owners and customer facing, operational, sales and marketing team members.

If you feel like your marketing and sales is just not hitting the mark, or you feel like you are falling behind with current trends in marketing and sales, then you absolutely need to be at this session.


If you feel like you need an injection of motivation, inspiration and a fast-track to the skills and knowledge to take your business to the next level, then you cannot afford to miss this opportunity.
Tickets just £79+VAT including supper.
Remember there are only 20 tickets available for this event and it will sell out.
Organiser of The Networking Retreat Live! Content Marketing Masterclass - featuring Chris Marr
Stefan Thomas of The Networking Retreat is the author of the Amazon bestseller Business Networking for Dummies and veteran of over 1000 networking events.
Stefan's clients includes Lloyds Banking Group, The Chartered Institute of Management Accountants, BT, Telecom Plus Plc and hundreds of small business owners around the UK. Stefan is acknowledged as the UK's leading authority on networking in the 21st century.
Networking has changed. The integration of social media with "real life" networking confuses many people. Those who work out how to use every facet of networking gain a massive advantage.
Follow Stefan on social to be kept up to date with his appearances and networking advice:
Twitter - @NoRedBraces
LinkedIn - Stefan Thomas
YouTube - No Red Braces
Facebook - Stefan Thomas

Instagram - No Red Braces