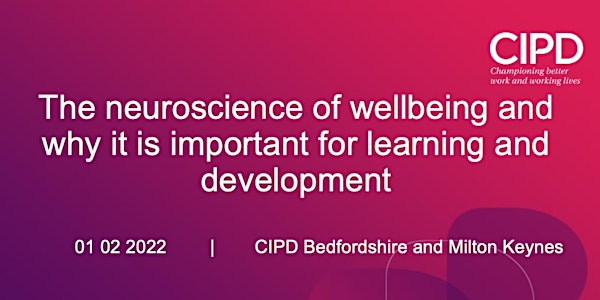 The neuroscience of wellbeing & why it is important; CIPD B&MK
We welcome you to this event to understand the neuroscience of wellbeing and why it is important for learning and development.
About this event
Online Networking at 18:00-18:30.
Event starts at 18.30 and will finish at 20:00.
Networking
Please be sure to join us ready for the main event, starting promptly at 18.30pm. At 18:00 we will be facilitating networking in small breakout groups, so please join us early to make new contacts with people of similar interests.
Event
We welcome you to this event to understand the neuroscience of wellbeing and why it is important for learning and development. Building on an analysis of wellbeing in both public and private sector organisations who undertook consultations using an AI enabled platform (Cari) between 2017- 2021. We will explore how has wellbeing changed over the course of five years and what this means for L & D.
1. What do we mean by wellbeing? - A journey up and down the River of Life, demonstrating the neuroscience of workplace wellbeing with an opportunity to explore your own 'in the moment brain state' and review this for the entire group in 'realtime' during the event using a tool to identify brain capability.
2. With an understanding of the science, we can then review what has happened for individuals - and how this reflects society over the last 5 years. Using data and insights we explore the heightened impact upon disadvantaged groups and how all of this is affecting, our conscious and unconscious wellbeing ('brave face syndrome'). We will explore and experience some different brain states in order to discover how we can make positive change happen.
3. Concluding with the key steps that you as L & D practitioners need to take to reverse the trend and build strategies and tactics that respond the real and immediate needs of your people.
At the end of the event:-
1. Understand the neuroscience of wellbeing at work
2. Identify the 3 forms of presenteeism and how these different levels impact on learning
3. Recognise the key brain capabilities that are affected by wellbeing
4. Consider and apply some knowledge of neuroscience to prepare learning experiences for people at work
5. Make L&D a conduit for better wellbeing at work, strategically and tactically
Maria Paviour - Occupational Neuropsychologist
Maria Paviour is CEO and founder of Wellbeing with Cari (Workplace Wellbeing & Performance Platform), creator of the NeuChem® Coaching Model, Neuroscience Specialist, Occupational Psychologist, Award-winning App Innovator, Amazon Best-Selling Author and International Speaker.
"What excites me is strategically applying neuroscience that unlocks human capability, achieves holistic organisational goals and drives sustainability and social justice.
My goal is to work with organisations where I can help to change the narrative:
- put wellbeing at the core of organisational culture
- maximise performance beyond best expectations, in all domains, not just finance, including elevating every individuals' brain performance.
As a registered occupational psychologist, I have always focused on wellbeing and performance at work. Over the past 25 years I have combined this with my background in Human-Machine Interaction, in developing psycho-technology and in developing an AI software-as-a-service (AIaaS) wellbeing platform for organisations.
My current post graduate studies into Applied Neuroscience at King's College London, ensure that I proactively remain at the forefront of wellbeing evidence and research.
I believe that everyone should be psychologically safe and feel the joy of peak performance at work. My mission is to leverage what we know from neuroscience through AI technology to solve the problems of presenteeism at work."
Professional photography and video production will be taking place at the event, and these images may be used on future promotional materials for CIPD. Please note that by attending the event, you are giving your consent for your image to be used on any CIPD promotional materials.