Location
Heffers Bookshop
20 Trinity Street
Cambridge
CB2 1TY
United Kingdom
Description
Number one bestselling author Jeffery Deaver returns with a stunning new thriller – the first in an exciting series featuring enigmatic investigator Colter Shaw. Join Jeffery at Heffers, as he talks about THE NEVER GAME and life as 'the best psychological thriller writer around'.
You wake up all alone, in the middle of a forest, miles from anywhere. Beside you lie five objects – a lighter, grease, picture-frame wire, a piece of silk, a bottle of water – which you will need to use if you want to survive.
You've been taken by the Whispering Man and there is no escape. He makes the rules and nobody ever gets out alive. Enigmatic investigator Colter Shaw is fighting to stop the murders. But another victim has been snatched from her family and he's running out of time. In the darkest corner of Silicon Valley, a new breed of killer is emerging: someone with a deadly obsession, whose twisted game is spiralling out of control.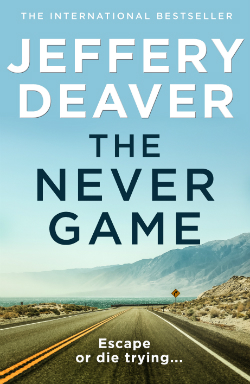 Jeffery Deaver is the No.1 international bestselling author of more than thirty novels, three collections of short stories, and a non-fiction law book. His books are sold in 150 countries and translated into 25 languages. His first novel featuring Lincoln Rhyme, The Bone Collector, was made into a major motion picture starring Denzel Washington and Angelina Jolie. He's received or been shortlisted for a number of awards around the world. He is also a former journalist, folksinger, and attorney.
Jeffery will be in conversation with author, journalist and broadcaster Mel McGrath, then signing copies of The Never Game, which will be available to purchase at the event at a special price.
Tickets for this event are priced at £7 in advance or £8 on the door and can be purchased through this page, by calling 01223 463200 or in person at Heffers bookshop. Please note that tickets are transferable but non-refundable,
If you are unable to attend but would like to request a signed copy, please send an email via the 'contact' button on this page.
Like this? See a full list of our forthcoming events by clicking here.