About this Event
With the current advancements in data storage and electronics, the world is witnessing technological advancements faster than ever. With the 2017-2020 Digital Transformation Strategy, most advanced technologies like 5G and IoT are currently implemented in every daily activity you perform, from AI-powered Facial Recognition software in your phone to the fastest networks. Hence, in this world of technological advancement, it is mandatory to be digitally literate to keep up with this evolution.
So, with this aim of making everyone digitally literate, I am Paulette Watson from Academy Achievers. Today we are going to talk about the "Future of Data Storage" in Technology i.e., Big Data which is revolutionizing the way we store and process data. It is the foundation of technologies like Machine Learning and Data Analytics.
In this talk, I will be discussing the history of this technology, it's current applications, and it's future aspects.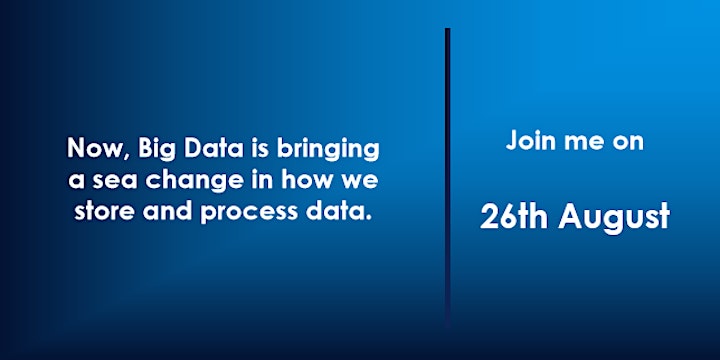 We will kick off at 7:00 pm London Time on 26th August 2020.
The event will stream from zoom and a link will be provided once you have purchased your ticket.
You can find the full schedule and convert it to your timezone at https://www.academyachievers.co.uk.
Find out more about our excellent speaker and more details about her work at https://www.academyachievers.co.uk.
Sharing:
Please share on social media using the hashtags.#AcademyAchieversTech, #BeMeSTEM and #BeMeSTEAM
For those in your network who haven't registered, they are still welcome to come and listen if they are aligned to promote digital literacy.
Sample post you can share with your networks: I am attending #NewTechnologies #EmergingTechnologies today from 7 pm. Join this free virtual tech conference to spread digital literacy at https://www.academyachievers.co.uk #AcademyAchieversTech #BeMeSTEM #BeMeSTEAM
We hope you enjoy, learn, and connect on 26th August! We will send out a survey after the conference to get your feedback and listen to your suggestions. For any queries, feel free to reach out to us at : info@academyachievers.co.uk
Please let us know if you have any questions. See you at www.academyachievers.co.uk
Linkedin - AcademyAchievers
Facebook- AcademyAchievers
Instagram - AcademyAchieversltd