Description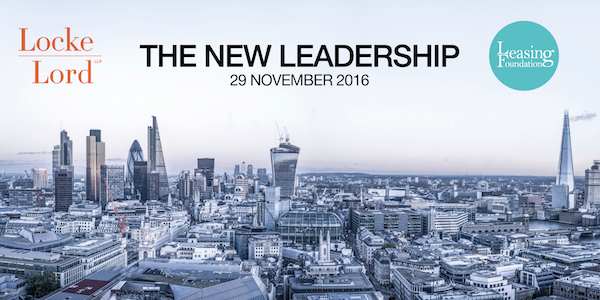 Identifying, developing and sustaining leadership capability is consistently ranked the number one issue for businesses today.
Join us in a day-long discussion about how we can develop new approaches to leadership in the leasing and asset finance industry.
The day comprises short, focused insight sessions from senior leaders from the industry on the leadership challenge – their personal insights into the future of leadership in a changing industry – plus panel discussions and networking opportunities.
Themes for the day include creating a leadership pipeline, managing talent, leading for disruption, nurturing a leadership community, building teams for transformation, women in leadership and the role of leaders in inspiring change.
Those attending will have an unrivalled opportunity to meet their peer group, and emerging leaders can network with senior colleagues, share experiences, exchange views and ideas and crystallise real knowledge that they can take back to the workplace.
The New Leadership is hosted by Locke Lord in London.
---
AGENDA
09.30-10.00 Arrival and Coffee - sponsored by CBC Resourcing Solutions

10.00-10.15 Welcome - Professor Peter Thomas COO The Leasing Foundation
10.15-10.45 Leading The Future - Mike Randall The Leasing Foundation
10.45-11.15 Leading Millennials - Nathan Mollett Metro Bank
11.15-12.00 Women in Leadership panel - led by Jo Davis Locke Lord
12.00-13.00 Lunch and Networking - sponsored by Aldermore
13.00-13.30 Connecting with Colleagues - Jonathan Andrew Siemens Financial Services
13.30-14.00 Leadership with Compassion - Andrew Denton Alfa
14.00-14.30 Leading the Industry - Simon Goldie The FLA
14.30-15.00 Emerging Voices panel - led by Amanda Childs Siemens Financial Services
15.00-15.30 Coffee and Networking - sponsored by CBC Resourcing Solutions
15.30-16.15 Inspiring Change panel - led by Carl D'Ammassa Aldermore
16.15-16.45 Building a Team for Transformation - Dana Cuffe Aldermore
16.45-17.00 Q&A from the floor - led by Peter Thomas The Leasing Foundation
17.00-18.00 Drinks and Networking sponsored by Bibby Leasing.