Location
Flat 5
1 Alexandra Place
London
NW8 0DY
United Kingdom
Description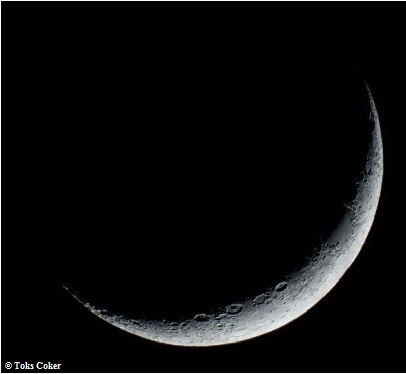 HAPPY NEW MOON IN LIBRA HEALING CIRCLE
Every New Moon We:
Honour the beginning of new things in your life.
Start anew.
Refresh and look at your life in a new way.
Make new beginnings.


With the New Moon in Libra in particular, we will be processing the following Energies:
BALANCE
Libra asks, "Are you truly balanced?
Where are you balanced in your life?
Where do you need balance in your life?"
The Libra moon is represented by the scales and illuminates where we can restore balance to relationships that have become co-dependent. It is our choice whether we take personal responsibility for our actions, and choices, or become someone else's victim. Over this moon, try not to get sucked into any fights, disagreements or conflicts, as they can easily escalate creating dire consequences, not only for you but burning those around you too.





Some good questions to ponder upon are –





How do I create more balance in my life?




How do I create more balance in my relationships?
FUNDAMENTAL DARKNESS
Fundamental darkness is anything negative in your mind, body, spirit or emotions that holds you back, that stops you from rising and being happy.
As you activate the positive energies of Libra, you are able to transform the poison in your life to medicine.
What do you want to transform?
HEALTH
Have you been so busy that you haven't had time to just stop and relax, and take time for you, in a healthy, supportive and sacred way?
What New Moon action could you take?
Attend this New Moon Gathering with Toks.



LIBRA QUOTE:
"It is easier to build strong children than to repair broken men." Frederick Douglass




We Will Also Be Celebrating The Following:
1. BIRTH OF GURU RAM DAS (Sikh)
2. DRACONIDS METEOR SHOWER


FORMAT

Time: 7pm-9pm
Price: £25
It's a 1 Hour Meditation
Please arrive for 7.00pm for a prompt 7.30pm start




YOU CAN:
1. Attend in person
2. Attend online
3. Receive the recording the next morning

Toks will be channelling the energies with her Crystal Singing Bowls
TESTIMONIAL
"Everyone should have a Toks. The absolute Joy of Toks. Releasing the stress from my staff and I."

Colin Jeffries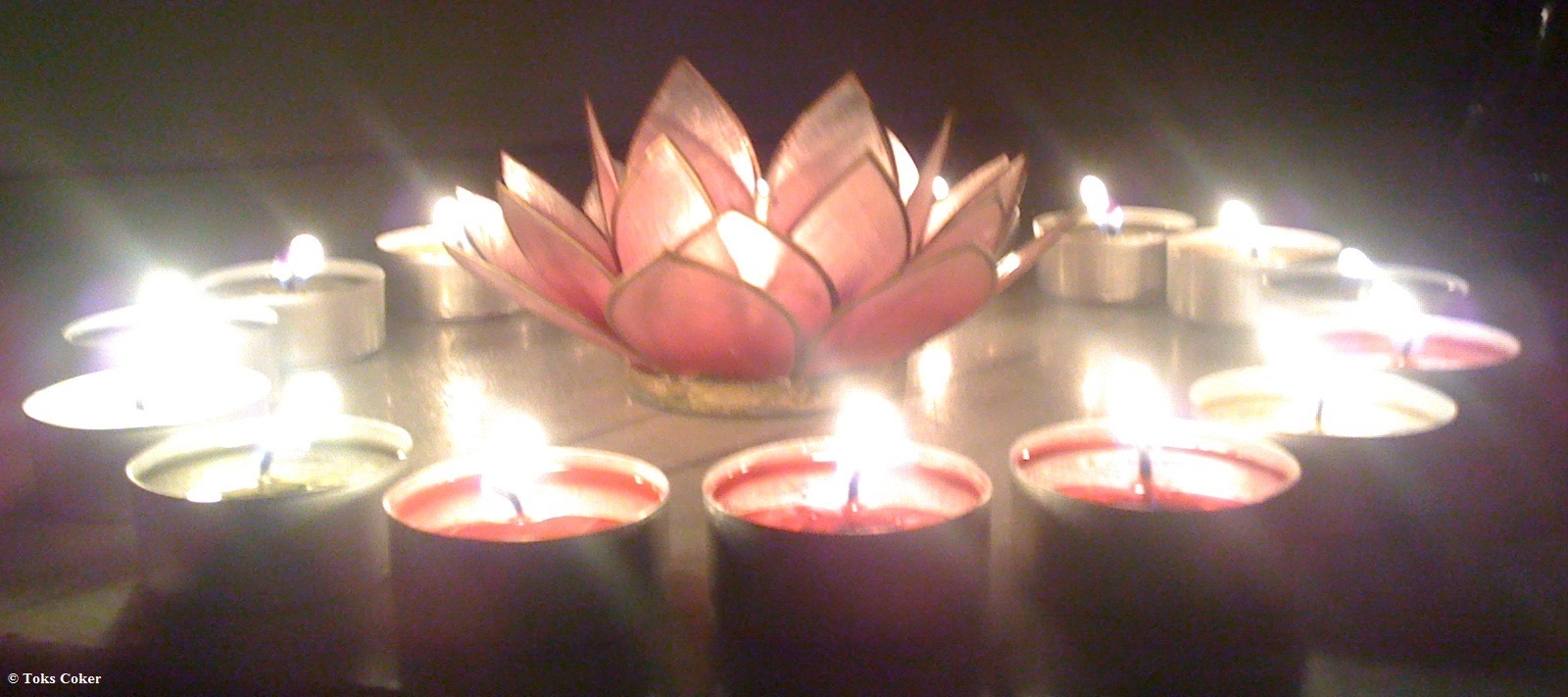 Element: Air
Symbol: Scales



TESTIMONIAL
"As ever, Toks is a magic worker, helping you to tap into the magic within yourself."

Lesley Lansdown


In this Healing Circle, you will receive Empowerment through a LIVE Channelled meditation so that you can reclaim your Power whilst planting new seeds in your life, breaking through and going to the next level.



What to expect.......
1.
A lot of healing, sometimes Deep Chakra Balancing and Alignment.
2. We will be writing your New Moon Wishes; for this Moon and beyond.

3. Working with Guided Meditation, Invocation, Sound, Crystal Singing Bowls, Alchemy, Crystals, Cards and more.

4. We will be creating our own individual Crystal Portal Matrix. Here is One made at a previous Moon: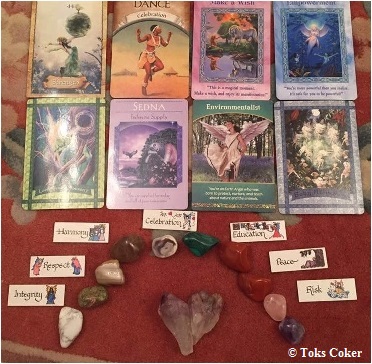 LIBRA QUOTE: "The soul that is within me, no man can degrade." Frederick Douglass


TESTIMONIAL
"You have helped to propel me to where I am today. Toks, you are a great teacher of the highest pinnacle. Thank you once again. Peace and love be with you always."

Yvonne Taylor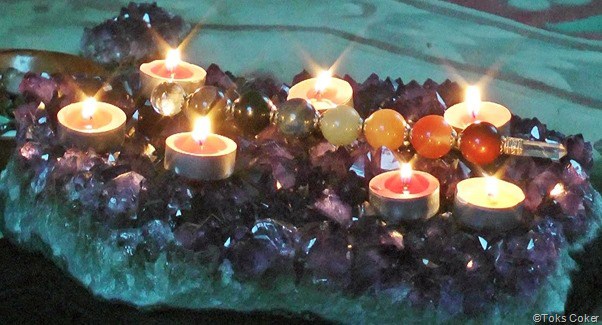 Toks has been holding Moon Alchemy Gatherings for 20 years now. Toks Channels Invocation Blessings that Inspire and Encourage One's Own Personal Spiritual Journey. They are Channelled in such a way that it is as if she is talking directly to you and only you.


All of this will be done, and quite possibly more, all within a Safe Healing Circle with guided interpretation and lots of laughter!



TESTIMONIAL
"Exquisite resonant majesty – a glorious, enveloping love both internal and cosmic and between us all. Bowing to one another, taking time to honour the sacred within and between each of us was humbling and beautiful and deeply, deeply moving in ways I never have predicted."

Kai Reich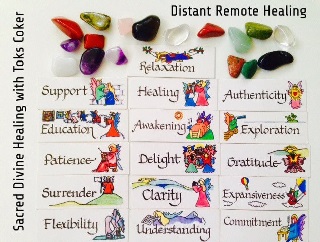 FREE DISTANT HEALING
For when you need healing, support and strength in your life. Drop me a private email, with your name, age, where you live and what your request is for the free distant healing. Remember to title the subject of the email, "FREE DISTANT HEALING REQUEST".

If you are asking on behalf of a friend, relative or animal please ask their permission first.
The act of asking already activates the healing.
Alternatively, please feel free to go to my Hands of Light Healing Facebook Page

https://www.facebook.com/handsoflighthealing/

.
3 Days before each Moon, a Pinned Image will be put up advertising said Moon. Feel free to put your healing request as a comment on this picture.
Toks sends healing for 3 nights, from the day of each Moon, which you will receive when you are sleeping or when you sit quietly for 15 minutes and call it in. Make sure you drink lots of water after you've received the healing.
LIBRA QUOTE: "I prefer to be true to myself, even at the hazard of incurring the ridicule of others, rather than to be false, and to incur my own abhorrence." Frederick Douglass
TESTIMONIAL
"Healing, powerful, insightful, magical experience. Thank you. I love you."

Genevieve Capovilla


MAY THE FORCE BE WITH YOU



If you have any queries, feel free to contact Yanni on 07961044895 or handsoflightyanni@gmail.com.