The NHS [Reinstatement] Bill - Saving the NHS from Trump and May
Description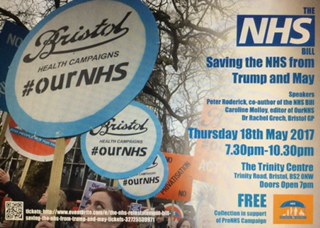 Building on the mass demonstration for #OurNHS on 4th March, the aims of this public meeting are:
to raise awareness of the crisis in the NHS & to explain the need for an NHS Bill;
to increase public knowledge of and active involvement in local campaigning;
to get people contacting their MPs & putting pressure on them to support the Bill;
to promote thinking about the kind of NHS we want for the future.
The NHS in England is being dismantled. Only a change to the law can stop the damage. Now more than ever.
The National Health Service has been one of the UK's greatest achievements;
For 65 years it has provided a cost effective, universal health service, free at the point of need to all people irrespective of their background, circumstance or ability to pay;
Yet over the last 25 years, this founding vision has been slowly but surely eroded;
The final blow was the Health and Social Care Act 2012, forcing a commercialised model on the NHS in England.
We believe that campaigning to reinstate the founding vision is critical.
Speakers already confirmed:
Caroline Molloy is Editor of OurNHS and a freelance writer. In 2011/12 she was part of a successful campaign which reversed one of the largest planned NHS privatisations in the country, involving 9 Gloucestershire hospitals. Since then she has been campaigning alongside local and national groups to defend the NHS.
Peter Roderick is a legal researcher now at the Institute of Health and Society at Newcastle University. With Professor Allyson Pollock he co-authored the NHS Reinstatement Bill (www.nhsbill2015.org), currently being taken forward in the House of Commons by Margaret Greenwood MP. He has over 30 years experience, as a barrister in private practice, the oil industry, academia and with public interest environmental organisations.
Dr Rachel Grech is a GP who works in the south of Bristol. Two years ago she made a short video with Protect Our NHS and Available Light Productions, called Three Biscuits and a Coffee - A day in the life of a GP.
Doors open at 7.00 bar will be open, accessible venue
Meeting starts at 7.30
Meeting ends at 9.30 Bar open - refreshments available - stalls for browsing - networking
Event ends at 10.30