The Night-In Adventure: The best of British adventure from the comfort of your own home
About this Event
Following on from the postponement of Night of Adventure back in March due to COVID-19, we have been closely monitoring the situation whilst also planning for the eventuality that we will not be able to hold Night of Adventure as a live event in London.
With six weeks to go, we find ourselves in just that situation, but with the incredible support of our legendary host, Alastair Humphreys and the adventuring community, we are delighted to announce that in a year where exploring the world has become exploring your backyard, we are bringing you The Night-In Adventure!
The Night-In Adventure in a nutshell:
7pm on 17 September 2020
Six British adventures
Six ten-minute interviews
Live Q&A
All from the comfort of your own home.
Streaming live from the heart of the British countryside and in a brand new format, Alastair will make his 10th Night of Adventure one to remember. We will be bringing the stories of six British adventures direct to your home – providing a ton of inspiration and a heap of lived experience that might just provide the basis for your post COVID-19 adventure plans.
We are excited to mark a decade of our Night of Adventure series with our special edition Night-in Adventure which, in these unprecedented times, will raise vital funds for children and families for whom the global pandemic poses great risk.
A night filled with adventure, in aid of Hope and Homes for Children.
Talks begin at 7pm. We'd recommend logging in at 6:45 pm to get all set up. Like our Facebook page or follow us on Twitter to get the latest news and speaker info.
The host
Our host and co-organiser, Alastair Humphreys is a global adventurer, author and patron for Hope and Homes for Children. Alastair launched the first Night of Adventure in 2010 and has since been named as a National Geographic Adventurer of the Year for his pioneering work on micro adventures. Alastair is an advocate that a great adventure sits right on your own doorstep and that everyone should be able to take on the challenge.
 The charity
All funds raised will go to the charity Hope and Homes for Children. Orphanages do not protect children, they harm them. Which is why we are working towards a day where every child can grow up in a loving family. Hope and Homes for Children is a global expert, supporting children into loving families and preventing family breakdown. With your support we are building a global movement that will eliminate orphanages in our lifetime.
 Useful information
Like our Facebook page or follow us on Twitter to get the latest news and speaker info. For more details and FAQs please visit our website. alternatively, email us or call us on 01722 790111.
Please note that tickets to this event are non-refundable.
We look forward to seeing you (virtually) there!
The Night of Adventure team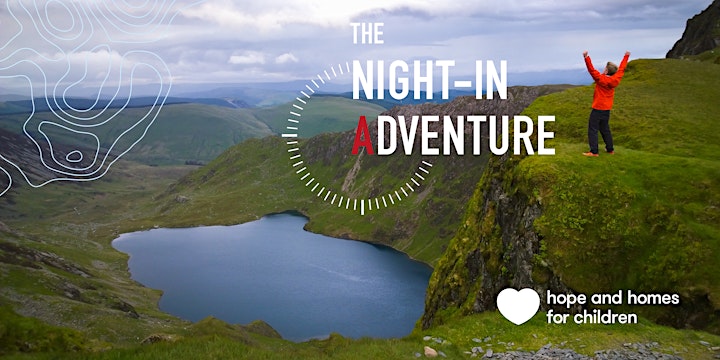 Date and Time
Location
Refund Policy