The North American Forum

Friday, 30 September 2016 from 12:00 to 14:30 (BST)
Event Details
INVITATION TO ALL MARKET PRACTITIONERS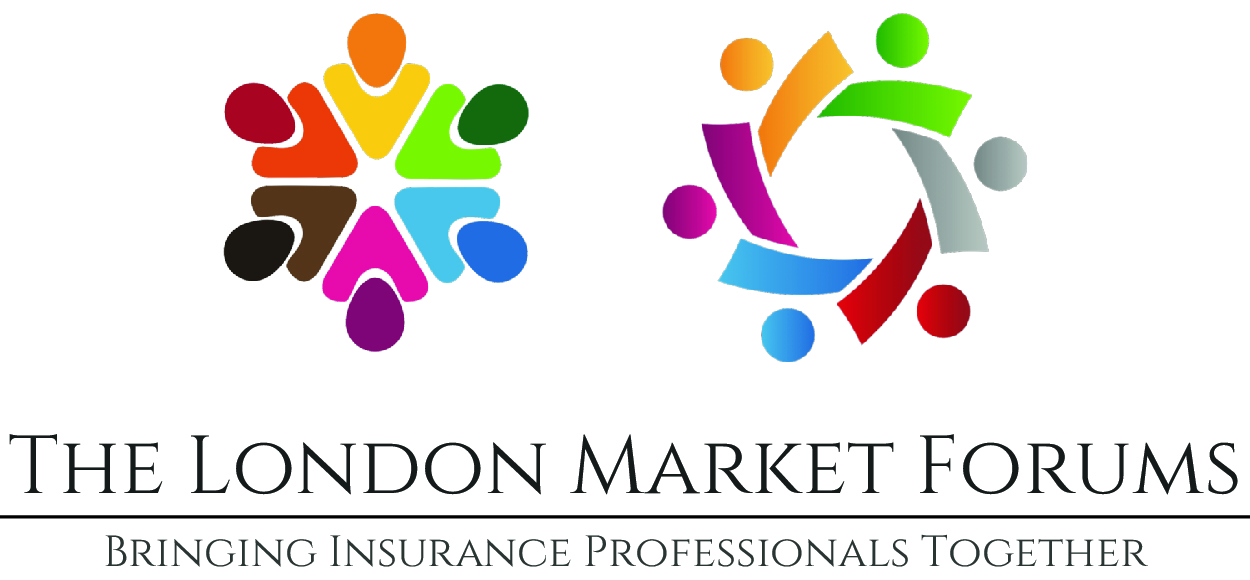 Join us for the first ever gathering of the North American Forum (NAForum) in the Old Library at Lloyd's on 30th September.
The Forum is bringing together insurance professionals from both sides of the Atlantic.
This is a great way to learn first hand what is going on in both the USA and London Market in relation to North American business. Get to hear from local professionals on both sides of Pond, helping you engage with your clients in an informed manner. Join in our roundtable discussion groups and debate the key issues affecting the North American insurance book - be they underwiting, broking, claims or regulation.
On 30th, we'll start by explaining a little more about the Forum and our plans for the future. We'll then have a Market news update, followed by a presentation from Kevin Mescal, Senior Counsel at Lewis Johs Avallone Aviles LLP, New York.
MEMBERSHIP OF LMForums IS FREE FOR ALL INSURANCE MARKET COMPANY EMPLOYEES*
You don't need to be a member to attend
The event starts at 12:00 pm and concludes with networking drinks 1.15pm  
AS PER NORMAL WITH LMFORUMS SESSIONS, THERE IS NO CHARGE FOR ATTENDING THIS EVENT
London Market Forums is your Market Club - where professionals of all levels come together to learn, engage and have fun 
What can I expect by attending the Forum?
Each session will feature a guest speaker or two, educating the audience on a change or development in Stateside insurance practice and/or law or a digest of news from key figures in the London Market about the handling of North American business. We will also try and incorporate our popular "roundtables" into the programme, where you can discuss the themes from the session further with your Market peers. Each Forum meeting will be followed by our popular networking drinks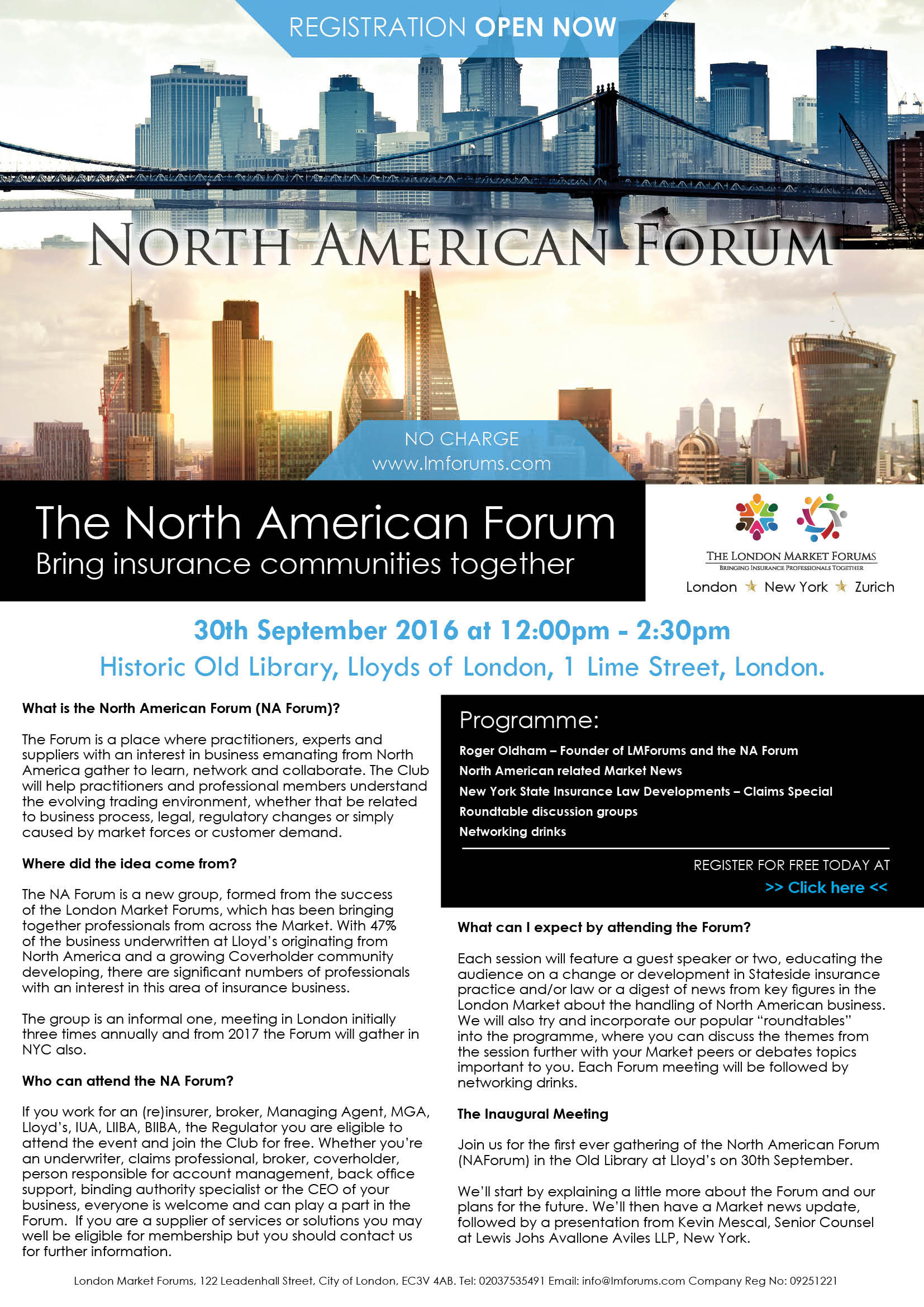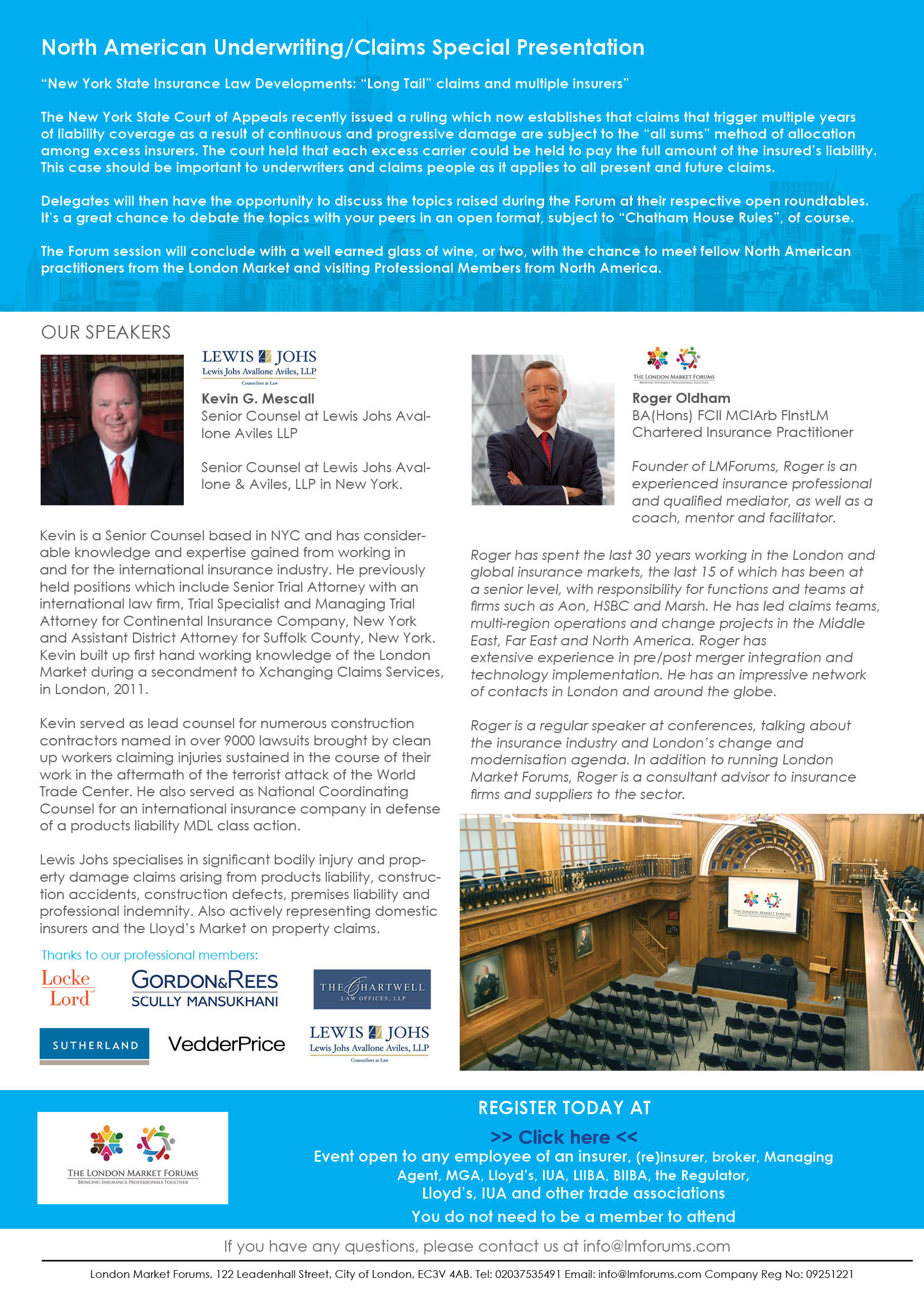 The event will commence at 12:00 on 30th Sep 2016 at The Historic Old Library at Lloyd's, 1 Lime Street, London EC3M 7HA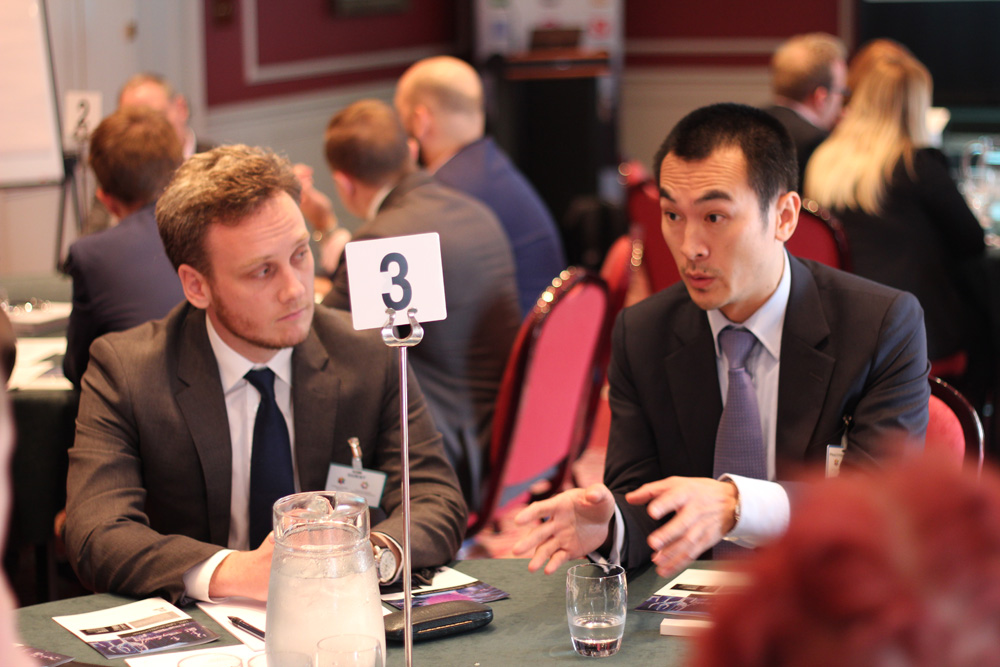 You don't need to be a member of the club to attend the event, but as membership is free it makes perfect sense to join - you'll be part of a growing band of professionals across the Market enjoying the benefits of LMForums

REGISTER FOR MEMBERSHIP TODAY - CLICK HERE
Please also register separately for this specific event, by hitting on the Register button on this page
 We hope to see you on 30th Sep at 12:00 pm.
_________________________
You'll be eligible for membership of LMForums, free of charge, if you are are employed by/member of an underwriter, broker, MGA, Lloyd's, LMA, IUA, LIIBA, BIBA, CII, AIRMIC or work for a Third Party Administrator who provides an outsourcing service to one of these organisations. If you are a supplier to the Market or professional services company you will need to contact us. The clubs will offer a whole hosts of events, both technical and social throughout the year, so it's well worth signing up. You will then receive a membership card.
Please be aware that due to the security arrangements in the building, you must pre-register for this event.
Any questions - please call LMForums on 0203 753 5491
Email: info@lmforums.com

Roger Oldham - Founder & Managing Director
Oscar Padilla - Head of Business Services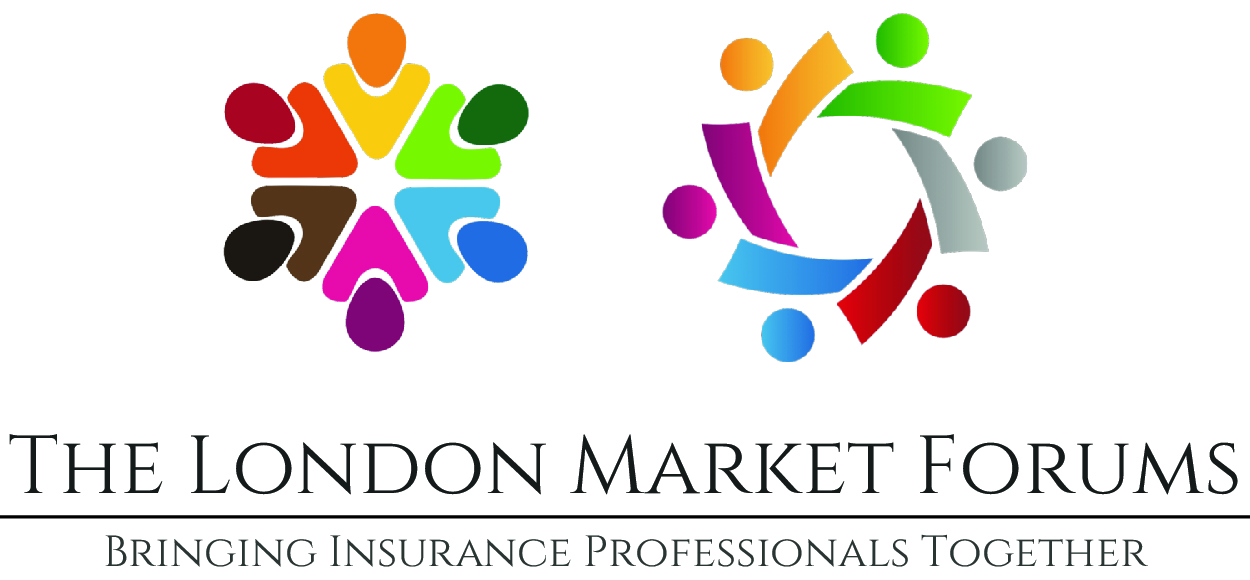 During the course of this event, some photography may take place for marketing and promotional purposes, or to support post event debriefing materials. If for some reason you would rather not appear in a photograph, please would you inform a member of the LMForums staff before the commencement of the event so that we may use our best efforts to respect your wishes.
When & Where

Lloyd's of London
The Old Library
1 Lime Street
EC3M 7HA London
United Kingdom


Friday, 30 September 2016 from 12:00 to 14:30 (BST)
Add to my calendar
Organiser
London Market Forums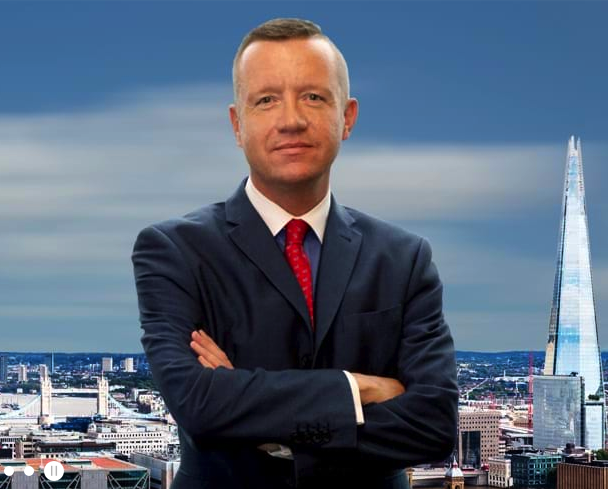 Roger is the Founder of London Market Forums, an exciting and interactive business club for professionals and executives in the London Insurance Market. He has spent the last 30 years working in the London Insurance Market, initially in reinsurance, then in commercial retail insurance where he   looked after a portfolio of blue chip multi-national clients, before moving on to international retail and wholesale business. He has held a number of senior posts in Aon, HSBC Insurance Brokers and Marsh, including roles such as Head of Claims and Head of Market Practice, as well as sitting on, and advisor to, management boards.