The BCSC are joined by Geoff Broadway from the Living Memory Project to launch the new Nostalgia Series of lectures and events.
About this event
Introducing the Nostalgia Series
Nostalgia is a contentious issue. Whilst for some it is a harmless, helpful, rose-tinted view of the past, it has also been viewed critically, as a form of regressive, reactionary and sentimental escapism. Yet there is a steadily increasing body of work that reassesses nostalgia in a more positive, active and empowering light. Through this research network series, we seek to gain a greater understanding of nostalgia, and its impact on museums, regional and local history, lifelong learning and communities.
We are thrilled to be joined by artist and producer Geoff Broadway for the first in our Summer series of public lectures and events.
The Talk: Living Memory and Nostalgia
The Living Memory Project worked with diverse individuals and communities across the Black Country to record, archive and celebrate life stories told alongside personal photography collections. Summaries of these stories and photographs are featured through our project website www.livingmemory.live, presented in a series of regional exhibitions and commissioned films, and are the showcased in the recently published Living Memory Project book.
One of the motivating factors in establishing this project was an awareness how popular photograph and the stories we tell around them has changed over the last decade. The advent of digital photography and instantaneous sharing of images via social media has gone hand-in-hand with the decline of film-based photography and the traditional role of the family album.
The project recorded over 60 participants from across the four boroughs of the Black Country, each of whom to shared their story alongside a careful selection of personal photographs. The range of shared stories span over 80 years of experience and touch upon many aspects of everyday life that include love and loss, work and purpose, a sense of belonging, the meaning of community, movement and migration, and constant change.
In this illustrated talk, project director Geoff Broadway will discuss some of these recorded stories and photographs in particular reference to the concept of nostalgia. Some of the questions the talk will explore include: what is nostalgia and how does it feature in the breadth of the recording life stories? Can we (and should we) talk about our personal histories and 'old' photographs without being nostalgic? What is the relationship between sentimentality and nostalgia?
The Speaker: Geoff Broadway
Geoff Broadway is an artist, producer and project manager who works with photography, the moving image and sound. He spent over 6 years teaching media, design and interactive technologies at several universities including Sunderland, Auckland and Derby, before dedicating himself full-time to his practice. He has undertaken numerous national and international residencies including Durham Cathedral, Teesside University, Jubilee Arts, and the Mediolab-Prado, Madrid. His work explores the intersection between memory, experience and identity, and his projects have been exhibited worldwide including Germany, Taiwan, the United States, Switzerland, Spain and New Zealand. He is currently leads the Living Memory Project that explores and celebrates life stories and photography collections across the Black Country. www.livingmemory.live
Please note that this event will take place via Zoom and a link will be sent to ticket holders shortly ahead of the event.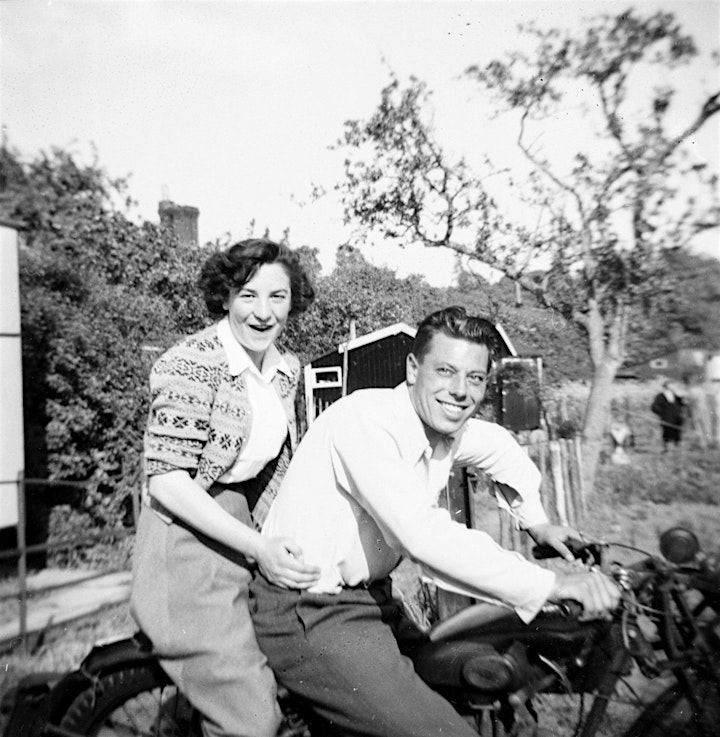 Ken and Alwyn at Holt Fleet, 1950s. Photograph courtesy of the Ron Moss Collection.