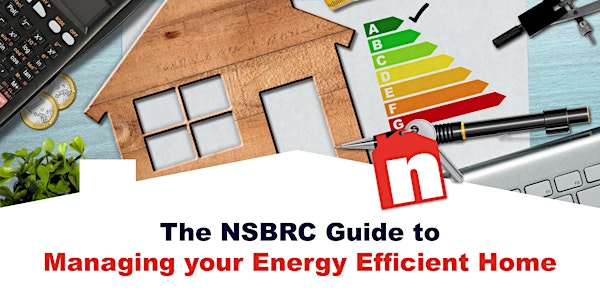 The NSBRC Guide to Managing your Energy Efficient Home (Virtual) - November
Refund policy
Contact the organiser to request a refund.
Eventbrite's fee is nonrefundable.
Build your knowledge...Reduce your bills!
About this event
The NSBRC Guide to Managing your Energy Efficient Home - a brand new NSBRC Guide presented by industry expert, David Hilton.
8th & 15th February - held as a virtual evennig event via Zoom.
Both sessions take place from 6pm - 8:30pm.
WHY do I want an energy efficient home?
WHAT exactly is an energy efficient home?
WHICH products do I need?
WHEN do they get installed?
WHO puts them in?
There are so many options for heating and energy efficiency services in our homes today so where do you go for independent advice on what is right for you and your home?
This no-nonsense guide is presented by David Hilton who has a master's degree in architecture and is also an experienced active heating and ventilation engineer, and cuts through the jargon, green-wash and sales hype to help you define what you need in your home, what products make sense and which trades put them in.
The online tutorials take you through the reasons why you may want to design and build an energy efficient home, the legislative and aspirational drivers and the calculations used to define the efficiency of a building. You will also be given the product options including traditional heating systems through to renewables and other emerging technologies and the context within which these systems are optimized. All of this then leaves you with a much better understanding of the options so that you can make informed decisions when it comes to specifying the products that are right for you and your home.
The practical element takes place in the plant room area at the NSBRC and demonstrates the workings of many of the systems described in the theory tutorials including Air source heat pumps, indirect heating systems, Mechanical ventilation Heat recovery (MVHR) systems, under floor heating, Radiator systems, flue gas heat recovery and infra-red radiant panels.
This is the course you didn't know you needed – until now.