Description
The Nursery presents a night of improvised theatre – completely made up on the spot! Every show features a selection of talented improvisers from across the UK and beyond bringing you some of the most exciting unscripted theatre around. Watch them create everything from short scenes to an entire musical live on stage in front of your eyes!

Tonight's show features…

DUMMY is Colleen Doyle and Jason Shotts doing a two-person improvised show. They started performing together at the iO Theater in Chicago back in 2008.
Since then, DUMMY has performed for audiences in London, Rome, Copenhagen, Los Angeles, San Francisco, New York, San Diego, Austin, Houston, Washington DC, Cleveland, Detroit, Minneapolis, St. Louis, Atlanta, Traverse City and Gainesville. (DUMMY proudly won the iO Chicago's Del Award for "Best Non-Harold Improv Show" in 2013 and 2014.)
"For years T.J. Jagodowski and Dave Pasquesi have reigned as Chicago's must-see two-person improv team. After catching a recent set from Colleen Doyle and Jason Shotts at iO Theater, I think it's safe to say there's room on that improv pedestal for yet another pair of performers. " – Nina Metz, Chicago Tribune
Tonight, they're joined by Nursery Artistic Directors, Jules Munns, Heather Urquhart and Chris Mead.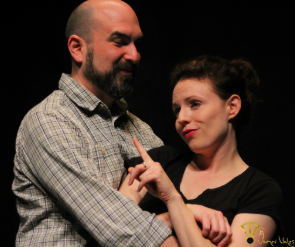 Plus
Happy In Their Own Way – Families are weird. They are cruel, crazy, loving, often inspiring and sometimes just downright awful. They are the people we turn to in a time of crisis, and the people who cause those very crises. No matter how hard you try, you can never escape them. But then, would you want to? Directed by Jules Munns, Happy in their Own Way is a combination of audience and cast stories, improvised scenes and maybe just a little smidgen of amateur psychology. Emotional and strange, with humour almost too close to the bone, find out if all happy families really are alike.
8pm, The Nursery Theatre Broadgate, Liverpool Street, £5