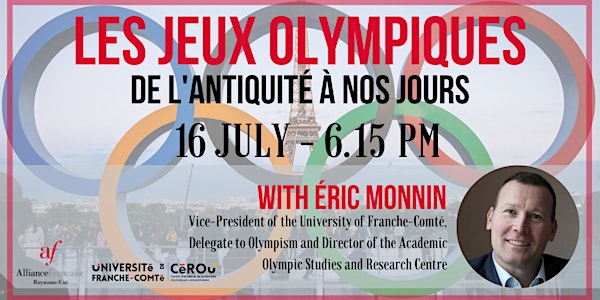 The Olympic Games from Antiquity to the Present - Online talk + Q&A
An evening dedicated to the history of the Olympics and the 2024 Paris edition!
About this event
By Eric Monnin, Vice-President of the University of Franche-Comté, delegate on the programme L'Olympisme - Génération 2024.
One week before the scheduled start of the Olympics in Japan, join us to explore the rich history of the Games and the values that they project, learn about their growth and expansion, and the upcoming role of France in the 2024 Summer Olympic Games. Eric Monnin will discuss the evolution of the Olympics over the centuries to its current-day form as an important international showcase that symbolizes the strength and power of competing nations in peacetime. He will also answer all your questions!
This talk + Q&A is free and will be in French (suitable for intermediate-level speakers upwards).
This event is organised by the Alliances Françaises in the United Kingdom in collaboration with the University of Franche-Comté and the Academic Olympic Studies and Research Centre.
Click here to learn more about our guest and our other activities!