Sales Have Ended
Ticket sales have ended
Thank you for registering for The Open Garden! You will be sent details about what to prepare before the day! Any questions please get in touch at info@identity20.org
Event Information
Refund policy
Contact the organiser to request a refund.
Eventbrite's fee is nonrefundable.
Sales Have Ended
Ticket sales have ended
Thank you for registering for The Open Garden! You will be sent details about what to prepare before the day! Any questions please get in touch at info@identity20.org
The Open Garden from Identity 2.0 is an online festival exploring the relationship between race and tech.
About this event
Identity 2.0, a creative studio working at the intersection of technology, digital rights and identity, brings you The Open Garden, a day of workshops from creative practitioners and artists.
Each workshop will ask a different question about the relationship between race and tech whilst teaching and sharing new skills - from learning the basics of AR filters, to rethinking cartography.
Through uniquely curated workshops from award-winning creatives, and a closing talk from Yassmin Abdel-Mageid, the day invites you to learn new skills and ask important conversations about race and the digital tools we use everyday.
Identity 2.0 is opening the day with a short talk, and they are joined by design practice Ricebox Studios, poet and filmmaker Marissa Mireles Hinds, UX and service designer Florence Okoye and indigenous-African guerrilla theorist and curator Neema Githere.
Ticket Prices:
£2 for access a single session
£5 for access to the whole day
£15 for access the whole day + sponsor someone elses ticket!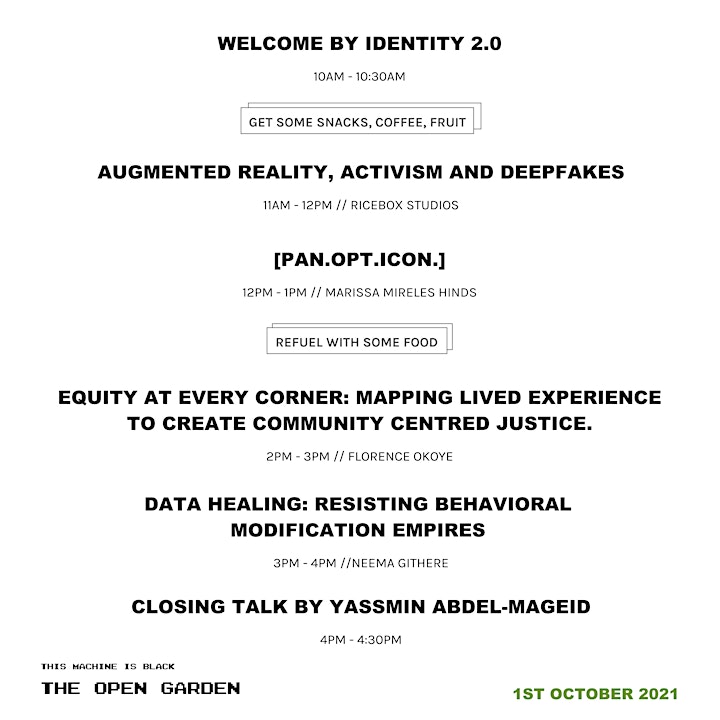 Workshop 1: Augmented Reality, Activism and Deepfakes with Ricebox Studios
What is augmented reality (AR)? What is its relation to deep fakes? In this beginner-friendly workshop, Ricebox Studio you will learn the basics of AR using two softwares, Spark AR and Artivive and how it has been used as an alternative tool for activism and its link to deep fakes.
We encourage women, BIPOC*, LGBTQ+, first generation students, working class folks and people from other underrepresented communities to join this workshop in hopes to diversify the creative + tech industry with unique storytelling experiences.
Workshop 2: [pan.opt.icon.] with Marissa Mireles Hinds.
An open discussion & poetry workshop on the history of surveillance and its relationship to black and brown people.
Workshop 3 Equity at every corner: mapping lived experience to create community centred justice with Florence Okoye
We often see our local spaces regenerate and change but are they the changes that matter? Do they match the way we feel about our localities, what we get from our environments, and the things we want to see? How are everyday inequalities addressed? How can we transform our knowledge into opportunities for action? During this workshop we will be exploring ways of creating justice centered maps inspired by our lived experiences and based on community needs.
Workshop 4: Data Healing: Resisting Behavioral Modification Empires with Neema Githere
What is Data Trauma? How can we reclaim autonomy within/outside of what Jaron Lanier terms "behavioural modification empires"?
For this experimental Data Healing reflection-based workshop, participants are asked to download their data from Instagram/Facebook and Google, and/or to abstain from social media use for 1-3 days in preparation for the session (if possible). This data will not be shared with the group, but will serve as the departure point for reflection on notions of personhood, consent, and privacy.
Closing talk from Yassmin Abdel-Magied
Yassmin Abdel-Magied is a Sudanese-Australian writer, broadcaster and award-winning social advocate with a background in mechanical engineering.
One of the 2020 LinkedIn Changemakers, Yassmin is a globally sought-after advisor on issues of social justice, focused on race, gender and faith. She has travelled to 24 countries delivering keynotes on inclusive leadership, tackling unconscious bias and achieving substantive change. Yassmin's internationally acclaimed TED talk, What does my headscarf mean to you, has been viewed over two million times and was chosen as one of TED's top ten ideas of 2015. Yassmin has published a memoir and two fiction novels with Penguin Random House and has a number of screenwriting projects in development. Her social and current affairs commentary has appeared in TIME, The Guardian and Teen Vogue and she is a regular on the BBC, Aljazeera, TRT and Monocle 24.
In all her work, Yassmin is an advocate for transformative justice and a fairer, safer world for all.
Any questions please get in touch at info@identity20.org
Date and time
Location
Refund policy
Contact the organiser to request a refund.
Eventbrite's fee is nonrefundable.